Why Some Students Are Saying 'No' to Student Loans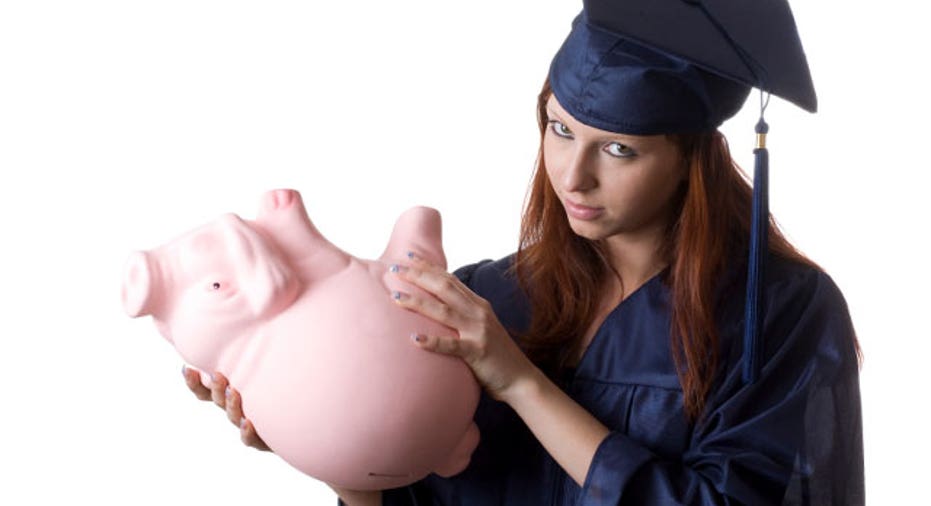 When Emi Young decided to attend Pomona College in California a few years ago, she broke with a tradition as closely associated with U.S. universities as fraternity parties and cramming for final exams.
Young did not take out one dime of student loans.
Moreover, she preferred Pomona to other schools because it does not include loans in the financial aid packages offered to students, solely supplying grants and student employment.
"I don't necessarily want to feel completely tied down in what I do with my education because of the debt I come out with,'' said the politics and philosophy major who starts her third year this fall, and has her sights set on law school.
Like many young people across the country, Young is nervous about starting her career with the baggage of debt. Last summer, a how-to guide on getting through college without loans by University of Massachusetts student Zac Bisonnette called ''Debt-Free U'' shot to the list of top 20 bestsellers on Amazon.com the day it was released.
For many who came of age during the financial crisis and deepest economic downturn since the Great Depression, blindly borrowing for an education makes little sense, especially when they are not certain they will find work after graduation.
But the very factors that made them debt-averse may make them debt-dependent.
``It's kind of like this dichotomy: There's this anecdotal evidence...that students and families are averse to taking out debt,'' said Justin Draeger, President and CEO of the National Association of Student Financial Aid Administrators. But, ``we are seeing more students having to borrow.''
States, only now beginning to recover from the collapse of their revenues in the 2007-09 recession, have slashed higher education funding, causing tuition to balloon at public universities, long considered the best bargain. Many have also cut the grants they offer to offset education expenses.
The federal Pell Grant program has also pulled back to comply with the Congressional budget deal struck this spring.
Then, there is unemployment. Students may not be able to work their way through school and parents who are laid off may not be able to help foot the costs. And as the long-term unemployed return to school, they create competition for lecture hall seats and money.
The stock market, meanwhile, devastated college savings.
``I wasn't necessarily looking at the financial crisis and saying, 'I'm trying to learn the lessons of these people,''' Young said. ``I do know that when I was first applying and in the first year of college, with all of the financial crisis going on, the savings we'd put away - the investments - dropped to half their value. If I was able to wait, the values of those accounts would go up again.''
THE PAYMENT BURDEN SHIFTS TO PARENTS, STUDENTS
To cope, many students turn to federal loans. In the 2009-10 school year, 35 percent of all undergraduate students took out a federal Stafford student loan, compared to 23 percent 10 years before, Draeger said. Students may also use private loans and parents can take federal ``PLUS'' loans.
Paying for college has usually involved many parties, Draeger said, including universities themselves pitching in.
``We're seeing this gradual shift in the burden for paying for college to individual students and families and the way that students do this is through loans,'' he said. ``One of the things that may have come out of this recession and jobless recovery is price sensitivity...On top of that, they're looking for how much bang they're going to get for their buck.''
When the United States was in the throes of recession the College Board, which administers the standardized U.S. university entrance exam known as the SAT, conducted studies on how to make college more affordable.
Anne Sturtevant, the board's director of enrollment services and access initiatives, said students wanted to make federal loans more available but questioned an increase lending.
They were worried people would take out too much debt or use loans for unrelated expenses. They had seen college graduates laid off and were nervous about repayment. Then there were questions about the country's finances.
``'How's the federal government going to pay for this? Raise taxes?''' respondents asked, according to Sturtevant, explaining that their families could not afford to pay more taxes.
The average borrower in the 2009-2010 school year took out $8,008 in federal loans, an 11.7 percent increase from the 2006-07 school year, before the bursting of the housing bubble triggered the financial crisis, College Board data shows.
``I'm getting an increasing number of calls,'' said Mark Kantrowitz, who, as publisher of the financial aid and university assistance sites Fastweb.com and FinAid.org, encounters many families with college age students. ``Parents are losing their jobs -- one-sixth of parents of undergrads have lost their jobs in the last year.''
In a recent survey, he found 24 percent of students who had planned to go to private schools switched to public ones. Even at public universities, they face money stresses.
``The states are in financial difficulty, as they are at the end of every recession. One, they cut appropriations to the public colleges,'' he said, pointing to the University of California system.
On Thursday, the system's regents hiked tuition 9.6 percent to cover part of the $1 billion shortfall created by state cuts. That was on top of an 8 percent rise approved earlier.
States are also reducing grants they give to students, Kantrowitz said. Connecticut, Kentucky, Oregon, South Carolina and Tennessee have made their grants ``first come, first served,'' which means ``they're awarding the money until it runs out,'' he said.
Oregon said its grant funds were exhausted ``due to an unprecedented rise in enrollment'' as well as budget cuts. Illinois moved its application deadline up to March this year, the earliest in state history. Others capped grant awards.
According to the National Conference of State Legislatures, 21 states reduced funding for higher education in their budgets for this fiscal year, which for most started this month.
Changing borrower attitudes may not herald the death of the student loan but they have forced reforms. For example, starting in October schools must post the net price of an education at their institutions, which is the difference between price of attendance and the median grant aid awarded.
``The key is not to try to eliminate entirely. Realistically, most students won't be able to,'' Kantrowitz said. ``I haven't seen them become debt averse so much as sensitive to over-borrowing.''
(Additional reporting by Linda Stern; Editing by Andrew Hay)