Why Personal Loans May Become Easier to Get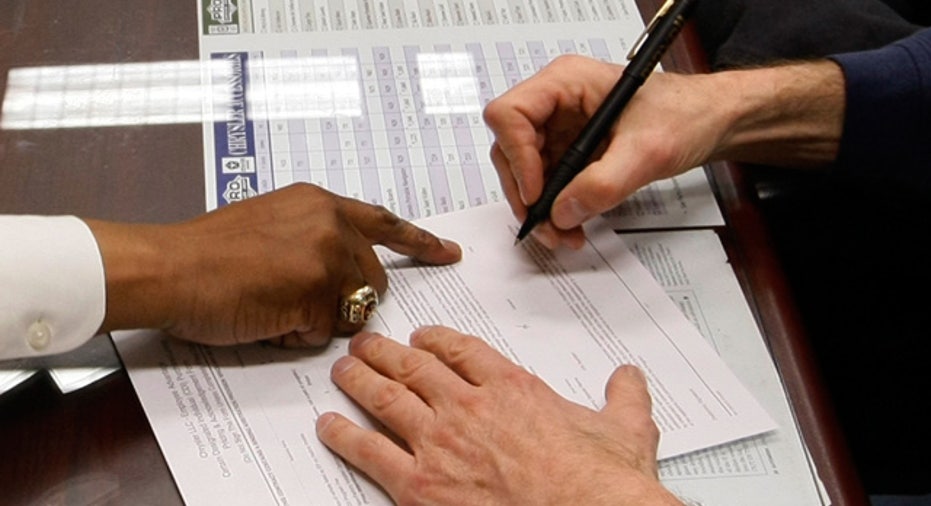 The brick-and-mortar bank where you keep your checking account wants you to keep it in mind the next time you need a personal loan. But its website is clunky, the underwriting process isn't as smooth as it could be, and, well, you might not qualify for one of its loans.
Banks know this.
Marketplace lenders are the online financial technology darlings that have built their platforms based on speed and customer experience. A number of them have filled a niche by offering personal loans to people whom banks wouldn't touch. But marketplace lenders are still the new kids, and you (and millions of people like you) have a long-term relationship with your bank, which means there's some trust there, even if it's a begrudging trust.
The marketplace lenders know this.
This is why soon you might be able to go onto your bank's website and apply for a personal loan using a marketplace lender's digital lending platform and underwriting technology. You'll get a "yes" or "no" quickly and funding nearly as fast. And if you don't qualify for a bank loan, you may be offered a loan from that online lender.
Most banks (have) stricter lending standards than many of the online lenders.
RATE SEARCH: Shopping for a personal loan? Let Bankrate.com help you find the best rates today.
Regions Bank, which operates 1,630 branches across the South and Midwest, and Avant, a Chicago firm that has issued more than 500,000 online loans since 2012, last week announced just such a partnership. It's the largest of its kind for consumer loans, but it almost certainly won't be the last.
"Between now and the end of next year we are going to see several -- and by several I mean dozens -- of these partnerships announced," says Roberto Hernandez, a principal in PwC's consumer finance group and author of a 2015 paper on how banks and marketplace lenders can become partners. "You have groups of banks that some of them have exited the personal loan business and they see the opportunity to partner with a marketplace lender as an opportunity to bring back those products without having to develop all the infrastructure in-house."
Better Experience For Customers
Regions, which offers its own online loan application, says Avant's platform will allow the bank to provide "a more digital streamlined experience." Many would-be borrowers today still have to go to a branch to complete the application process.
When the co-branded application launches during the second half of 2016, applicants will be able to apply for unsecured loans ranging from $1,000 to $35,000. Loan funds may be available as soon as the next business day.
Avant will manage the front-end application, the verification process and the underwriting, while Regions will write and service the loan, says Avant CEO Al Goldstein.
Applicants will be evaluated using Regions' credit criteria, allowing the bank to maintain its "commitment to responsible lending," Logan Pichel, Regions executive vice president and head of consumer lending, said in a statement.
Indeed, Regions, like most banks, has stricter lending standards than many of the online lenders, preferring to hand out loans to borrowers with excellent credit. Goldstein, for example, says the average Avant borrower has a 655 FICO score.
Applicants who are rejected for a Regions loan may be offered funding from Avant. Each side stands to benefit under a revenue-sharing agreement if a loan is fulfilled.
"The goal is to expand credit to consumers," Goldstein says, noting that his company doesn't view banks as competitors because "we just don't think they're going to play in our space."
"I just think it makes a ton of sense," Goldstein says. "The reality is banks by and large ... don't have the technology, people or infrastructure to spend the time and dollars required to build this customer experience."
FREE TOOL: Get your credit score for free today with myBankrate.
Loans For More People
Because consumer lending has become more digital, the physical barriers that once existed when branch banking was the only choice have been removed, allowing for banks and technology firms to forge partnerships. And this potential wave of partnerships will mean more options for the consumer, Hernandez says.
Lending options shrank following the last recession, but the "consumer is regaining the power" because of the number of companies willing to satisfy borrower demand, Hernandez says.
But that's only if borrowers are willing to give someone they don't particularly know well a shot.
"Banks still have a reputation and a brand name that is significantly stronger than the brand name any marketplace lenders have," Hernandez says. "Also, banks bring a greater sense of trust. With these partnerships you get the best of both worlds. You still get access to the bank of your choice, but you also get access to the technology" that marketplace lenders have.
Copyright 2016, Bankrate Inc.