Why Odell Beckham's Boat Trip Isn't His Biggest Marketing Fumble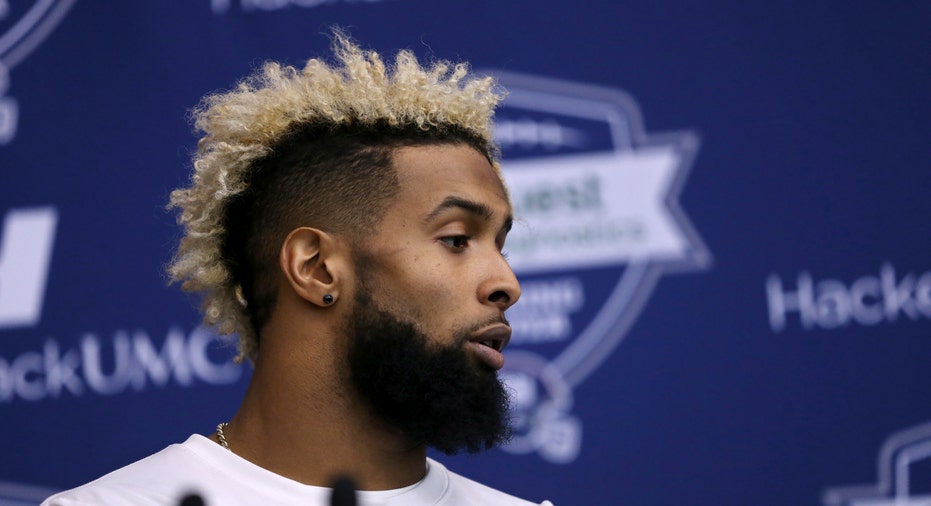 New York Giants wide receiver Odell Beckham caught plenty of criticism for partying on a boat in Miami just days before a playoff loss to the Green Bay Packers knocked his team out of Super Bowl contention. However, Beckham's inability to lead his team to a postseason victory is more concerning than his actions off the field, according to marketers.
Top corporate brands are generally willing to tolerate polarizing behavior if a player is producing on the field and attracting attention from fans. But if Beckham's teams don't start winning in the playoffs, his lack of a postseason pedigree could limit his long-term marketability as one of football's brightest young stars.
"OBJ has become a hot commodity up to now because of his spectacular play, distinctive look and charismatic personality," said Bob Dorfman, a sports sponsorship expert and creative director at Baker Street Advertising in San Francisco. "But ultimately, marketers want to associate with winners, and if Beckham can't help his Giants advance further, they very easily could throw their endorsement dollars to someone else."
Beckham underperformed on Sunday, catching just four passes for 28 yards and recording a career-high three drops as the Packers defeated the Giants, 38-13. After the game, a distraught Beckham allegedly punched a hole in the wall outside the visiting team's locker room, prompting an NFL investigation, ESPN reported.
Critics were quick to link Beckham's lackluster play to the trip that he and other Giants wide receivers took to Miami, where they were spotted partying with singers Justin Bieber and Trey Songz. When asked about the trip, Beckham told reporters that it had nothing to do with his performance during the game.
"At the end of the day, I went through practice, had zero drops, zero missed assignments -- there was nothing to connect seven days ago to [the playoff game] and how we played and executed. There is just nothing in the world. It's just not realistic," Beckham said. "I think it did a great job at creating distractions for us. And it's unfortunate. That is just the way this world is. There is just no way you can connect something that happened seven days ago to [Sunday]."
Beckham, who has drawn scrutiny for his off-field activities, is no stranger to on-field drama either. He drew a fine earlier this season for taunting Minnesota Vikings cornerback Xavier Rhodes, and last season he engaged in a violent confrontation with former Carolina Panthers cornerback Josh Norman.
Still, Beckham's polarizing reputation in the media hasn't stopped him from becoming one of the NFL's most popular players. The Miami incident may have upset old-school football pundits, but Beckham hasn't broken any laws or found himself linked to any of the NFL's recent scandals.
"While it provides a lot of fodder for the media, I don't think the trip to Miami and the subsequent loss impacts his reputation whatsoever, particularly when you compare it to transgressions that other athletes have been accused of," said Jonathan Jensen, a sports marketing consultant and assistant professor at the University of North Carolina at Chapel Hill.
At age 24, Beckham already has endorsement deals with Nike (NYSE:NKE), Head and Shoulders, Foot Locker (NYSE:FL) and Lenovo. He has also graced on the cover of EA Sports' "Madden" video game franchise and appeared in commercials for Dunkin' Donuts and Lyft. Most importantly, Beckham remains popular with the critical Millennial demographic.
"In a way, I could see how all of the attention towards Beckham could even be seen as a positive for sponsors," Jensen said. "In today's fragmented media environment, brands are aligning with a celebrity for their ability to cut through the clutter and generate newsworthy and original content. This week affirmed that, especially given that he plays in New York, Beckham is one of only a handful of NFL players who command a massive spotlight and have the ability to make news."