Why I'll Be Rooting for Tiger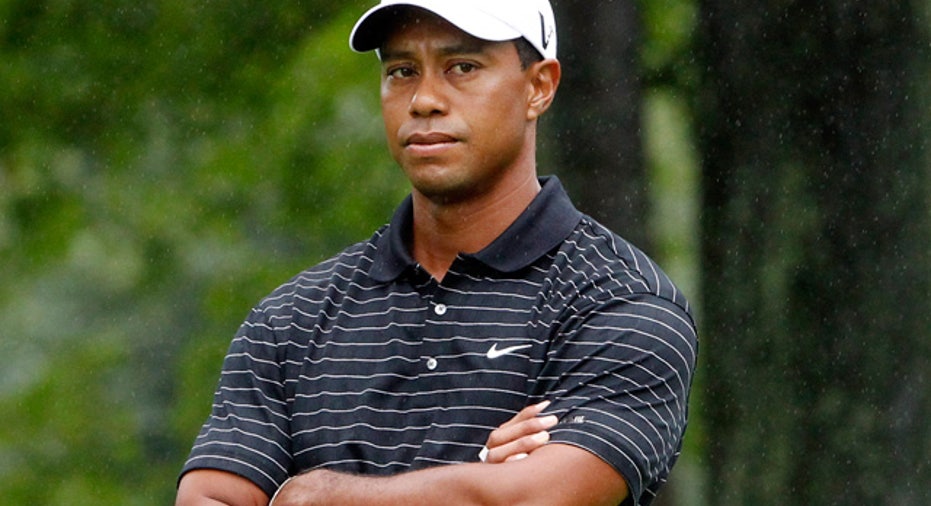 One of the loveliest scenes in the movie Bridesmaids is when Annie, played by Kristen Wiig, is stunned by the kindness of a new guy she's dating when he urges her to get back to her passion – baking. Feeling emotionally fragile and overwhelmed, she walks out the door and he is crushed.
It's a beautiful life moment because it suggests that a major component of love -- or budding interest -- is wanting the other person to use his or her gifts. In the movie, this guy had frequented her failed bakery and knew her talent firsthand. He wanted her to get back to what made her tick.
This really resonated with me because part of life coaching is being present for clients who are trying to reconnect with a gift that they've neglected or let lapse altogether. Sometimes they let go because they couldn't handle a failed attempt. Others never give it a real chance because they don't feel it's a feasible way to make a living. Still others are stalled or derailed by a profound or life-shattering occurrence.
My first priority in some cases is to help the client see its value -- whether it's baking, writing, taking pictures, singing, teaching -- and why bringing it back could make life markedly better. The very idea that they've contacted me suggests they already know, but in most situations what they need is support and to feel like they can return to it in force.
This is why I'll be rooting for Tiger Woods in the Masters this weekend. Clearly the man was meant to play golf. Clearly he is making his way back from a consuming emotional period in his life. Whatever else he is, he is an elite professional golfer who thrives on a very big stage.
This isn't a prediction. What I'm saying is it would be nice to see him in that iconic green jacket once again. That feels better to me, it sits more peacefully, than casting stones or running the holier-than-thou tape in my head. Stroll purposefully on that green, make the putt, give us a fist pump, and soldier on. For all of us.
I have had clients who are trying to deal with past indiscretions as they move forward with their goals and the effects can be debilitating. The outside scrutiny, but also pointed self-judgment, can keep people stalled for years.
But then what?
This is where there is room for so much I love about life – growth, enlightenment, tolerance, grit, compassion. And this – self-forgiveness. These aren't just buzz words or clichés. Get in there and do the work. If you are beating yourself up for a mistake you made in your life, whether it's time spent in prison or choosing the wrong spouse, you don't have to be relegated to the sideline or settle for a subpar existence. Doing that thing you love is going to be your road back. Write the draft, get on the bike, knit the sweater.
After winning the Arnold Palmer Invitational last week, Woods used the term "pure joy" twice when describing the experience and the word "excited" several times in the course of an interview. How many of us get pure joy and excitement from our gifts? How many aren't even bothering to embrace that possibility because we can't envision it?
Working through that thing that's hanging over us doesn't mean the naysayers and self-appointed judges will go away. It just means we're getting stronger so we can deal with them.
Should Woods don a green jacket next week, I will proudly point to his example to clients who are trying to make their way back. I'm not looking to hang the hero tag around his neck. He's been knocked off a massive pedestal. And that is good. If we'd kick the pedestal out from under more people in our lives, our relationships would be more authentic and certainly more interesting.
In Bridesmaids, Annie eventually begins to bake again. She reconnects with her true self through cupcakes and pastries. Wiig's screenplay is rife with those life moments that make us ache with relatability ranging from embarrassing emotional meltdown, stinging rejection, and over-compensation to the realization we've been selling ourselves short and that we are lovable.
Seeing people – real or fictional -- work through transgressions, trauma and trying times is so helpful to witness when we are working through our own. And it expends a lot less energy than griping, blaming and rendering judgment. Who has time for that?
I'll go with this instead -- Give it your best shot, Tiger. Come on back.
Nancy Colasurdo is a practicing life coach and freelance writer. Her Web site is www.nancola.com and you can follow her on Twitter @nancola. Please direct all questions/comments to FOXGamePlan@gmail.com.