Why IBM is Giving Watson a Chef Hat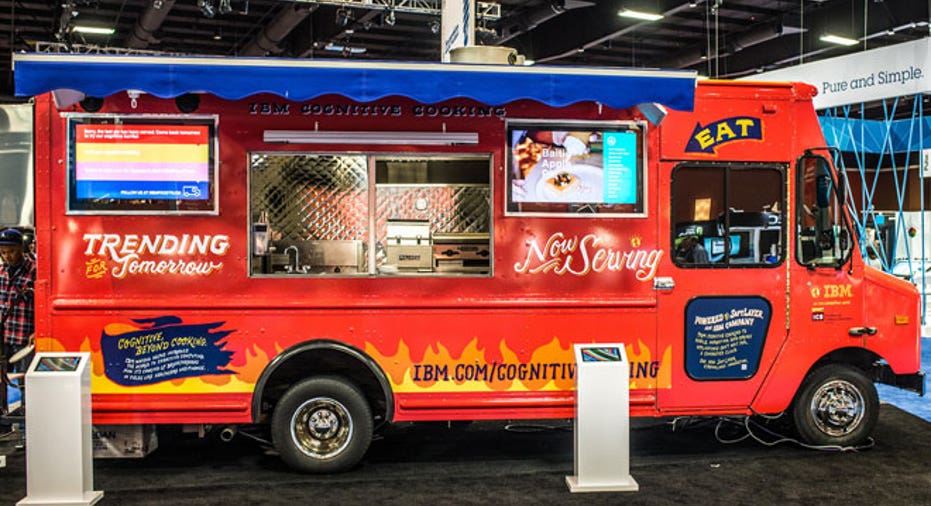 IBM (NYSE:IBM) wants to see how far it can push machines to act more like humans, and it's starting by giving Watson a chef hat.
As the four-day South by Southwest music and tech conference kicks off in Austin on Friday, a Watson-operated food truck staffed with award-winning chefs from New York's Institute of Culinary Education will be creating out-of-the-box, exotic dishes for consumption.
Menu ideas will be generated through suggestions from fans on Twitter (NASDAQ:TWTR), and Watson, which will have studied 30,000 different recipes by then, will instantaneously scan six quintillion potential combinations (that's 18 zeros).
It will do this using just a few inputs decided upon by humans, such as type of food (think soup vs. pie) and cuisine (anywhere from Chinese to Tex-Mex).
The cognitive computer, which defeated reigning Jeopardy champions in 2011, will score potential recipe combinations based on their pleasantness, pairing and surprise of raw ingredients.
The recipe deemed the best in all three categories by Watson will then be cooked up by human chefs and served out of IBM's blood orange food truck dubbed the Cognitive Kitchen.
So far, the top trending food types are pie, fish and chips and dumplings. It's up to Watson to determine what they'll be infused with.
"Can computers be creative and help us come up with creative ideas?" asked Steve Abrams from IBM's Watson Group. "It is really one of the crowning achievements of human intelligence."
Culinary Creation 
A few years ago when IBM won at Jeopardy with Watson, it introduced to the world an advanced type of cognitive computing that was capable of defeating some of the best human minds at a complicated function.
The next challenge was determining whether it could use creativity on top of the logic, and now the Armonk, N.Y.-based tech giant has entire divisions dedicated to expanding Watson's capabilities and its use among real-world applications.
IBM launched the Cognitive Cooking project last year at an event at its Almadeen research lab in collaboration with ICE to try and prove this theory. It made its debut last month at IBM Pulse in Las Vegas and this weekend it will travel to SXSW -- known for its creative culture and food trucks.
Part of the goal is to test the boundaries of cognitive computing and human collaboration. Big Blue is trying to see how far it can mesh the two and is exploring how the human/machine interaction will benefit industries from healthcare to transportation.
"Can computers help us come up with creative ideas?"
Roger Kay, tech analyst and president of Endpoint Technologies Associates, agrees that the IBM food truck serves as a proof of concept, something he says will showcase "how the Watson engine works in ordinary applications."
"It's not a practical use as yet," he said, though added that "the idea that an application can tap into Watson, which becomes a back-end service, is intriguing."
Kay pointed to the medical diagnostic and emergency management planning industries as one way this type of creative human-machine collaboration might take off in the future.
IBM also says it is "very close" to striking deals with flavor and fragrance companies, which would use Watson's decision-making system to explore new innovative scents and tastes.
However, Kay said it will likely "take years" to find a way to make Watson into a "service-on-tap" that consumers can consult as they would, say, Google (NASDAQ:GOOG) to find answers to problems.
For now, IBM says by making this abstract idea relatable through food and allowing consumers to physically smell, see, touch and taste its creations, it can better demonstrate the potential dimensions of cognitive systems.
"We want to make it more palatable, concrete, because this is a new area of computing and we want to think more about what is possible," Abrams said. "We're using this as a springboard to learn the boundaries of where we are and how we can push them."
Pipe Dream?
IBM has entire divisions dedicated to pushing the limits of technology. And while scientists have long dreamed of adding human-like dimensions to artificial intelligence, it was just a pipe dream until recently.
Now, with complex algorithms and big data generating machine-learning capabilities, Watson and its rival systems are ready to step up to the plate (pun intended).
"This is just the tip of the iceberg," Abrams said.
The only question left is: Would you rather have German dumplings or Irish lo mein?