Why Halloween Scares Insurance Providers (and Should Scare You)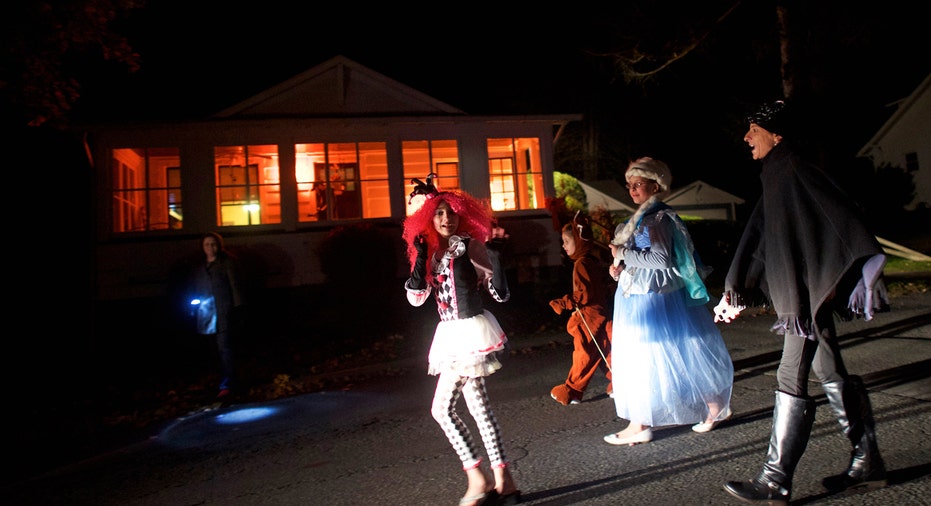 See the leaves change color and fall almost before your eyes. Taste the pumpkin spices featured in nearly every treat. Watch the horror movies dominating television. Yep, it's October, with Halloween hype ratcheted up to full throttle.
Kids and adults alike dream — hopefully with no appearances from Freddy Krueger — about how they will dress on the one night of the year where anything goes. Spiderwebs and carved pumpkins decorate doorsteps, and grownups splurge for bowls full of fun-size candies for trick or treaters.
Before you get too carried away with thoughts of a thriller night, understand how real Halloween horrors can affect your home insurance.
Be cautious when carving
Carving pumpkins is one of the most fun Halloween activities, and allowing a child to carve one on his or her own for the first time is a noteworthy rite of passage. Still, children with knives should always be supervised. If you're not dead-set on carving, a fun alternative is to paint pumpkins — brushes aren't sharp.
Sinister flames
Pumpkin danger doesn't end with a scary face. It's customary, after all, to light a candle inside your jack-o'-lantern to give it an ominous flicker night after night. But the threat is real: Pumpkins can easily be knocked over and cause nearby decorations, loose-fitting costumes, plants and more to ignite.
About 33,900 fires were reported between 2009 and 2011 during the three-day span surrounding Halloween, according to the U.S. Fire Administration. Halloween fires caused 30 deaths, 175 injuries and $96 million in property damage per year during that time.
While fire damage typically is covered by standard homeowners policies, it's vital to take steps to lower your home's risk. Instead of placing candles inside your pumpkins, opt for battery-powered tealights.
Keep the beasts at bay
If you have dogs or other pets that may react poorly to trick or treaters, put them in a room that's gated so you don't have to worry about any biting scenarios.
More than one-third of all home insurance liability claims in 2014 involved dog bites, which cost insurance companies about $530 million, according to the Insurance Information Institute (III). Do yourself a favor and confine your pets.
Devious decorations
If Halloween is your favorite holiday and you like to transform your home into a haunted house, or fill your yard with spooky scarecrows, spiderwebs, and skeletons to greet trick or treaters, reviewing your home insurance policy is a must.
The common theme: liability.
If over-excited children sprint to your door in search of candy, trip on your porch step, and break a limb, you could be liable, since the injury happened on your property. Make sure your home is well-lit, and survey the yard for decorations or other items that could cause trick or treaters to slip and fall.
If you put on a haunted house — especially for children — you're testing your guests' fight-or-flight responses. When kids get scared, they run, and they could fall and hurt themselves. Don't make your haunted house too scary for children to handle, and be sure you have plenty of liability coverage. The average bodily injury claim between 2009 and 2013 cost $19,466, according to the III.
The other issue with haunted houses applies to those who charge admission. Collecting a fee could transform your harmless haunted house into a business, and if you don't have a business policy, your home insurance likely won't cover costs in the event of an injury.
Villainous vandals
In many areas, the night before Halloween is known as "Mischief Night," when teens and young adults often engage in pranks and minor vandalism such as playing 'ding-dong ditch' or toilet-papering yards. The fun can escalate to serious vandalism, such as smashing windows or dabbling in arson.
To avoid falling victim to vandalism around Halloween, keep porch lights on and consider adding motion-sensor lights around the exterior of your home. Park your car in a garage, if possible; test smoke alarms; and remind all members of your family about your emergency evacuation plan in case of fire.
Though standard home insurance policies typically cover vandalism, think twice about filing small claims — say for damaged decorations. For one thing, you'll have to pay a deductible, which could be more than the claim. Plus, filing a lot of small claims could cause your premiums to rise when it comes time to renew your policy.
Spooky soirees
With Halloween falling on a weekend, a party featuring scary snacks and fun cocktails might be part of your plans. Whether you're hosting the festivities or just attending someone else's, consider the following factors.
The last time Halloween fell on a Saturday was in 2008, and the III reported that 58 percent of highway fatalities that night involved drivers with blood alcohol contents at or above the legal limit. Wrecks involving impaired or drunken drivers on Halloween kill three times more people as on New Year's Eve, according to the National Highway Traffic Safety Administration.
If an impaired guest leaves your party and causes a crash that hurts or kills someone, you could be on the hook. A wise host collects guests' keys as they arrive, and monitors their alcohol intake.
If you don't feel comfortable cutting off friends or family, hire a professional to tend bar and shoulder that responsibility. Above all, make sure impaired guests have a designated driver or let them spend the night.
You can follow these steps and still have Halloween fun — plus you'll minimize your chance of needing to invite a really scary guest: your insurance provider.
More from Zillow:Sharpen Your Pumpkin Carving Skills With a ProHow to Throw the Perfect Pumpkin-Carving PartyWhy You Shouldn't Hate Your Homeowners Association Dues
Note: The views and opinions expressed in this article are those of the author and do not necessarily reflect the opinion or position of Zillow.
HomeInsurance.com is an online resource for homeowners and drivers across the country. Offering comparative automobile and home insurance quotes, consumers rely on HomeInsurance.com for the most competitive rates from the top-rated insurance carriers in the country. The HomeInsurance.com blog provides fresh tips and advice on a range of financial topics to help homeowners and home buyers make educated decisions about their insurance purchases.