Why Facebook Wants to Buy a Drone Company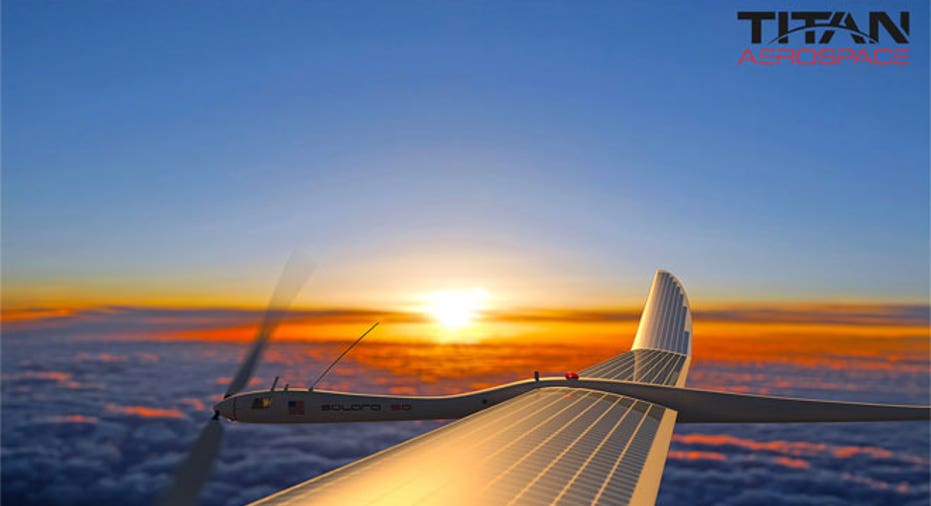 In an effort to expand Internet access in the developing world, Facebook (NASDAQ:FB) may be about to leap into the drone industry.
According to TechCrunch, Mark Zuckerberg's company is in talks to acquire startup Titan Aerospace, which makes near-orbital, solar-powered drones that can fly for five years consecutively without landing.
Following the possible $60 million buyout, all of Titan Aerospace's production would be solely for the Internet.org project, which aims to bring affordable Internet access to the five billion people who need it, the tech blog reported.
Facebook declined to comment on "rumor or speculation," while Titan Aerospace did not respond to an inquiry.
Founded in 2012 by Max Yaney, Titan Aerospace makes atmospheric satellites, which are high-altitude drones that can complete functions like weather monitoring or earth imaging at a cheaper cost than traditional satellites.
The so-called "atmosats" can even be launched at night using power from battery packs and then rely on solar power to ascend. They have a cruising speed of more than 60 miles per hour and can soar to more than 12 miles above sea level and stay aloft for five years.
These drones can also carry a payload of about 70 pounds, making it possible Facebook or another company could deploy them to project free Internet to developing nations.
According to TechCrunch, Facebook wants to use the drones to blanket parts of the world without Internet access, starting with Africa. The social network would launch the effort by building 11,000 of these drones, focusing on the "Solara 60" model.
Titan Aerospace's website says the company's goal is to "create products that not only deliver groundbreaking functional benefit but also deeply inspire us on an emotional level."
Google (NASDAQ:GOOG) has also explored efforts to expand Internet access. The search giant's "Project Loon" seeks to deploy balloons in developing areas to send Internet signals.
Both Google and Facebook stand to gain by expanded Internet access, which could open their services to billions of potential new users.
The Titan Aerospace buzz comes just weeks after Facebook shocked Silicon Valley by shelling out $19 billion to acquire messaging service WhatsApp.
Shares of Menlo Park, Calif.-based Facebook rallied 1.81% to $68.63 Tuesday afternoon, outpacing a 1.56% rebound on the Nasdaq Composite following Monday's selloff.