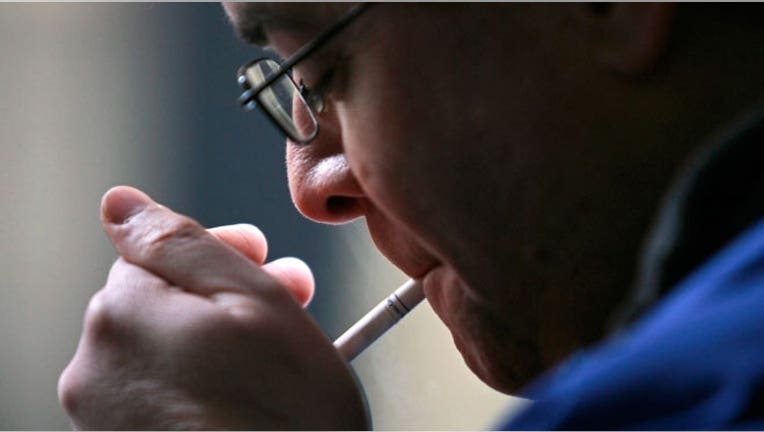 The traditional cigarette market took a big hit on Wednesday after CVS (NYSE:CVS) said tobacco no longer has a place in settings promoting healthy living.
Lots of people apparently disagreed with that sentiment, and the pharmacy giant spent much of its day defending itself against critics on Twitter (NASDAQ:TWTR). But whether you are in the pool of supporters or not, it's hard to argue that this is not a smart strategic move for CVS.
Tobacco may drive foot traffic that can lift front-end sales but it's a dying market in the U.S.
Smoking remains rampant in Europe and Asia, but less than 20% of Americans now smoke regularly thanks to jarring anti-smoking campaigns and studies directly linking smoke to cancer.
Exiting at this early stage not only gives CVS the ability to divest a business before it becomes unprofitable and free up cash for new products and programs, but also the chance to leave on a moral high ground and potentially use that as marketing leverage.
"The positive attention CVS is receiving has an undeniable impact on how a number of consumers will likely view the company," said Edward Jones analyst Judson Clark.
It's not all that different from what Verizon did a decade ago when it exited the phone-book business. It was able to use excess cash from the dying book business to invest in new innovative products such as FiOS, which is one of its most profitable business units today.
"There is a bigger strategy behind this," said Rita McGrath, a Columbia business school professor. "CVS is pulling out of an area that's really slow growth. This is never going to be a growth area for that firm again, and it's freeing up those resources they can start investing in areas of other opportunity."
The move also puts pressure on CVS rivals Walgreen (NYSE:WAG) and Rite Aid (NYSE:RAD). If they stay, they scoop up some excess traffic but risk being perceived as capitalizing on the "misfortunes of people who are addicted to tobacco," McGrath said.
If they leave, well, they are at risk of losing billions of dollars.
"It's going to be risky for those other firms if they don't respond in some way," McGrath said.
In a letter titled "CVS Quits For Good," chief executive Larry Melo said the second-largest pharmacy chain would stop selling tobacco products at its 7,600 stores by the end of the year and take a $2 billion hit on revenues because "it's the right thing to do."
"It is certainly refreshing to see a publicly-traded company sacrifice short-term profits for a nobler goal, but we think there is more to the story than that," Clark said.
While $2 billion is a large number, it's tiny compared to the $125 billion in revenue CVS is expected to report in fiscal 2013. At the same time, tobacco products tend to carry lower profit margins than other front-end products.
In response, rival Walgreen (NYSE:WAG), the nation's biggest pharmacy, said it has been evaluating the sale of tobacco products for "some time."
"We have been evaluating this product category for some time to balance the choices our customers expect from us with their ongoing health needs," a Walgreen spokesman told FOX Business in an e-mail.
Rite Aid (NYSE:RAD), the third largest pharmacy, also said is continually evaluates its product offering to ensure it meets the needs of customers. While it sells a wide range of tobacco products "in accordance with federal, state and local laws," Rite Aid says its pharmacists are available to "counsel people trying to stop smoking."
One way to play this as a pharmacy would be to exit traditional tobacco and instead adopt products that help addicts quit, such as nicotine patches and e-cigs.
Wells Fargo analyst Bonnie Herzog last year predicted the e-cig market would surpass the multibillion-dollar tobacco market in the U.S. within a decade. Tobacco companies, noting the rising popularity of e-cigs, have since invested in bolstering their healthier product lines.
Philip Morris (NYSE:PM) and Altria (NYSE:MO) in December said they would work to commercialize reduced-risk products and e-cigarettes in America, including developing novel products that would reduce the risk of tobacco-related disease.
Altria earlier this week spent $110 million on Green Smoke to better leverage its position in the fast-growing market. The alternative tobacco company generated revenue of $40 million last year by selling rechargeable and disposable e-cigarette products.
The question is, if Big Tobacco can make these strategic moves, why can't CVS?
For now, investors are bearish on CVS's decision, pushing its shares down 0.90% to $65.52 on Wednesday, while those of Walgreen ended up 3.3% to $57.78 and Rite Aid's closed up 1.7%.
"Viewing the announcement through this broader lens, we think today's selling is a bit of an overreaction and we view recent weakness as a buying opportunity," Clark said.
Despite a note from Wells Fargo insisting CVS's move wouldn't impact tobacco manufacturers, shares of Altria closed down 1.25%, while those of Philip Morris were up just 0.22% to $77.05.