Why Costco Loves Store Sales: You Try Shipping a Tub of Mayo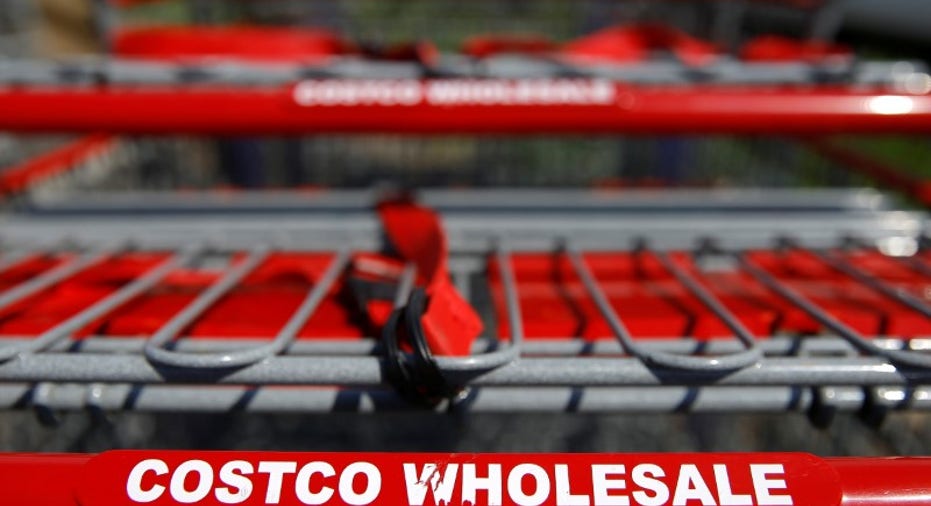 Costco Wholesale Corp. (NASDAQ:COST), which built an empire selling products in bulk, hasn't felt the need to transfer that winning strategy online.
"We want to get you into the store because you're going to buy more," Costco's finance chief Richard Galanti said last month when asked during the company's earnings call about its e-commerce growth. Costco attributes much of its success to the treasure-hunt atmosphere it creates in its 725 stores by cycling through new products to spur impulse purchases.
But in an era where people are shopping online for giant packages of everything from dog food to disposable diapers, more investors and analysts are pressing Costco to focus on e-commerce. Meanwhile, online retailers such as Amazon.com Inc. and newer players like Boxed.com are making inroads with consumers looking to buy in bulk.
"They are in an OK spot for now, but I don't think that will last forever," said Tim Campbell, a Kantar Retail analyst covering warehouse chains. "They need to get ready to compete with Amazon."
Wholesale chains have been slow to embrace home delivery for online orders. Shipping half-gallon tubs of mayonnaise is expensive -- especially as carriers move to charge by size in addition to weight -- and profit margins are already low on most household staples.
"We are a little late to the game on purpose," said Mr. Galanti in an interview. "We recognize there are things we can do or should be doing."
Costco's contrarian stance on e-commerce is supported by its strong store sales at a time when many brick-and-mortar chains have floundered. But as e-commerce grows in importance, Costco's online sales growth has slowed. It hovered around 10% in recent quarters, lower than comparable figures by Amazon (NASDAQ:AMZN) and Wal-Mart Stores Inc. (NYSE:WMT). Online sales account for about 4% of Costco's $119 billion in annual revenue.
Costco is making some moves, adding more products to its website, such as cosmetics and clothes, and investing in distribution centers to speed delivery. It now sells about 10,000 products online and 3,700 in a typical store.
The company lets nonmembers buy most items it sells online, generally at a 5% upcharge, Mr. Galanti said. "We want them to see the site and hopefully become a member."
BJ's Wholesale Club Inc., with 214 stores in the eastern U.S., said it is also emphasizing online efforts that ultimately get shoppers into stores. It sells about 10,000 products online, though much of the food and household products listed are only available for store pickup.
One complication for selling Costco-size packages via a website is the move by carriers like United Parcel Service Inc. (NYSE:UPS) and FedEx Corp. (NYSE:FDX) to charge based on package size as well as weight.
A $13 tub of mayo could cost a big retailer $5 to $8 to ship from Los Angeles to the Las Vegas area, depending on how remote the buyer's address is, according to a cost analysis by consultants Spend Management Experts. A smaller retailer would likely pay about double.
To make up for shipping costs, warehouse chains sometimes charge more for products online or sell larger quantities. Costco sells only two-packs of its popular store brand Extra Fancy Mixed Nuts online for $38.99, including shipping, but it sells the same product for $33.98 in stores, as well as a $16.99 single pack.
Some online upstarts say the economics can work. Boxed, based in New York, presents shoppers with a selection of items that encourages them to buy more at once. The goal is for a customer to spend about $100 on 10 items, said Chieh Huang, the firm's chief executive and co-founder.
"Three years ago we were extolling the virtues of buying toilet paper online, and people were looking at us like 'that's the stupidest idea ever,'" said Mr. Huang. "It's a full-on race now." The company had more than $100 million in revenue last year and is unprofitable.
Amazon is encouraging shoppers to buy smaller, higher-margin products along with bulk items shipped in a large box, its answer to the wholesale chains. Dubbed Prime Pantry, the service allows Amazon to sell groceries and household products that its website says are "cost-prohibitive to ship for free individually."
Last year, Amazon reported sales excluding its cloud division rose about 25% to $123.8 billion.
Sam's Club, a warehouse chain owned by Wal-Mart Stores Inc. with $57.4 billion in sales, has installed drive-through stations where customers can pick up online orders in about 65 of its 660 U.S. stores.
While a typical Sam's Club sells around 6,000 products, Samsclub.com now sells more than 51,000, many of them bulk items such as 24-packs of Gatorade and 252-count boxes of Pampers diapers.
The investment is worth it, said Jamie Iannone, chief executive of SamsClub.com, because shoppers who buy both online and in stores spend more and renew their membership more often.