Why Athletes Need to Start Planning Now for their Second Career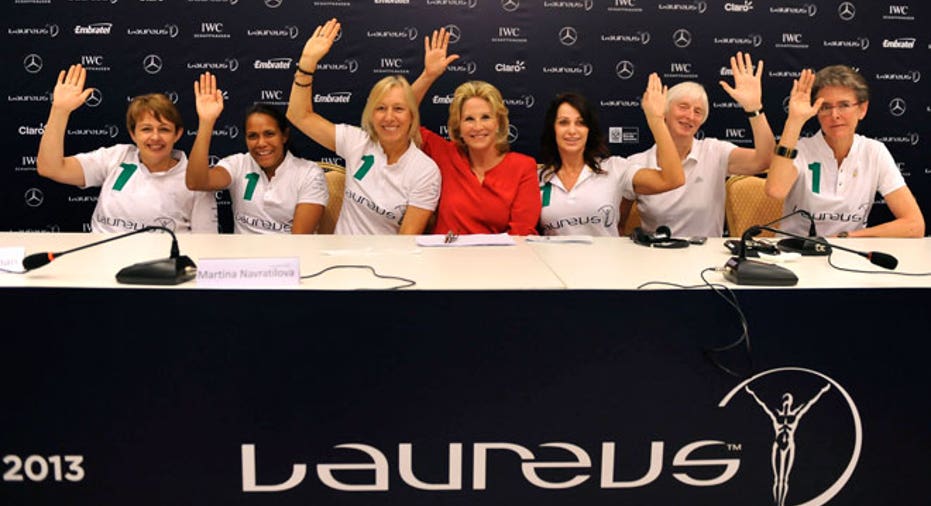 Donna de Varona has an Olympic gold medal and holds two world swimming records. Yet she went an entire summer without electricity at age 17 because she couldn't afford it.
Like many athletes, de Varona struggled with establishing a career for herself outside of the sports world. Professional athletes dedicate a good portion of their young adult lives in gyms working out, training and competing to become the best in their sport while their peers are just entering the workforce and logging hours behind a desk to climb the corporate ladder. But that doesn't mean athletes aren't also gaining valuable work experience that would enhance and bring value to an office.
After she retired, de Varona moved to New York City and appeared as one of the first women sportscasters on ABC's Wide World of Sports in the 1960s.
"In sports, you deal with setbacks and acquire skills that are applicable to the workplace," de Varona says. "I felt if I could be visible, after I retired, that I could make a difference. It was convincing a male-dominated field that a woman's voice could work on sports beyond swimming." She says it was hard for her to gain traction in the corporate world because she lacked the network and resources most workers establish at their first jobs.
Today, de Varona has teamed up with accounting firm Ernst & Young to offer a three-part initiative to help elite women athletes and Olympians transition to meaningful careers after retiring from sports. The initiative was announced this week during a panel discussion on "Women in Sports" at the Laureus World Sports Awards in Brazil.
Beth Brooke, global vice chair of Public Policy at Ernst & Young and a Title IX scholarship recipient, says leading up to the Rio 2016 Olympic Games the initiative will  create a Women Athletes Global Leadership Network to connect athletes with mentors. It will also incorporate multi-media platforms to tell stories of how women have impacted the world of sports, and also commission new research about the connections between sports and leadership.
"We need more women in leadership across all sectors," Brooke says. "For many Olympians, their story stops with this stage of their careers, so this is all about how they pivot and transition."
The Post- Career Challenge
The power of a name can only take a former athlete so far when it comes to job hunting, says Daniel Casteel, president of Gone Pro, a company that works with former collegiate and professional athletes transitioning out of the sports world. Casteel, a former University of Alabama football player, says super star athletes can use their name and brand recognition to their advantage—but they have a short window and the foundation must be set.
"They attract recognition because of that 'name-sex appeal' but is there an underlying structure that helps to train and prepare you for success in that field?" Casteel says. Athletes must also show they are hard workers, team players and dedicated. "In three or four years, when that name recognition fails, things are not in place to aid your success."
While they may be exposed within their sports, too often athletes lack role models and exposure post- career, especially women, says Brooke. Many have entrepreneurial skills they may not even recognize because they have been so focused on athletics their entire lives. "We are trying to create an expanded network of senior business leaders, political leaders and more, and connect them to elite athletes so they can see the realm of possibilities outside the world of sports."
Michelle Marciniak knows a thing or two about making a successful transition from sports to entrepreneurship. The 11-year USA Basketball veteran cofounded SHEEX, a line of functional bedding focusing on sleep and recovery, and is also a part of Ernst & Young's Entrepreneurial Winning Women program. She said she faced a big gap in her Rolodex and had to learn how to quickly network and establish industry contacts to make up for lost time after leaving basketball.
However, she says her biggest challenge was not knowing where to start. "As an athlete, you are an entrepreneur and there is a huge link between all of the characteristics you have from your work ethic to drive to self confidence. You have to use that sports culture and attitude as an athlete to become an entrepreneur."
What Athletes Should Do Now
Athletes still in the game should consider taking a career assessment test and listing potential industries that fit with their strengths to move into for a post-sports career, says Jim Arnold, vice president of Business Development at Gone Pro.
"Go through an assessment at different career points," says Arnold, who played in the NFL for 12 years. "Identify other areas and know that football, for example, is not a lifetime career."
Identifying interests and skills before leaving the sports market is important, Arnold says. Current athletes should also create a resume and work on interviewing skills and learning how to translate skills learned in the sport to an office setting.
Casteel advises athletes use their status to start networking with people of all walks of life, and to learn from coaches, business owners and entrepreneurs.
"Too often players are concentrated on playing only, with their heads down," he says. "They miss so many networking opportunities."