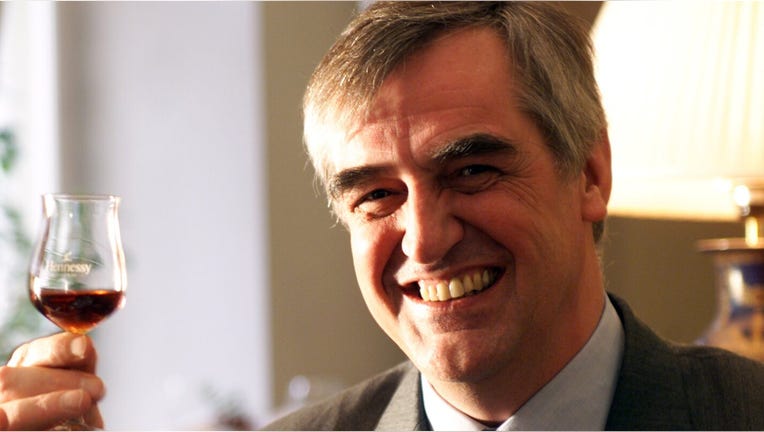 As the "H" in LVMH, cognac manufacturer Hennessy is part of the largest luxury goods conglomerate on the planet. With sister brands that include Dom Perignon, Moet et Chandon and Krug (and, outside of the adult beverage world, Louis Vuitton, Marc Jacobs and Fendi), Hennessy has a reputation for quality and produces more than 50 million bottles of its famed cognac a year.
But before it merged with Moet et Chandon in 1971 and with Louis Vuitton in 1987, Hennessy was a family company – and in some ways, it still is. For one, the brand's global brand ambassador, Maurice-Richard Hennessy, is a direct descendant of the man who founded the Hennessy cognac distillery in 1765 and has been involved with the brand for the past 30+ years and all of the economic ups and downs that have come with it.
In the conversation below, Hennessy discusses the best-selling cognac (hint: it's not the $4,000 bottle), explains why the company chose to wait nearly 50 years before introducing a new product to its line and weighs in on whether cognac will ever be ordered at bars with the same frequency as vodka and tequila.
1. What's your best-selling product globally? In the U.S.? How much does it retail for and how many bottles do you sell of it a year? Hennessy V.S, or Hennessy "Very Special," is the brand's best-selling product both globally and within the U.S. It retails for approximately $35 and is the No. 1 selling cognac in the world.
2. What's the most expensive label in the Hennessy collection? How much is it? Hennessy Richard is our most expensive label and retails for approximately $4,000. It is a blend of the Grands Siècles, a unique combination of over 100 "eaux-de-vie" [a brandy distilled from the fermented juice of fruit] matured to their fullest flavor. The oldest of these may even date back to the 19th century!The best way to enjoy this fine cognac is by serving it in a crystal tulip-shaped glass to enjoy the release of aromas.
3. In June of last year, you brought Hennessy Black to the market. It was the first time you'd added a new item to the Hennessy portfolio in almost half a century. Why did you decide to do it then, and how has the product performed? Our fastest-growing consumer base, consisting of those who can be best described as "modern" and "trendsetting," was looking for new and innovative ways to consume cognac. Hennessy Black provides this generation with the perfect blend, a fun yet sophisticated drinking experience.
4. The luxury consumer has come back in a big way, especially in China. Have you noticed this in your own business? Yes, very much so. China is our largest market for our Prestige category/range.
5. Why is it that cognac can only be made in Cognac, France? French law requires us to comply with the country's request to use white wine grapes grown in the region of Cognac. The combination of the type of soil and the micro-climate provides an excellent environment for which the brand to grow and harvest these grapes within. The grapes are then distilled in the region and aged in French oak barrels in store houses.
6. Many people think of cognac as being a drink for older individuals. Is that still the case? No, cognac is very versatile. Many drink it on its own, in a cocktail or on the rocks. Consumers of all ages consume cognac the best way they know how to enjoy it. 7. Do you think a day will come when younger generations order cognac the way they order tequila or vodka? In some countries, they already do. But cognac is a rare product that will always be available in a limited quantity. Through our "Done Different" campaigns, which include partnerships with world-renown DJs, Hennessy Black aims to target more contemporary, hip consumers, transitioning cognac from being enjoyed as a sipping drink alone to being the main ingredient in a variety of mixed drinks, similar to tequila and vodka.8. What is the brand hoping to achieve over the next few years? The brand will continue to dedicate time towards communicating the brand's legacy and creating the perfect blend of cognac. We also look forward to seeing the Hennessy portfolio continue to grow.9. What food does cognac complement best, in your opinion? Hennessy blends beautifully with Asian food, chocolate and foie gras (a delicacy of duck or goose liver), bleu cheese, and many fruits such as oranges.10. What's the biggest misconception people have about cognac? It is believed that cognac should only be consumed on its own at room temperature. However, it may be consumed as a main ingredient in a mixed drink with ice. Try mixing it with apple or cranberry juice!