Whole Foods Supplier Under Fire for Turkey Treatment: Activist Video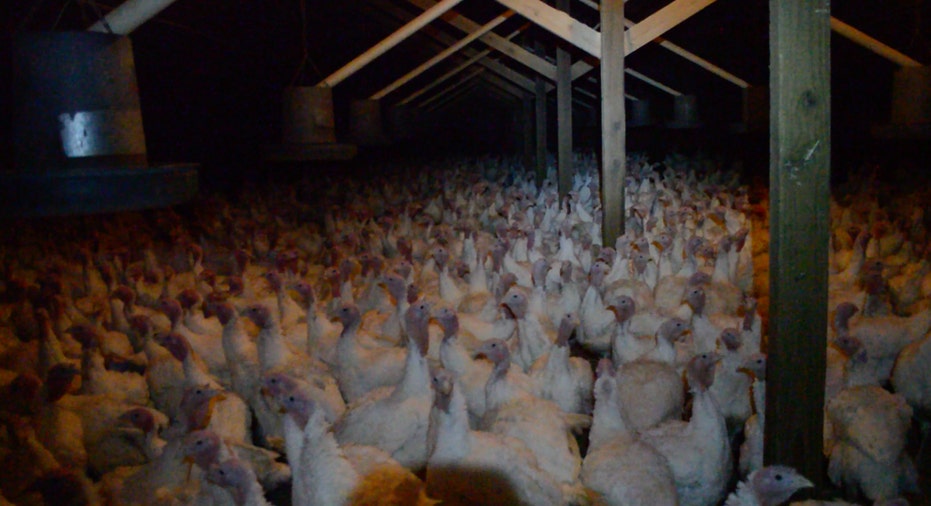 An animal rights group released a video Tuesday showcasing turkeys living in filth at one of Whole Foods' (NASDAQ:WFM) top-rated turkey suppliers. The group, called Direct Action Everywhere, also known as "DxE" says turkeys live in crowded barns with feces covering much of the floor.
"This particular case was galling because the farm in question had a "front farm" that according to water quality records has not being a commercial farm in several years. And, the front farm is where all the photos and videos come from that Whole Foods have on their website," Zach Groff, Investigator and Press Coordinator for DxE tells FOXBusiness.com.
The nine-month investigation was done at Diestel Turkey Farm in Sonora, CA, which has received Whole Foods' highest rating for animal welfare.
"The truth is that a vast majority of the turkeys actually come from another facility that is absolutely horrific," adds Groff.
Michael Silverman, a Whole Foods spokesperson tells FOXBusiness.com that it's important for consumers to understand the mission of animal activist groups like this one.
"Everything they say, do and show is produced with that specific goal in-mind," he adds. "Within hours of this video being brought to our attention, Whole Foods sent an expert team to evaluate the conditions of the Diestel farm.  Our team found that the conditions were not as they were portrayed in the video."
Silverman says all of their turkey farms, including Diestel are audited every 15 months by an independent third party in order to capture farm conditions in every season.
Heidi Diestel, a 4th generation family farmer at Diestel Farms says they "cannot confirm the video presented is from their farm" and that they pay close attention to the health of their animals.
"Diestel farmers walk the turkeys every day," the family said in a statement. "It seems very clear that the mission of Direct Action Everywhere is to end farm animal agriculture and meat consumption completely."
Diestel says all of their ranches have received third party audits by the Global Animal Partnership (GAP). "Our turkeys are raised in accordance with their standards and GAP awarded Diestel's pasture raised birds its highest 5+ rating. That's not easily achieved and is a big point of pride for the Diestel family," she adds.
Wayne Hsiung, the lead investigator at DxE oversaw the entire operation and said: "the notion that Whole Foods can drop in every 15 months, on pre-arranged visits, and somehow demonstrate that 'all is well' is ludicrous."
Hsiung says there have now been at least three major investigations showing that Whole Foods' auditing system is, "at best grossly negligent and at worst an outright scam."
DxE says they have targeted Whole Foods in their investigations because they're the most prominent and aggressive promoter of the idea of humane animal agriculture.
Whole Foods says they "go to great lengths to rigorously evaluate all of our suppliers and we maintain the most stringent standards in the industry" says Silverman.
Back in August, McDonald's (NYSE:MCD) and Tyson Foods (NYSE:TSN) were under fire after an undercover video by Mercy for Animals, another animal rights group, showed a factory farmer beating chickens with spikes and stepping on their heads to breaks their necks.
"Sadly, millions of turkeys a year are abused in ways that turn most people's stomachs. From the day they hatch until they are violently killed at the slaughterhouse, their short lives are filled with misery and deprivation," says Matt Rice, Mercy for Animals' Director of Operations.