WHO Expects Around 200,000 Ebola Vaccine Doses by Mid-2015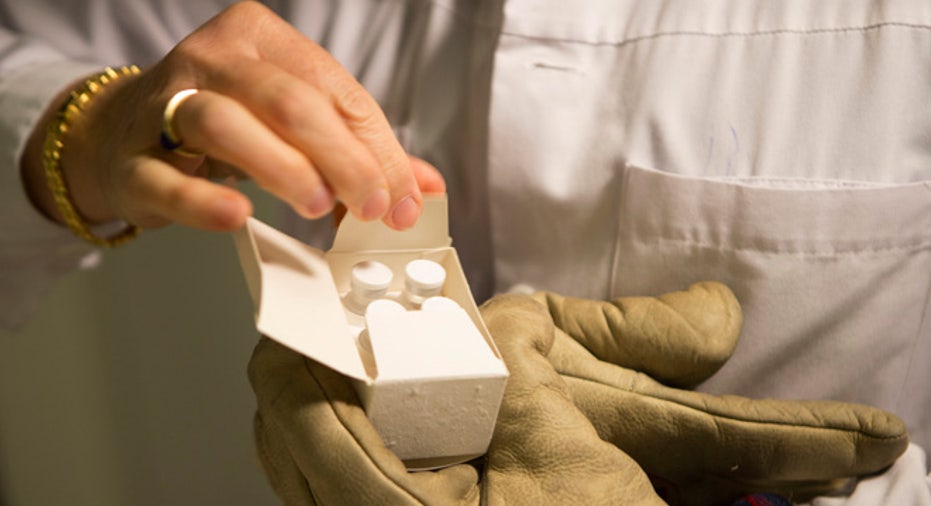 The World Health Organization (WHO) set out plans on Friday for speeding up development and deployment of experimental Ebola vaccines, saying hundreds of thousands of doses should be ready for use in West Africa by the middle of 2015.
The Geneva-based United Nations health agency confirmed that two leading vaccine candidates are in human clinical trials, and said another five experimental vaccines were also being developed and would begin clinical trials next year.
"Before the end of the first half of 2015 ... we could have available a few hundred thousand doses. That could be 200,000, it could be less or could be more," the WHO's Marie-Paule Kieny told reporters after a meeting in Geneva of industry executives, global health experts, drug regulators and funders.
Researchers are testing two candidate vaccines from GlaxoSmithKline (NYSE:GSK) and NewLink Genetics (NASDAQ:NLNK).
"At least 5 vaccines are following closely and will be in the clinic in the first months of 2015," Kieny said. Among those is a potential shot from Johnson & Johnson, which is set to enter human trials in January.
Mali on Thursday became the sixth West African country to have a confirmed Ebola case in the worst outbreak on record of the hemorrhagic fever. The epidemic has killed almost 4,900 people, mostly in Liberia, Sierra Leone and Guinea.
"Vaccines are not a magic bullet, but when ready they may be a good part of the effort to turn the tide against the epidemic," Kieny, the WHO's assistant director general for health systems and innovation, told reporters.
Experts aim to conduct a range of different clinical trials in Liberia, Sierra Leone and Guinea to produce the first efficacy data by around April, she said. Plans are most advanced for Liberia, where two different Ebola vaccines would be compared against a control, or placebo, vaccine.
Kieny said there was a lot of discussion during the meeting about financing, with a number of entities including the World Bank and the international medical charity Medecins Sans Frontieres (MSF) making commitments to help fund Ebola vaccine trials, distribution and deployment.
Drugmakers had also pledged to ensure any shots they do development would be priced at an affordable level.
"There is a broad understanding that money will not be an issue," Kieny said. "And on commitment of vaccine manufacturers, of course there is commitment for affordable prices."
Drugmakers have said they are ready to work together to speed up the development and production of Ebola vaccines.
If data from accelerated safety trials in human volunteers suggests they are safe to deploy, the plan is that several thousands doses will be given to high risk groups such as frontline health workers in Guinea, Sierra Leone and Liberia by early next year.
Rolling out a mass immunization program would not happen until much later, when vaccine production has been ramped up.
GSK's Chief Executive Andrew Witty said on Thursday companies would need some kind of indemnity from governments or multilateral agencies for the widespread emergency use of vaccines in Africa, since the usual years-long process of safety testing has had to be shortened to a matter of months.
Kieny said the discussions on financing also included suggestions that a fund could be created to indemnify companies in case people had adverse reactions to the new Ebola shots.
(Additional reporting by Ben Hirschler in London and Tom Miles in Geneva; Editing by Janet Lawrence)