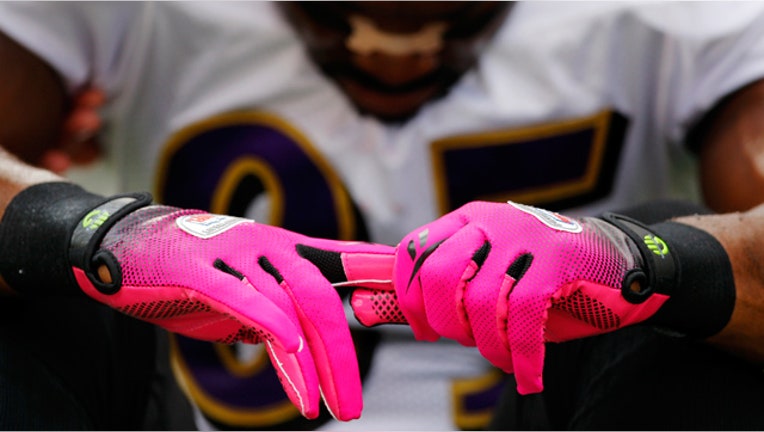 October is awash with pink ribbons, endless walks and fundraisers—even pink cleats in the NFL—all in the name of breast cancer awareness. However, watchdog groups, activists, and even survivors are calling for more research funding and less 'pink' saturation in the market.
With so many different fundraising events and products bearing the symbolic pink ribbon, it's hard for consumers to know just how much of their money is being donated to help find a cure for breast cancer and what is simply being pocketed by companies.
Sandra Miniutti, vice president of marketing and CFO of Charity Navigator, says breast cancer is one cause that tends to not only unify, but also pulls at donors' heartstrings, leading many to give blindly without doing due diligence on charities and products.
"The ultimate reason to support a charity is its results," Miniutti says. "Review their website to assess recent accomplishments [and] goals; this is an area where many donors run into trouble with breast cancer. They think they are supporting research, but it's really advocacy or awareness."
The marketing force behind breast cancer month is astounding, with a variety of corporations and brands partnering with charities to spread awareness and push "pink-" theme products. However, these relationships have drawn more criticism over the years, according to Miniutti.
"There is much more backlash and questioning of how much is authentic marketing. A lot of women who have been affected by the disease, the pink doesn't resonate with them. They don't like seeing it throughout the year, and there has been a lot more pushback.
Researching different charities and products for a breakdown of how funds are allocated is time consuming and most charities and companies don't make it accessible, according to Laurie Styron, charity analyst for watchdog group, the American Institute of Philanthropy.
"Even if you want to do your homework, the public has no way of confirming," says Styron. "Information isn't available and companies don't want to give it to you."
There's also a misconception that all breast cancer organizations are related to the American Cancer Society, according to Shawn Van Gorder, director of Charity Evaluation at the Better Business Bureau.
"There is such a saturation in the market with breast cancer charities, and that calls for that much more attention for donors to be sure  their money is going to [the cause] they want it to," he said.
Here are some expert tips on how to safely, and smartly, donate to breast cancer research this October:
Make sure the organization is a 501(c) 3. Entities with a 501(c)(3) designation are considered a charitable organization, and according to the IRS, "The organization must not be organized or operated for the benefit of private interests, and no part of a section 501(c)(3) organization's net earnings may inure to the benefit of any private shareholder or individual."
Miniutti says donating to public charities will help qualify for a tax deduction and means at minimum, the organization is required to file a form 990.
Experts recommend requesting or finding an organization's 990. This information is available on Charity Navigator and will detail how much the charity is investing in its mission versus fundraising and its administrative costs. Miniutti advises a good benchmark to look for is at least 75% of funds going to programs.
Think twice before giving on the spot. If you are asked by a cashier, telemarketer or someone on the street to donate to a charity, Styron said to be wary. "Generally speaking, only about one-third of what you donate to a telemarketer gets to charity," she says. "Don't respond to telemarketing calls or feel pressured to give on the spot."
She also warns against donating while checking out at a drug store or supermarket.
"People confuse the cause with the specific charity associated with the cause," Styron says. "People say, 'I care about saving the dolphins, or breast cancer, or recycling ,' and hand money over, because they think it's associated with the cause."
Also think about direct mail solicitation, which can oftentimes be considered "awareness," as long as there is some type of educational information presented in the message, Styron sayds. "They are basically calling 'fundraising', 'awareness'."
Read the fine print. When purchasing products that support charities, Miniutti advising reading to find out which charity is receiving the funds, what percentage it will get and if there is a cap on the donation amount.
"Programs have caps to them, so you may be purchasing a product, but the company has already made its donation," Miniutti says. "If they said they will only give up to $5,000, then the money may be going to the company, not the cause."
While people may not take the time to do the research before purchasing in store, Miniutti said it can be helpful when trying to decide between two separate products.
Research big events like walks and dinner events. While major events can serve as a morale boosters and a great way to spread awareness, they are oftentimes inefficient. According to Miniutti, the effectiveness of an event like a formal dinner and walk all depends on the overhead costs associated with running it.
She says walks tend to have less overhead. "These (walks) tend to be an inefficient way to fundraise, but there are other benefits to participating in these, especially for survivors. There is a benefit to being together and a call to action to do something," she says. "A ton of money winds up back in the charity's hands."
Also, Styron says to remember that most of the money being raised in these events is for awareness, not research.
"Part of what they are trying to accomplish is breast cancer awareness. If you are someone participating in these events and think that everything you raise is somehow going to research, you are dead wrong."