When Professional and Personal Lives Collide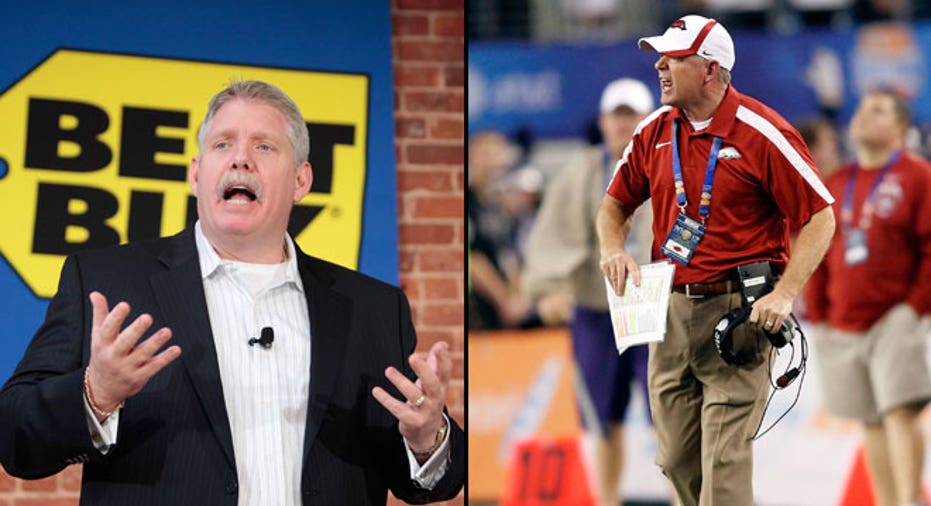 Spurred by technological innovation that is causing even the most sacred private activities to potentially be blown into the spotlight, the once-rigid line between the personal and professional lives of workers is becoming increasingly blurred.
While it may be easy to comprehend how the indiscretions of Arkansas football coach Bobby Petrino and Best Buy (NYSE:BBY) CEO Brian Dunn led to their abrupt, high-profile departures this week, some observers are concerned that companies, already teetering on the line, are starting to cross it.
Scandal has long enveloped people in high-profile positions, from former President Bill Clinton's affair with Monica Lewinsky in 1995, to ex-Boeing (NYSE:BA) chief executive Harry Stonecipher in 2005 and former Hewlett-Packard (NYSE:HPQ) chief Mark Hurd in 2010, who both resigned following probes into alleged relationships with subordinates.
"Do you really care if low-level employees are having an affair? No," said Mara Levin, an employment litigator at Herrick, Feinstein. "But if a CEO who you are holding out as a respectable male is going to see prostitutes every weekend, it's very different."
That's partly why it's far more difficult to understand why Texas society reporter Sarah Tressler, a former low-ranking employee of the Houston Chronicle, was ousted last month after a rival newspaper exposed her perfectly legal double life as a stripper.
Tensions and emotions run high with indiscretion and actions that are perceived to be scandalous, which makes it tough to discern when companies should just stay out of it and when they need to get involved.
Many argue companies should butt out of their employee's personal lives, but employers often have the legal green light to slide a person a pink slip if they believe their actions reflect poorly on the organization, violate some kind of code of conduct or reduce productivity.
"If you're putting it out there, you certainly have a right to expect some privacy, but in the world of high technology, those rights are changing."
Of course, there are exceptions. Employers can't pass judgment based on an employee's sexual preference or recently diagnosed disease, among other things.
"One of the real misses of our society is that social life doesn't affect professional life. It does," said Nancy Rothbard, a management professor at the University of Pennsylvania's Wharton business school.
And it's not just about companies choosing to take the moral high ground; it's about protecting an image and driving profitability.
"Certainly shareholders lose when this bad news come out, but there's also evidence that accounting performance suffers a bit during the time when these alleged indiscretions were going on," said Ralph Walkling, executive director of Drexel University's Center for Corporate Governance.
Work can be impacted both positively and negatively by someone's personal life, but it's the negatively-perceived actions that often affect professional careers so intensely because they hover over an employee's credibility, trustworthiness and integrity, Rothbard said.
Employees are either "at-will," meaning they can be fired for a long list of things, including having a stripping gig, or on contract, which protects them from termination unless there is a just cause that violates the agreement.
Enter morals clauses, which have been the trigger behind many of the high-profile resignations over the last decade. A morals clause is a provision in a contract that prohibits certain behavior in a person's private life. While broad, they often include things like sexual acts and drug use.
In 2007, WellPoint (NYSE:WLP) chief financial officer David Colby was ousted for a personal matter after an investigation led the board to conclude that he violated the company's code of conduct with actions that were "non-business."
"If you're a celebrity, athlete, or CEO, you are in the spotlight," said Stephen Hayes, vice chairman of Washington D.C.-based executive search firm DHR. Your indiscretions "are going to be found out quickly."
Levin said more employers have been adding morals clauses to contracts as a basis of termination. In a way, it's an out for employer under certain circumstances.
"If a company believes it could damage their reputation [or impacts worker performance], it gives them a legitimate legal reason to fire the employee," she said. "You breach that provision and you're gone."
However, these sensitive matters are often viewed on a case-by-case basis, and that's what has started to dissolve the line between how the personal affects the professional. Levin said she thinks that's perfectly fine.
"When you're making an investment in an employee, you do want to know about them. But I don't think you could create a black and white approach to which a person's personal life can provide a basis for termination," she said. "I don't believe there should be a bright-line rule, there are too many factors you need to consider."
Two decades ago, people who had skeletons in their closets or were leading a nontraditional lifestyle were often able to slip by unnoticed. But today, the Internet has changed things.
"If you're putting it out there, you certainly have a right to expect some privacy, but in the world of high technology, those rights are changing," Walkling said. "Companies have an image they need to maintain and employees are extensions of that company."
Take former Congressman Anthony Weiner, who resigned last year after he sent half-naked photos of himself to a woman on Twitter. He was pressured to resign by both his Congressional colleagues and the White House.
"Personal [conduct] has always had the ability to influence the professional in positive and negative ways, but it's often these negative things we are super worried about, and it's exasperated by social media," Rotchbard said.
Of course, firing high-level executives might not always be in the company's best interest.
For example, H-P's shares plunged 22% in the weeks following Hurd's departure. While they rebounded during the second half of the year, the stock is still down 46% from the beginning of 2011.
Similarly, Dunn's departure comes just two weeks after the company reported a $1.7 billion quarterly loss and laid out major turnaround plans. The consumer electronics giant, whose shares are down about 3.5% from Monday's close, says it intends to move forward with the overhaul, but doesn't except to find a new leader for up to nine months – leaving it with a crucial vacancy in the C-Suite.
While Walkling said shareholders "may be rightfully concerned to think there's a link between personal integrity and professional integrity," others have argued H-P and its shareholders would have been better off if they just ignored the incident and kept Hurd put. Those same people are echoing similar sentiment over Dunn's ousting.
"If they're a great employee, and what they're doing in their personal life doesn't impact their professional life, why would you want to fire them?" Levin said. "You could, but do you want to?"