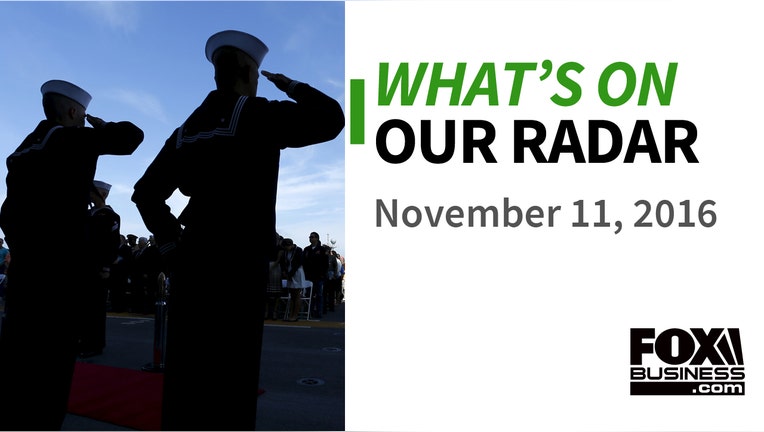 Here's What's On Our Radar, November 11, 2016: Veterans Day.
Honoring Our Heroes
On this day, the nation takes time to reflect on all of the men and women who have served or are currently serving in our military.  We here at Fox Business thank you for your service.  With that said, go get yourself some free pancakes! Click here for some of the deals our military vets can receive today.
Also, take a look at how Home Depot (NYSE:HD) teamed up with a New York City horse therapy non-profit to help vets suffering from PTSD below:
Wall Street Hearts Trump
After the Dow hit a record high yesterday, it appears that investors are all googly eyes for President-elect Trump. Banks are digging Trump's promise to repeal the Dodd-Frank and sectors like defense, oil and infrastructure continue to surge.  How long will Wall Street be bullish on Mr. Trump?
Get smart insight from Liz Claman on Countdown to the Closing Bell, 3p ET.
Better Head to Ikea
Trump's cabinet rumors continue to swirl.   Business fan favorites Wilbur Ross, Peter Thiel and yes, even JPMorgan's (NYSE:JPM) Jamie Dimon's name has been thrown into the ring.  One powerful position everyone is especially interested in; Treasury Secretary.  Rep. Jeb Hensarling, the House Financial Services Committee chair has pursued top GOP priorities in the past, including showing favor to rolling back Dodd-Frank and he has a good relationship with VP-elect Mike Pence in Congress.  But would he consider the job?
Rep. Jeb Hensarling joins Neil Cavuto at 12p ET today on Cavuto Coast to Coast, tune in!