What's Driving Fashion Trucks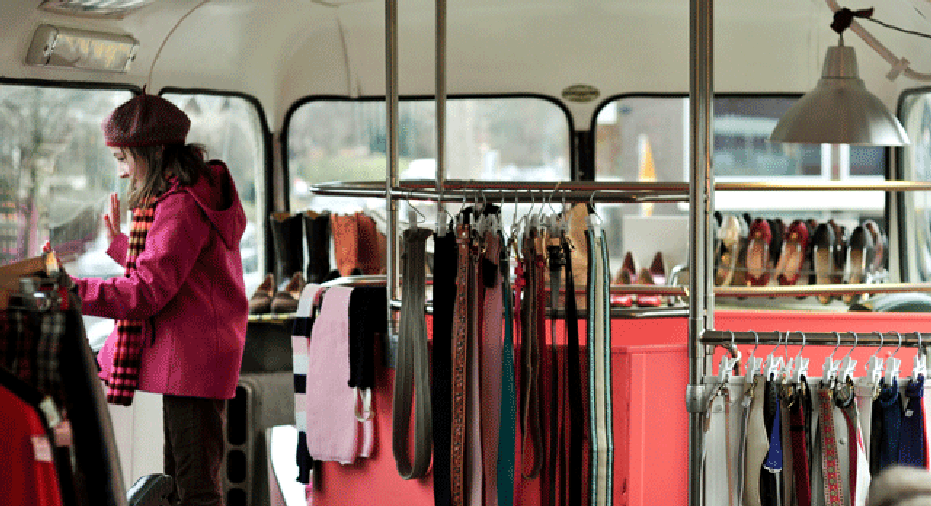 When Portland-based Erin Sutherland got laid off from her job during the recession, like many, she turned to Craigslist. However instead of submitting resumes and searching for a new career, she bought a double-decker bus.
Inspired by the hundreds of food carts that line the ever-hip city, Sutherland, 38, said she set her sights on creating a cart of her own. She invested $15,000 in refurbishing the bus and converting it into a store, and opened Lodekka in October 2010.  The store started off as a dress shop specializing in vintage, resale and second-hand items. Soon it evolved into a retail spot where men and women could pick up an entire outfit and more—jewelry, hats, knickknacks—even furniture, with most items priced under $65, she said.
"Because the economy is so bad everywhere, especially in Oregon, this is a first step for people who want to have a brick and mortar," Sutherland said.
Lodekka is one of many retail stores on wheels popping up around the country. People running them say these businesses allow their owners the ability to go to the customers, rather than having business come to them, and can be started up for much less cash than a traditional store.
Jeanine Romo, 25, and Stacey Steffe, 34, opened up their business, Le Fashion Truck, in January 2011. The store is based in Los Angeles, and came to life after the two women met selling their jewelry and vintage clothing at a local flea market.
"I had been working at a farmer's market every Friday and needed to better my transportation, so it was more out of convenience," Steffe said. "What's key for us is not being grounded in one location at a time. L.A. is a spread out city, so we aren't waiting for customers to come to us. We could never just pick up a brick-and-mortar and move it."
Le Fashion Truck cost between $15,000 and $20,000 to start up, and has recently hired its first assistant, Steffe said.
"We carry three-to-four local designers at a time," she said. "Local is a big thing of ours. We try to carry only [items] made in the U.S.A. as well."
Emily Benson, 29, said she opened her Boston-based business, The Fashion Truck, because of the freedom a mobile store would give her.
After living in Manhattan post-college, she drew on the food trucks she saw all over the city.
"I was a typical twenty something in a big city, and didn't want to settle down," Benson said. "... married the idea of putting a boutique on the road and allowing me to travel. For me it's fun, and women really get a kick out of shopping in the truck—everyone leaves with a smile."
Benson does private parties and corporate events across Boston, and also tries to have one set spot she sells from at least once a week. Having a mobile boutique allows her to cater specifically to the audience she is trying to sell to each day, and gives customers a more personalized experience as well, she said.
"When you walk into the mall, or the Gap, it's not a personal experience. Even at Macy's, when you walk in, there are eight different points of view," Benson said. "[My customers] are seeing one point-of-view of what the 25-to 40-year-old Boston woman needs. I can make a customer experience based on how I merchandise the store."
Wanderlust, a vintage fashion truck in Portland, has seen such success it is now moving into a retail storefront, according to owner Vanessa Lurie. The truck opened in September 2010, she said, after years of collecting vintage as a hobby.
"It's one of those ideas that people maybe had and didn't know was possible," she said of the recent uptick in mobile businesses. "They see others doing it and realize it's not a pipe dream."