What's Apple Got Up its Sleeve for Wednesday's iPad-Themed Event?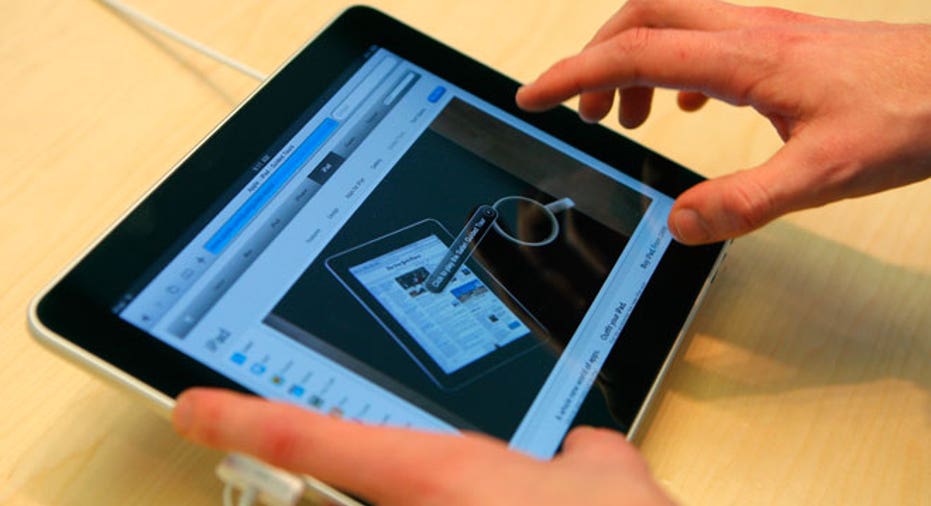 There's never a shortage of rumors surrounding Apple (NASDAQ:AAPL) product launches, and the upcoming iPad-themed event is no exception.  How might a new iPad improve upon the original?  Could we see a new FaceTime camera?  What else could be announced?  Here's a roundup of the speculation surrounding the event.
When the iPhone 4 was unveiled last year with a super-high-resolution "Retina" display, many expected Apple's iPad to follow suit.  However, the Wall Street Journal recently reported the resolution will be similar to that of the first iPad, citing people familiar with the matter.  This, of course, doesn't rule out the possibility that the resolution could see a smaller improvement, though.
Also similar to the iPhone 4, many predicted the next iPad would add a front-facing camera allowing users to use Apple's FaceTime service for video chat over WiFi.
MacRumors.com in January reported finding evidence in an iOS beta update that the next iPad will have a front-facing camera.  The Cupertino, Calif.-rumor site said it found a thumbnail image in the operating system software depicting icons for Camera, Photo Booth, and FaceTime apps.
The aforementioned Wall Street Journal report also said a front-facing camera would be added to the tablet.
But what about a camera on the back?  Tech site Engadget reported we just might see a rear-facing camera as well, especially given recent mockups it's seen.
A major complaint against Apple's iOS devices has been the inability to expand the storage space they have using a memory card.  Adding an SD slot to the iPad wouldn't be too farfetched of an idea, as Apple already sells a camera adapter kit that provides such a slot for downloading pictures taken from a digital camera.  Engadget initially reported the upcoming iPad would have a built-in slot for SD (secure digital) cards, but recently backtracked on that claim, suggesting last-minute engineering issues made it unfeasible.
When the iPhone 4 came out, it was given the same 1-GHz A4 processor as the original iPad, but twice the amount of RAM at 512MB.  Engadget said the new iPad will have its memory doubled from 256MB to match the iPhone.  Further, the Wall Street Journal's recent iPad report said it will not only have more memory, but also a faster processor and more powerful graphics chip.
The iPad's already incredibly thin.  Could it get even skinnier?  In a note to investors, Goldman Sachs (NYSE:GS) analyst Bill Shope said, "It appears that Apple is once again pushing the technology envelope by making the device far thinner than the original iPad," according to an AppleInsider report.
The Wall Street Journal's report also said the iPad would be lighter and thinner.
Remember that white iPhone 4 Apple promoted last year that never seemed to materialize?  9to5 Mac reported Apple may launch a white iPad 2, based on a photo it obtained of iPad parts from an iPhone repair shop, iFixYouri, in China.
The original iPhone came WiFi-only and 3G, but the 3G models were limited to AT&T's (NYSE:T) GSM network, like the iPhone.  That could change, though, according to the Wall Street Journal's report.  "The new iPad will initially be available through Verizon Wireless and AT&T Inc., but not Sprint Nextel Corp. or T-Mobile USA in the U.S., according to some of the people familiar with the matter," the report said.
Engadget similarly reported the new tablet will use a dual GSM-CDMA chipset made by Qualcomm (NASDAQ:QCOM) that will work on either AT&T or Verizon (NYSE:VZ).
AppleInsider reported last week that at least one version of new iPad could be available almost immediately after its unveiling Wednesday, citing people familiar with the matter.  The report said Apple is preparing for a large-scale rollout of a consumer-oriented product during the second half of the week.
Finally, it might be more than just a new iPad shown off Wednesday (not that an iPad-only announcement wouldn't be a big deal!).  Engadget said it's likely the next version of iOS will be unveiled along with a software development kit for Apple developers.