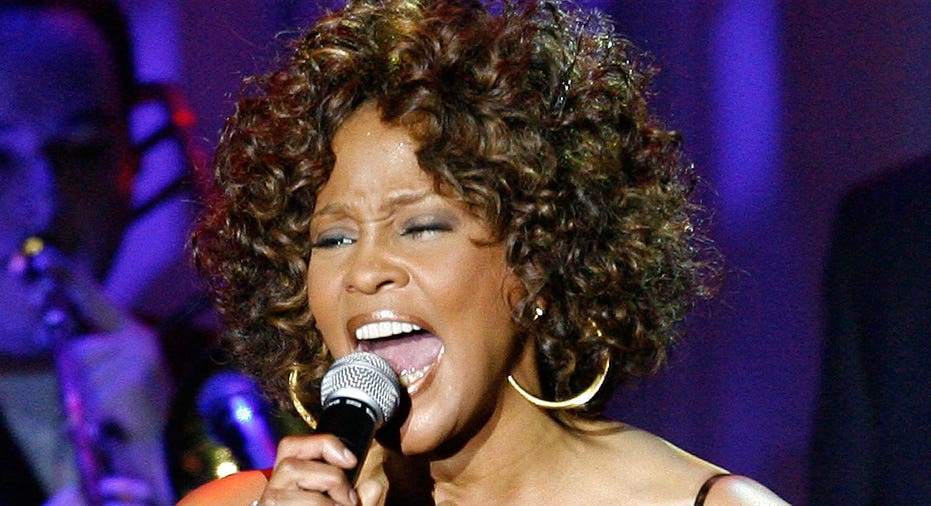 Week in and week out I help people to see that the gifts they've been given were bestowed upon them to use. Not to put off or to be stowed on a shelf, but to use and share. I have one client, in fact, who is in her 50s and when she hired me she said, "I want to use the gifts the Holy Spirit has given me." She hadn't been. Not for years.
Whitney Houston used her gifts like crazy. And then she didn't, for a long, long time.
Upon her death last weekend, as her videos played over and over, I was reminded of someone in her art, taking her passion and running with it, belting out tunes like there was no tomorrow.
As it turned out, there wasn't much of a tomorrow.
But the confident message, her regal standing in it for a decade plus, and her contagious energy prompted so many other dreams to take flight. Houston's gifts gave life to others' gifts. Hello, Jennifer Hudson. And there was no shortage of female stars – Pink, Rihanna, Lady GaGa et al -- who humbly spoke and Tweeted when they learned of her death that she influenced them in their own careers.
And those are just the singers. So many of us became fans because we needed that message. When she was at her height in the 1980s, I was stumbling – quitting college, getting my footing, going back to college, realizing I was meant to be a professional writer. Through it all I got to hear Whitney Houston via MTV tell me the greatest gift of all was to love myself and I got to see her bring that message from a place of light and conviction.
Art does this for us. And some of us gravitate to that kind of positive energy. We yearn for it, buzz around it, hope it will infuse us. I came across a live performance she did at the 1987 Special Olympics and when I saw the camera pan through the massive audience of caregivers and athletes, I just kept thinking how much light this woman spread through her gifts.
Whatever happened to Whitney Houston after she gave us that window into possibility, well, I'll leave that to her loved ones and her maker to decipher and judge. I'm going to cop to it right here – this is a selfish way of looking at another human being, through the lens of "how they affected my life." But most of us never met her, just as we haven't met the scads of others who inspire us even fleetingly. We project our stuff onto people, famous and otherwise, and sometimes it brings out the very best in us.
I don't need Houston to have been perfect. She never owed me an explanation as to why she made the choices she did. Sure, sometimes it made me wonder and even feel profoundly sad, but the flaws are the interesting part. The insights into self, which maybe she wasn't comfortable sharing because they were dark. Whatever.
At Sunday night's Grammy Awards, with the shadow of , as host LL Cool Jay put it, "a death in the family" hanging over the proceedings, we saw that crossover of celebration and memorial. Human emotion that doesn't know which way to go sometimes. Kind of like what happens when you watch the end of "Little Miss Sunshine" and you feel so sad for that little girl and yet so joyously happy for the love that surrounds her that you're not sure what kind of tears you're shedding.
It was fascinating that night to see three clear examples of artists working through their pain in their art – Katy Perry and Taylor Swift having it out with their respective "subjects" as each word came off their lips in the songs they performed. And then there was Adele, so real and triumphant, snagging awards for songs that essentially expressed anguish over a relationship that didn't go her way.
As the evening closed, Donna Brazile Tweeted, "Whoever broke Adele's heart allowed her to give voice to that pain. With so many Grammys, let the healing begin."
I love that. It says, see what can come of pain?
Throw in the fact that she came back from throat surgery – prompting a standing ovation of support after she performed "Rolling in the Deep" – and that I was watching this from my couch with a brace on my knee and crutches next to me and it adds another dimension. Her courageous victory made me so happy and, yes, it inspired me. I can do this. I can make a full recovery.
Making it all about me? I suppose. But the human spirit feeds off other human spirits. The beauty of self-actualization is that it's freeing for the individual but it's also contagious.
I celebrate Whitney Houston for sharing her gifts so freely and helping others see their possibilities. Gifts are meant to be used. That ride is almost always worth the fall because it spurs the next ride.
And so it goes.
Nancy Colasurdo is a practicing life coach and freelance writer. Her Web site is www.nancola.com and you can follow her on Twitter @nancola. Please direct all questions/comments to FOXGamePlan@gmail.com.