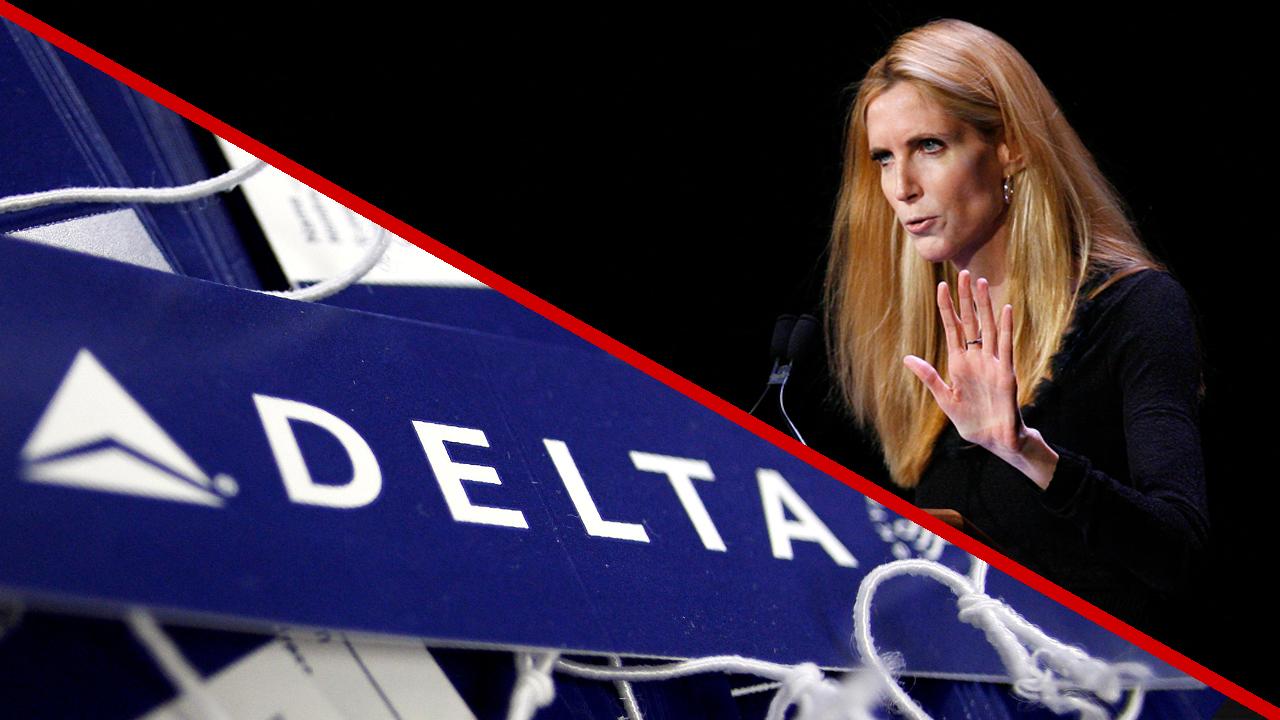 It is day four of the drama storm over Ann Coulter's seat change on a Delta (NYSE:DAL) Airlines flight on Saturday.
Coulter told FOX News on Tuesday that even after the airline tweeted that they would refund her $30 for bumping her out of her assigned seat with extra leg room, she still wants a reason why she got moved in the first place.
"It was before boarding, I had picked out the seat I wanted. I was in the waiting area, the boarding area, for 90 minutes," said Coulter. "And then as I was boarding, the ticket agent snatched the ticket out of my hand and said, 'No, we've given you a different seat.' And I said 'Why?', and she said 'Emergency.'"
Coulter later tweeted out a picture of the young female who took her spot and said that she was not "sickly," elderly, or in the military.
Arthur Wolk, an aviation law expert, says what happened to Coulter is just another example of an industry "that has been allowed to consolidate such that the new mega airlines have no regard for their passengers nor even the contract that they enter when a passenger buys a ticket and pays in advance for enhanced seating."
"The arrogance of some of the staff is a function of a system that treats people like cattle and does not appreciate that without paying passengers there is no airline. The government regulators have permitted airlines to monopolize popular destinations, cut flights so that aircraft are almost always full or beyond full with overbooking and then enforce no basic service requirements until a legislator or public figure gets abused or someone is needlessly injured," Wolk tells FOX Business.
However Brian Kelly, travel expert and founder and CEO of The Points Guy, an online travel website, tells FOX Business that the switcheroo "was not that big of a deal."
"It seemed like a computer glitch. [Ann Coulter's] reaction was inappropriate. She was asked to move two seats over and had the same amount of leg room," Kelly tells FOX Business.
Kelly adds that while Delta could have been a "little bit more professional" on how they handled the situation by not getting emotional in tweets back at Coulter, travelers overall need to be more flexible when flying.
"According to airline contracts, they can move you. A gate agent can move you any time they want. People need to understand this and be flexible," Kelly says.
But Coulter isn't backing down. On Monday, she tweeted one-day stock chart comparisons from Monday's session for Delta (NYSE:DAL) vs. JetBlue (NASDAQ:JBLU).
Both stocks were trading slightly lower in early trade on Tuesday.