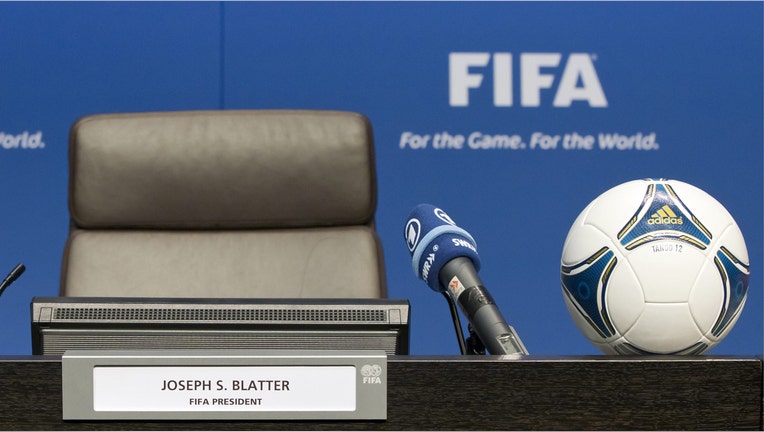 FIFA's months-long effort to recover from an unprecedented corruption scandal enters a crucial phase on Friday, when its officials will meet in Switzerland to elect a new president and decide whether to approve sweeping reforms to its leadership branch.
Five individuals are competing for the support of FIFA congressmen in Friday's vote: Union of European Football Associations (UEFA) executive Gianni Infantino, Sheikh Salman of Bahrain, French soccer official Jerome Champagne, Tokyo Sexwale of South Africa and former FIFA executive committee member Prince Ali of Jordan. Infantino and Salman are considered frontrunners for the position.
The victorious candidate will be tasked with securing FIFA's financial future and protecting its relationship with key corporate sponsors, all while distancing the organization – and himself – from rumors of shady dealings and impropriety. The winner will also have to navigate FIFA's shifting political landscape, particularly in light of the proposed reforms, which include a new system of checks and balances, term limits of top officials and public disclosure of executive salaries.
Most importantly, Friday's votes are considered FIFA's best chance to rebrand after months of bad publicity.
"There's a fundamental contest going on here that's really independent of whoever wins. It's a fact [that] FIFA is trying to get back to some semblance of business-as-usual," Roger Pielke Jr., an expert on international sport governance and political scientist at the University of Colorado, told FOXBusiness.com. "Just simply having the election, pulling it off successfully regardless of who wins, would be a milestone for the organization in trying to re-establish itself as being in control of its own destiny."
Voting will unfold months after a U.S. Department of Justice investigation led to the arrests last May of nine current and former FIFA executives implicated in a multimillion-dollar corruption scandal. Ongoing investigations and pressure from corporate sponsors toppled the organization's longtime president, Sepp Blatter and forced FIFA to review its internal practices. Several of the international soccer world's top executives, including Blatter and former European soccer chief Michel Platini, are serving bans after being implicated in the scandal.
The U.S. Department of Justice declined to comment on FIFA's presidential election.
Of FIFA's 209 member federations, 207 are eligible to participate in Friday's votes. The other two federations – Kuwait and Indonesia – are currently suspended from FIFA.
Representatives of the 207 federations will decide whether to approve the set of reforms, designed to bring FIFA's governance structure in line with demands for transparency and provide checks against corruption. The reforms require approval from 75% of the FIFA Congress to pass.
Infantino, a close associate of banned FIFA executive and one-time presidential candidate Michel Platini, is marshalling support for his bid in Europe, while Salman, president of the powerful Asian Football Confederation, is drawing support from that region. Both candidates claim to have support from soccer confederations in Africa, which is expected to be a key "swing region" in the vote.
Neither candidate has escaped the campaign process unscathed. Critics have questioned Infantino's ties to Platini and FIFA's old guard, while Salman has been linked to alleged human rights violations and torture in Bahrain. He has vehemently denied wrongdoing.
Among the proposed reforms is the creation of a 36-person "FIFA Council" to replace the much-maligned 24-member "Executive Committee." Under the new model, FIFA's president would serve as global advocate for international soccer rather than an all-powerful executive.
That means the outcome of Friday's presidential election could have much less of an impact on FIFA's future than it would have in the past.
"They're going to vote for a new president that's going to be the new Sepp Blatter, but the position he inherits is not going to be Sepp Blatter's position," Pielke said. "It's going to be less of a president and more of an ambassador to FIFA. How that'll exactly work and what the transition will be remains to be seen."
Other measures include the long-awaited installation of 12-year term limits for council members, full disclosure of financial compensation for top officials, a separation of political and business-related decision-making, and the implementation of eligibility checks for would-be executives.
Acting FIFA President Issa Hayatou called Wednesday for delegates to accept the full slate of reforms.
"The eyes of the world are on us this week after one of the most challenging times in our history. The approval of the reforms will send a strong message that we have listened and that we are taking the action necessary to regain trust and improve our performance," Hayatou said in a statement.
Critics see wholesale reforms to FIFA's leadership branch as necessary to ensure international soccer avoids further corruption scandals in the future. Several of FIFA's top sponsors, including Visa (NYSE:V), McDonald's (NYSE:MCD), Anheuser-Busch (NYSE:BUD) and Coca-Cola (NYSE:KO), threatened to pull funding if FIFA did not demonstrate its commitment to transparency.
But voting for the reforms is just the first step on FIFA's path to regaining the public's trust. The organization will have to show words and cosmetic changes will translate to action.
"If FIFA adopts the reforms, just simply voting 'yes' doesn't change anything in the organization," Pielke said. "They actually have to do things in the coming weeks, months and years to demonstrate their commitment to accountability."