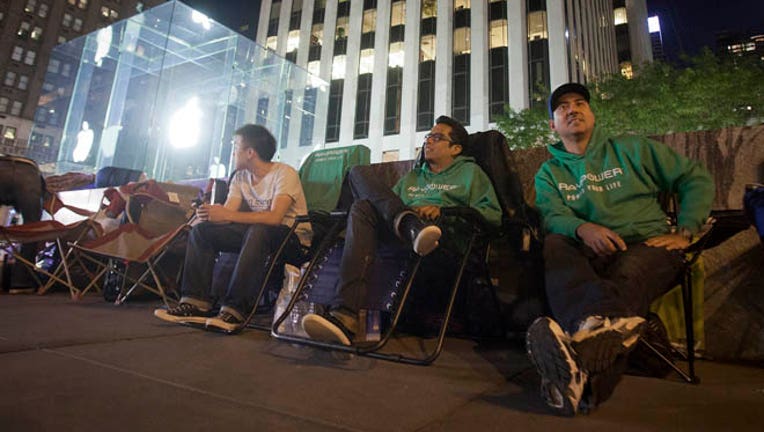 Despite Apple's "Wish we could say more" lament, a clear picture of the tech giant's plans for its much anticipated 9.9.2014 media event has emerged. And it does appear that SVP Eddy Cue was not overhyping when he said, "Late this year we've got the best product pipeline I've seen in my 25 years here."
Faithful followers of this column will, however, note few surprises as we predicted more than a year ago that Apple's iWatch would launch with hands-free mobile payment capability. Today, the Wall Street Journal reported that the smartwatch would indeed include a tap-to-pay feature via wireless near-field communication or NFC.
As we said earlier this year, "By combining the secure Touch ID fingerprint scanner from iPhone 5S, iBeacon location awareness from iOS 7, and an integrated NFC chip (a first for iPhone), Apple might finally be able to pull off what Google, PayPal and a host of startups have been unable to do: disrupt the mobile payment industry.
"With somewhere between 600 and 800 million credit cards on file – depending on which report you read – iTunes represents the largest credit card database of any single company on Earth. And that means Apple's got powerful clout to entice a critical mass of retailers to support its long rumored iWallet service."
Besides being Apple's first wearable, the smartwatch will also be its first major new product category in four years and its first since Tim Cook took over as CEO from Steve Jobs. And, as with the iconic iPhone and iPad, the Tuesday event will introduce the iWatch; the product will not ship until the first quarter of 2015, as reported by Re/Code.
The watch will also be loaded with sensors for health and fitness tracking through Apple's HealthKit initiative and capable of home automation control via its recently launched HomeKit framework. But as I said last month, Apple's plan for making iWatch a must-have product may include an enormously successful strategy from the past:
"It's exactly the sort of thing Apple has become so adept at doing since it launched iPod and iTunes in 2001: Combining the right product with the right features and the right service to jump in and dominate a highly fragmented market. Apple may very well launch its digital wallet capability with iPhone 6 and iOS 8, but as with iPod and iTunes, it may take a two-in-one combination of iWatch and iWallet to create the world's first category killing wearable."
The Journal further indicated that the smartwatch would feature a curved OLED screen and come, not surprisingly, in two sizes. The New York Times says the flexible display will be protected by synthetic sapphire and the watch will charge wirelessly, both firsts for Apple products. Earlier this week, Bloomberg reported that Apple has partnered with Visa, MasterCard and American Express on its digital wallet service.
With all the hoopla over the watch, let's not forget that Apple will launch its next generation iPhone, presumably called iPhone 6, with 4.7" and 5.5" screens next week. The combination of larger displays, mobile payment capability, rounder and thinner design, and iOS8 with HealthKit and HomeKit may very well make this the biggest iPhone launch ever.
Meanwhile, archrival Samsung spent the past week scrambling to get ahead of Apple's big event by announcing a slew of new products including a Gear S smartwatch, Note Edge phablet and Gear VR virtual reality headset in partnership with Facebook's recently acquired Oculus unit.
That and a cautionary note from Pacific Crest analyst Andy Hargreaves spooked investors – shares of Apple are down about 5% over the past two sessions. But I see Samsung's moves as defensive attempts to keep its shrinking market share and profits from being squashed by Apple from above and Chinese giant Huawei from below.
While I concluded last week that Samsung's smartphone strategy is fatally flawed and its hurried Gear S press release "ill conceived," Cantor Fitzgerald analyst Brian White echoed that view in a note to investors regarding Samsung's most recent event, "In our view, this strategy was ill-advised because we found the event 'half baked' with no details around the price points, launch dates a bit fuzzy, limited technical specifications, and 'gimmicky' features."
Indeed, I hope Samsung put some of its record profits away for a rainy day because Apple is about to pour a world of iHurt down on the Korean giant.