What Snow? February Auto Sales Travel Higher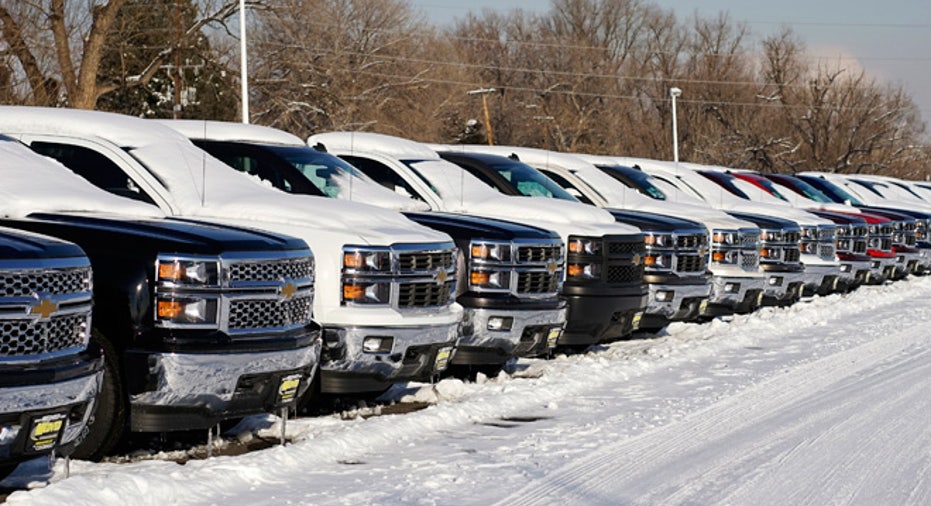 Automakers reported an uptick in February sales amid another strong month for trucks and sport-utility vehicles.
Car buyers appeared to brave the snowy weather across much of the U.S. The auto industry typically sees slower demand leading into the spring, but sales in December and January came up big as cheaper gasoline prices lifted consumer sentiment.
According to research firm Autodata, industry-wide sales in February reached a seasonally adjusted annual rate of 16.23 million vehicles, far below Kelley Blue Book's forecast of 16.6 million and down from January's SAAR of 16.66 million units.
While sales growth wasn't as robust in February, broad gains across the industry signal that drivers continue to look for new vehicles.
DealerTrack Technologies (NASDAQ:TRAK), which makes software used by auto dealers, logged a year-over-year increase of 14% in traffic to dealer websites last month. Smartphones and tablets contributed a large portion of that traffic. The company said 45% of visitors used a mobile device.
"People were anticipating a slow month because of the obstacles with the volume of snow, especially in the Northeast," said Dave Winslow, DealerTrack's vice president of digital strategy. "The traffic trends we're seeing are very strong, and that correlates back to sales activity. Digital properties are a driver to get people to the lot."
The luxury segment had a particularly strong February, according to DealerTrack. Premium dealers that use the company's software saw online traffic expand 20%.
Winslow highlighted the strong sales at Volkswagen's Audi, which reported a 50th consecutive month of record U.S. sales. BMW sales jumped 13% in February, while chief rival Mercedes was up 5.2%.
Fiat Chrysler Automobiles (NYSE:FCAU) said Tuesday its U.S. sales climbed 5.6% last month, thanks in large part to Jeep.
The Italian-American automaker sold 163,586 vehicles in February. Jeep sales hit a new February record, surging 21% amid high demand for the Patriot, Wrangler and Cherokee SUVs.
Ram Truck also booked a solid gain of 12%. Pickup trucks were up 7%, and sales of the brand's vans offered a sizable boost.
The Chrysler 200 mid-size sedan posted a 31% increase in sales, lifting the namesake brand to 13% growth.  Dodge sales slipped 15% due in part to model changeover at a plant in Windsor, Ontario, FCA said. The Dodge Dart compact car was up 52%, and the Challenger coupe saw its sales rally 42%.
Sales declined at Fiat as well. The brand's U.S. monthly volume fell 5% year-over-year.
Reid Bigland, FCA's head of U.S. sales, said the company turned in a 59th consecutive month of overall sales gains "in spite of snow and bitter cold that slowed auto sales in many regions of the country." A total of nine vehicles set individual records for February.
"Even with tougher year-over-year sales comparisons in 2015, our vehicle lineup continues to produce record sales results," Bigland added in a statement.
FCA shares lost 3.2% to $15.32 in recent trading. Analysts at Kelley Blue Book were looking for a bigger February sales gain of 8.5%.
Ford Motor Co. (NYSE:F) sold 180,383 vehicles last month, a 1.9% drop, as the Blue Oval continues to roll out its new F-150 pickup trucks.
Kelley Blue Book expected Ford to report a 6.4% increase in sales. The company's shares were down 2.4% at $16.17.
According to Ford, the 2015 F-150 is one of the fastest-selling vehicles on dealer lots. But production at Ford's Kansas City plant is just beginning this month, and the company has warned that sales volume would remain suppressed until it ramps up its truck supplies.
In fact, General Motors' (NYSE:GM) February truck sales beat Ford, whose F-series trucks have been the top sellers for 38 straight years. Ford said its F-series sales were down 1.2% at 55,236 units. GM reported combined Chevrolet Silverado and GMC Sierra sales of 60,552.
Total Ford brand sales fell 1.7%, despite an overall increase in truck sales including vans. Sales at Ford's luxury brand, Lincoln, skid 7.5%. Across the two brands, cars and utilities posted declines.
GM's February sales checked in at 231,378 vehicles, a 4.2% improvement over the prior February. However, the results missed Kelley Blue Book's forecast of 5.8% growth.
The nation's top seller of new vehicles said sales of its pickup trucks, SUVs and vans jumped 36%. GM launched new mid-size trucks in the final months of 2014, a year after introducing redesigned full-size trucks.
Kurt McNeil, GM's U.S. vice president of sales operations, said the mid-size Chevrolet Colorado is the fastest-selling pickup truck in the industry regardless of brand or model year.
Overall, Chevrolet had its best February since 2008. Sales ticked 3.8% higher, while GMC surged 19%. Cadillac sales tumbled 12.6%. Fellow premium brand Buick recorded a 9.2% decline in sales.
GM shares ticked three cents lower to $37.58.
Toyota (NYSE:TM) also registered a win over Ford, beating the Detroit automaker for the No. 2 spot in the U.S. market last month.
The Japanese manufacturer reported a 13.3% increase in total February sales to 180,467 units, roughly even with Kelley Blue Book's estimate. Lexus outpaced the namesake Toyota brand with 22% growth. Toyota sales rose 12.1%.
Toyota got a boost from its Rav4 and 4Runner SUVs, and the Lexus RX crossover lifted sales by 14%.
Shares were down 62 cents, or 0.5%, at $135.25.
Honda (NYSE:HMC) missed expectations as sales advanced 5% to 105,466 vehicles. Kelley Blue Book forecasted wider growth of 12.5%, although shares added four cents to hit $33.25.
Acura light trucks set a new February record. The brand's total sales were up 12.5%. Honda sales trailed the luxury brand, posting 4.1% growth. Weaker car sales at Honda partially offset a big month for the Honda Pilot.
Nissan announced monthly sales of 118,436 vehicles, a 2.7% increase compared to the year-ago month. That marks a new company record for February U.S. sales.
Infiniti led the charge with a 19.8% gain. Cars and trucks were both in the win column. At Nissan, an 11% increase in SUV and truck sales overshadowed a 5% decline for cars.
Kelley Blue Book anticipated a slightly better number from Nissan. Analysts projected 4% growth.
Between Audi and its namesake brand, Volkswagen's sales fell 2.2% to match an estimate from Edmunds.com.
The Volkswagen nameplate has struggled to reverse decline sales, and February's results were down 5.2%. Audi sales gained 5.3% amid stronger demand for the A3 sedan and Q3 crossover.
Hyundai and Kia said its combined sales grew 7% to 96,535 vehicles, falling short of Kelley Blue Book's call for 12.5%. Crossovers and the Optima sedan lifted Kia sales by 6.8%. Hyundai's February volume was up 7.2%.