What Six Classic Movies Say About Holiday Spending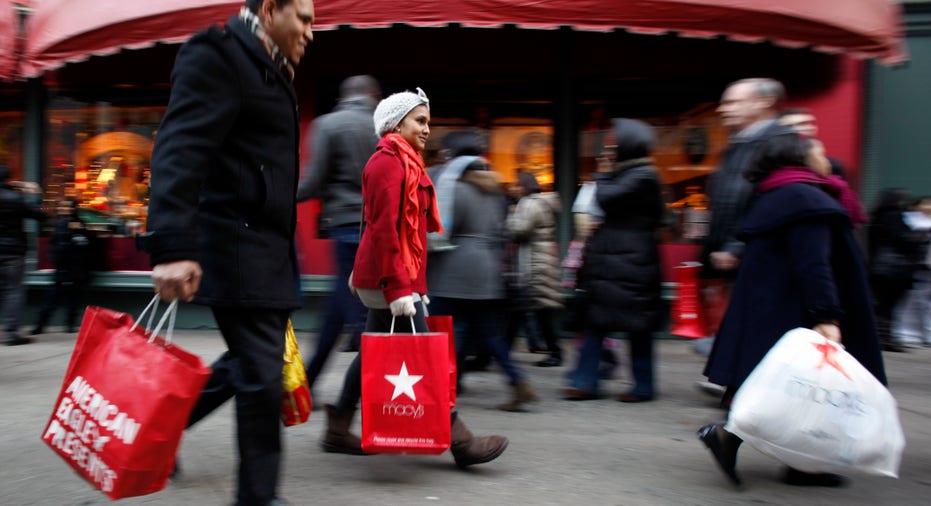 Hollywood Serves Holiday Budget Advice
Want to find out where you're going wrong with the holiday budget?
Just ask Hollywood.
The answers are right there in black and white. Or Technicolor.
Served straight up, like "It's a Wonderful Life" or with a demented twist, a la "Christmas Vacation" or "Scrooged," movies dramatize our hopes and dreams for the holidays. Or, in some cases, roast them mercilessly.
So whether your holiday plans include visiting Santa, going overboard on the light displays or feasting on Chinese food, here are six classic holiday movies and what they really reveal about holiday spending habits and traditions.
'It's a Wonderful Life'
This three-hanky Frank Capra classic often tops the list of favorite holiday movies. It has something for everyone: Jimmy Stewart playing an everyman hero who happens to be a lender with a heart of gold. A guardian angel. A greedy banker. A small town replete with cute kids and friendly families who pull together when it counts. And, just in case you have any Kleenex left at the end, a soldier returning safely from the war.
What it reveals: For the people of Bedford Falls, the gifts that mean the most aren't available in any store.
"People do good deeds with their hearts at the holiday season," says Todd Mark, vice president of education for Consumer Credit Counseling Service of Greater Dallas. "You're going to feel better about a gift of meaning rather than a gift from the mall. If you want to have your 'It's a Wonderful Life' moment, it's often represented by generosity and care, and not just a shopping spree."
Revelation for cynics: We should clone George Bailey and put him in charge of the Fed. A bank too small to fail? Genius.
'Christmas Vacation'
Forget bells and angels. This one is about what happens when you stretch things a bit too thin and start spending money you don't have.
After Chevy Chase's Clark Griswold doesn't get his usual holiday bonus, he goes crazy trying to make sure the season is still "perfect" for his family. When he finally cracks under the stress, he winds up accidentally kidnapping his boss (with more than a little help from his perpetually hard-luck cousin-in-law, Eddie).
What it reveals: The temptation is strong to spend money you don't yet have -- especially when you're trying to please the people you love. But all they really want is for you to be there.
A lot of folks have more limited financial resources this year, says Jill Gianola, CFP, author of "The Young Couple's Guide to Growing Rich Together." So don't feel bad about "ratcheting down the spending," she says. And enjoy the traditions that involve spending time (not money) with loved ones.
Revelation for cynics: There's no such thing as "perfect." Make sure the home insurance is paid up. Always check the Christmas tree for squirrels before you bring it inside. And never, ever, grease a sled.
'Christmas with the Kranks'
Based on the John Grisham novel "Skipping Christmas," two empty nesters decide to forgo the holiday craziness and spend the thousands of dollars they'll save on a Caribbean cruise for themselves. Chided and chastised by their small-town friends and neighbors, they stick to their guns right up to Christmas Eve. But a call from their daughter -- announcing she's returning from her Peace Corps posting with her intended in tow -- changes everything.
The couple, along with their friends and neighbors, turn themselves inside out to put on a celebration with all the trimmings.
What it reveals: A lot of holiday spending is on automatic pilot. And as the season progresses, it takes on a momentum of its own -- like a snowball rolling downhill.
"If you have that conversation and realize that you have higher priorities than a pile of presents under the tree or a big ham or turkey," that doesn't make you a bad person, Mark says. Instead, look for ways to share gifts of time, love and expertise.
Revelation for cynics: If you're bucking "tradition" (yours or anyone else's), keep it on the down-low. And skip the tanning booth.
'How the Grinch Stole Christmas'
The Grinch is an aesthetically and morally challenged green hermit who hates the holidays. One year, aided by his nervous but well-meaning dog, he drives a sleigh into Whoville under cover of darkness, steals everyone's presents and blows town.
When Christmas dawns, the denizens of Whoville gather and celebrate as if nothing has happened. This affects the Grinch so much that he gains the physical and emotional strength to save himself, return everything and join the celebration.
What it reveals: If all you see in the holiday is the commercialism, you're bound to hate it. Constant ads? Competitive shopping? Ceaseless frantic carols? Bah, humbug!
The holiday is really about "the family and whatever religious or spiritual" traditions you observe, says Timothy Hayes, president of Landmark Financial Advisory Services in Pittsford, N.Y. "It's the notion that what really matters is time spent together and charity. And not the running around and gift buying. The lesson is: Don't allow yourself to be lulled in."
Revelation for cynics: Finding that balance is a process. Some days you're a happy resident of Whoville. Some days you're the Grinch. And sometimes you feel like that peripatetic little dog -- just hanging onto the sleigh for dear life.
'Scrooged'
Based on the Charles Dickens classic, "A Christmas Carol" stars Bill Murray as Frank Cross, an uber-successful but heartless TV exec whose idea of a happy holiday special has Santa battling terrorists with automatic weapons.
It's not really his fault. The product of an unhappy home, Frank's best childhood moments were spent in the electric glow of the television -- so he doesn't relate well to people.
But after visits from the ghosts of Christmases past, present and future (not to mention his late ex-boss), he sees the error of his hard-driving, TV-loving, money-grubbing ways, starts appreciating the people around him, and gets a real life.
What it reveals: "Money is the means to the end, and not the end in itself," says Ira Bryck, director of the Family Business Center at the University of Massachusetts Amherst.
Revelation for cynics: The ending, featuring the R&B classic "Put a Little Love in Your Heart," also puts a little life in your holiday music. Who says all carols have to be minor-key dirges or reindeer ditties?
'A Christmas Story'
It's set at Christmas, but what you probably remember most is the kid in the pink bunny suit. Or the leg lamp.
The movie follows Ralphie, a 9-year-old in the 1940s, and his quest for what he sees as the best Christmas gift: a Red Ryder BB gun. But every time he tells someone what he wants, he hears the same refrain: "You'll shoot your eye out."
On the big day, however, he gets his heart's desire -- although nothing follows the script of an "ideal" holiday. A mishap with the gun shows that the adults in his life weren't wrong to be worried. And thanks to the neighbor's pack of half-wild mutts, the family ends up eating their Christmas dinner at a Chinese restaurant.
But for Ralphie, now an adult, it was one of the most memorable and perfect holidays ever.
What it reveals: "Despite everything going against your plan, you can sometimes, on the fly, adjust and have a meaningful holiday," Mark says. "Tradition is what you make it."
Revelation for cynics: There's always time for good Chinese food. And it's a miracle anyone lived through the 1940s.