What Raiders' Las Vegas Move Means for Sports Betting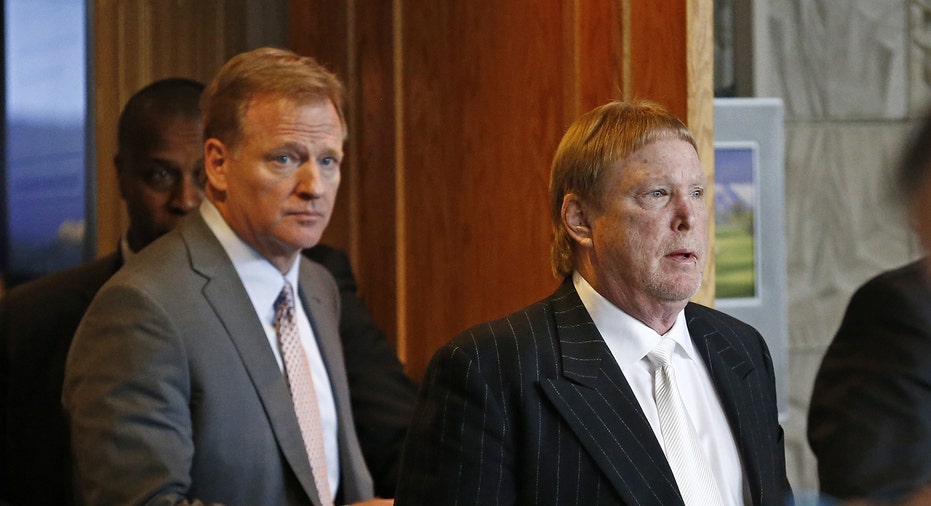 Advocates for legal sports betting are optimistic that the NFL's decision to relocate its Raiders franchise to Las Vegas signals a tide shift on the divisive issue.
The league's 32 owners overwhelmingly voted on Monday to approve the Raiders' proposed move from Oakland to Las Vegas. Without a viable plan for a new stadium in the team's current market, league officials opted to sign off on Raiders owner Mark Davis' plan for a $1.7 billion facility in Sin City, backed by a $650 million loan from Bank of America and $750 million in public funding.
Like most professional sports leagues, the NFL has long opposed the notion of a permanent franchise in Las Vegas amid concerns that proximity to the nation's gambling capital could expose players to corruption and harm the integrity of the game. But along with the birth of the NHL's newest expansion franchise, the Las Vegas Golden Knights, gaming industry lobbyists argue that the NFL's decision shows the nation is ready for legalized, regulated sports gambling.
"We congratulate the Raiders and the National Football League on today's historic decision to place a team in Las Vegas. The second announcement of a major sports franchise to locate a team in Las Vegas in just the last 12 months demonstrates how far gaming has come, from a niche industry to a $240 billion economic engine that supports 1.7 million jobs in 40 states," Geoff Freeman, president and CEO of the American Gaming Association, said in a statement.
"The gaming industry currently partners with professional teams around the country and we look forward to soon doing the same in Nevada. We applaud the many leaders in Las Vegas who have worked tirelessly to make the city the world's premier tourist, convention and entertainment destination -- and a market worthy of an NFL team," Freeman continued.
Approval of the Raiders' stadium plan in Las Vegas was all but assured after the league's lukewarm reception to a last-ditch proposal by Oakland officials to keep their franchise. In an open letter to Oakland Mayor Libby Schaff on Sunday, NFL Commissioner Roger Goodell said the proposal failed to present a "viable solution" that would keep the Raiders in their home city.
The Raiders will remain at the Oakland Coliseum until at least 2018. Construction on their Las Vegas facility is not expected to be completed until 2020.
At present, Nevada is one of just four states in which sports betting is legal. The pastime has been illegal on a federal level since Professional and Amateur Sports Protection Act passed in 1992. The nationwide ban hasn't slowed the underground sports gambling market, which generates $150 billion annually in illegal wagers, according to the American Gaming Association's estimates.
Throughout the relocation process, Goodell has maintained that the league still opposes the legalization of sports betting on a federal level.
"We are not changing our position as it relates to legalized sports gambling," Goodell told Peter King of TheMMQB.com. "We still don't think it is a positive thing. We want to make sure that the integrity of our game is the primary concern and we do everything possible to protect that. And that people are watching it for the outcome, and they know that it is not being influenced by any outside influences. We are very determined to continue that, and we will; that's a first priority for us."
From a legal standpoint, the NFL has traditionally maintained that the legalization of sports betting on a national level would cause irreparable harm by impacting the integrity of its competitions. With one of its franchises headed to Las Vegas on a permanent basis by the end of the decade, the NFL could soon lose its rights to that argument, according to Daniel Wallach, a Florida-based attorney and leading expert on sports-related litigation.
As several states, including New Jersey and South Carolina, prepare challenges to the federal gambling ban, Wallach said the Raiders' move to Vegas may undermine the NFL's primary defense – and open the door for legalization.
"Approving a franchise relocation to Las Vegas is certainly one more nail in the NFL's coffin in that respect," Wallach said. "We may have finally reached the point where the NFL and the other leagues can no longer successfully maintain that they would be irreparably harmed by state-regulated sports gaming. This is significant because it could compromise their ability to obtain a preliminary injunction against states which attempt to legalize sports betting."