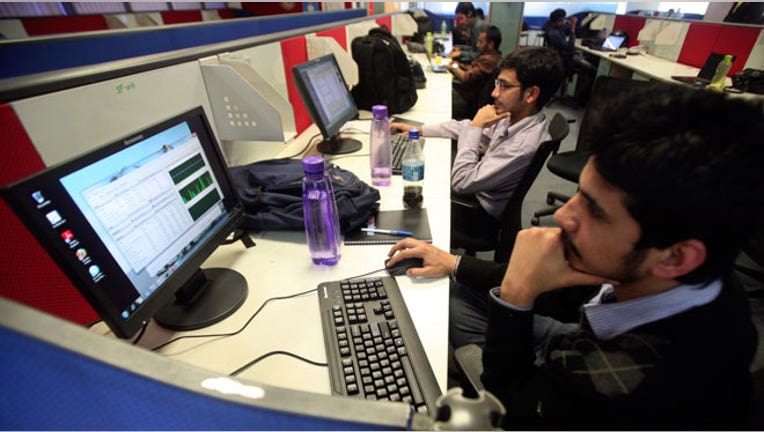 Facing slimmer job prospects than their younger counterparts, older workers are choosing to go back to school to become more tech savvy, change careers and learn new skills.
One in six college and graduate students is over the age of 35, according to the U.S. Census Bureau's October 2010 Current Population Survey.
Retooling their skillset with additional education can increase older workers' odds of finding employment and garnering a bigger paycheck.
Before heading back to campus, experts advise adults consider the outlook for the job market they're looking to enter, the cost and possible debt in relation to the potential salary increase and their ability to juggle school with their current lifestyle.
Scott Halliwell, certified financial planner at USAA, describes the rising tuition costs and weak economic environment "the perfect storm." According to the College Board, tuition and fees ranged between $7,613 to $27,265 for four-year undergraduate study and $6,600 to $33,699 for graduate study in 2011.
"You really need to be thoughtful when you go back to school," says Halliwell.
With tuition so high, experts recommend graying workers access their financial and current career situation and create a plan to make sure going back to school makes investment sense.
Know why you are going back to school. Do some research to make sure a new degree or skill set will improve job prospects and bring a heavier paycheck down the road that will cover the cost of school.
"There are a lot of ways to build the skills but, if you don't know what those are, how do you know whether to go to school or not," says certified public account Angie Grainger.
For workers retooling for a different career, spend time researching salaries for the dream job's salary after graduation, says Grainger. It doesn't make financial sense to accrue a lot of debt to work in a field that isn't hiring. "Talk to potential employers if there are positions available for people with certain types of degrees. Why not have those conversations to gauge if it's worth it?"
Create a school budget. Every adult student needs to have a budget, says Halliwell.  "You've got to figure out how to live and it can't be that you're going to use loans to pay your rent. For the adult with an established, more expensive lifestyle, you have to be thoughtful."
Before signing up for classes, students need to know if they will have to continue working to make ends meet, how much they can spend of their savings to still cover bills and how long it will take to pay off any student loans.
For each year of school, students should list expenses in one column and income in another to identify if cashflow is positive, or if income exceeds expenses, says Grainger. A budget will reveal any shortfalls that might require working longer, or borrowing more money.
"Expect to cut your expenses as much as possible," says Halliwell. "Doing a needs versus wants analysis can help you shrink your discretionary spending. Start by cutting back to an extreme since it's easier to increase spending than to continue cutting."
Determine how to pay for school. There are a few different ways to pay for a degree—personal savings, student loans, asking an employer to pay, education tax credits, or help from family, says certified public accountant Ernest Almonte.
Experts suggest negotiating with your employer to pay tuition. But Almonte warns that some employers require employees sign a contract agreeing to meet certain grades. According to the IRS, an employer can pay up to $5,250 towards a worker's education, and he or she doesn't pay taxes on that money.
Almonte suggests adult students complete the Free Application for Federal Student Aid (FAFSA). "Do this as soon as possible since a lot of colleges and universities work on a first come first serve basis." For students going from full-time to part-time work, their income will drop and sitting down and talking with the financial aid department will help create a plan on how to make ends meet.
Experts recommend including the monthly loan payment into a budget forecast for after graduation. "The debt level has to be compared to the outcome," says Halliwell. If a student makes $15,000 more but it costs $100,000 in education costs, for example, going to school doesn't make a lot of sense, says Halliwell. "If it costs $10,000, it could be worth it."
Think about family dynamics while in school. Adult students should consider how the time commitment and cost of going back to school will impact the family dynamics and relationships.
Parents need to take into account the cost of putting kids in day care while they are in school, or how vacations and other discretionary spending will be impacted.
"Have the discussion because family dynamics will change. Is it better to go part-tim e at night or take online classes—these could give you more family time," says Almonte.
Will education help you get a new job? Interested students need to be objective about a degree and potential salary. "Look at our job prospects and weight them against the opportunity cost and how much money you're leaving on the table by not working," says Robert Stammers, director of Investor Education for the CFA Institute.
And explore all options. Instead of quitting a job to go to school, for example, working while going to school at night might be a better financial decision. "If your new career path doesn't provide enough revenue, decide whether this financial decision makes sense," says Almonte.