What Is the Microsoft Surface Hub?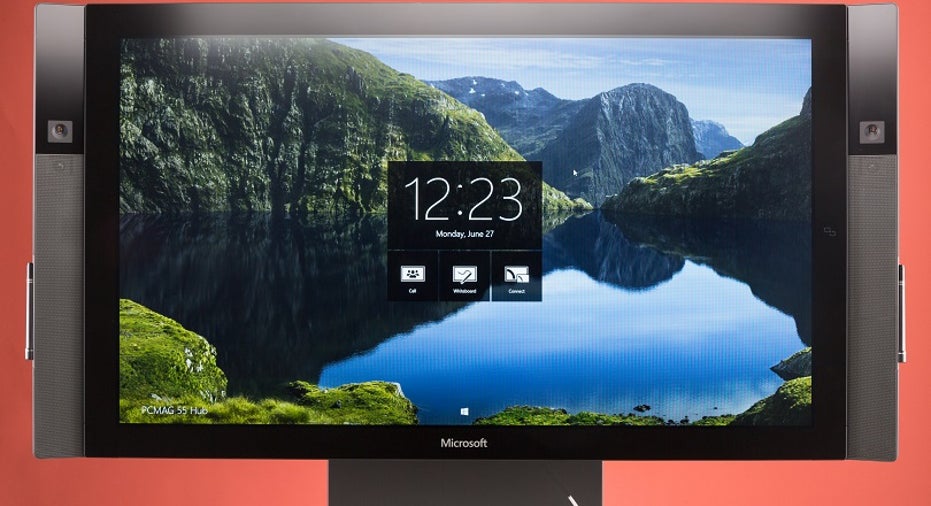 You wouldn't be completely remiss if you were to mistake the Microsoft Surface Hub (which begins at $8,999) with a really nice TV. It has a gorgeous 55-inch, Full HD, 120Hz refresh matte screen that would be superb for your next Super Bowl party (it also comes in an 84-inch, 4K model for $21,999). Conversely, if you were to call the Surface Hub a giant tablet, you wouldn't be entirely wrong, either. It runs Microsoft Windows 10 and Microsoft Office 365, it's got a touchscreen, and you can play games on it when you're not working (we've been playing a lot of Crossy Road afterhours in the PCMag Labs).
But the Surface Hub is much more than a TV and it doesn't operate the way a tablet or any personal computing device would. When you think of the Surface Hub, the first thought that should come to mind is collaboration. This isn't the kind of gadget your CEO will tuck away in his or her office to impress major clients. The Surface Hub is meant to sit in a conference room or a communal space, somewhere where people can easily hop on and hop off of the device for whiteboard meetings, demonstrations, or video calls.
How You Would Use the Surface HubMicrosoft aptly describes the Surface Hub as a "collaboration kiosk." Users don't log into the Surface Hub the way you would a typical PC. To use the Surface Hub, you've got to schedule it the way you would schedule a boardroom; in fact, it's designed to meld into the conference room scheduler you'd normally use through your calendaring app, whether that be Microsoft Outlook or a competitor such as Google Calendar. Your Surface Hub only stores data during your session; once the session ends, the machine automatically returns to a neutral state except for the applications your administrator has installed on the device. To save any data you create during meetings, you need to either email files to yourself or other meeting attendees, or you can log into your own Office 365 environment, in which case you can save to storage resources there, like OneDrive or SharePoint.
So, you can't directly store all your wonderful collaborative artwork and whiteboard brainstorms on the Surface Hub directly; it isn't designed for that level of storage, but you can store or share them using other mediums. As far as the Surface Hub goes, you're meant to hop on, work on a specific task, share the completed product with your team, and log off of the device. This is useful for two reasons: 1) It ensures that sensitive data doesn't fall into the hands of unwanted employees and 2) It helps keep the device clean, and quick and easy to use. Just look at your cluttered PC's desktop; the Surface Hub will never look that way.
Another reason you shouldn't confuse the Surface Hub with any old Windows tablet is that only Universal Windows 10 apps can run on the Surface Hub. Mobile and desktop-specific apps won't work. There is a limited set of available apps that you can access while you're using the device and, even if you can access them, you'll need to be an account admin to add the app to the Surface Hub's roster. In fact, the admin can disable the app store entirely so that users are only able to use what's already been downloaded to the device. Additionally, third-party apps have to be developed in partnership with Microsoft to run on the Surface Hub and its custom Windows 10 environment. As I mentioned, any data in the apps will be wiped after each Surface Hub session.
Your screen can be segmented into three smaller screens, though not in even splits. You can, for example, open the whiteboard app alongside your Microsoft Edge browser and then open up Microsoft Skype for Business. The whiteboard and Edge browser can be expanded and shrunk as much as you'd like, but the Skype for Business screen will sit along the left- or right-hand rail, taking up about a fifth of the screen.
Unique Hardware, Unique Use CasesUsing Skype for Business on a Surface Hub is unlike anything you've experienced on a videoconference. The Surface Hub features one wide-angle, 100-degree field of view camera on each side of the screen, both of which integrate with the Surface Hub's software and passive infrared presence sensors to identify where the speaker's face is and adjust the camera input accordingly. So, if you're presenting to a group of local and remote employees, and your big head is blocking the left camera as you doodle on the whiteboard, on a typical video call your remote viewers would be forced to stare at your dome. But with the Surface Hub, the video input will shift to the camera you're not blocking.
Another design that is meant to promote Edge is the screen's multitouch capacity. Up to 100 fingers can draw, write, or make selections on the screen at once, and up to three different pen inputs give multiple users the ability to take notes, make edits, or do whatever it is your team does during group presentations. Pen storage is really cool on the Surface Hub. Unlike the ugly and flimsy rings found on early versions of the Surface Pro, the Surface Hub's pens sit neatly on magnets along each side of the screen. If you lift a pen off of the magnet, the Surface Hub automatically launches the whiteboard.
The Standard Specs The 55-inch Surface Hub measures 31.75" by 59.62" by 3.38" and weighs 105 pounds. The Full HD screen features a contract ratio of 1,300:1. It comes with 128 GB of SSD storage and 8 GB of RAM. All of that is backed by a fourth-generation Intel Core i5 processor and Intel HD 4600 graphics. Because the Surface Hub is so heavy, you'll have to buy a stand or work with your building's facilities team to mount the unit to a wall. The 55-inch stand will run you $2,350 and the mount costs $329.
The Surface Hub is port-heavy. You'll get access to USB 3.0, two USB 2.0, Ethernet 1000 Base-T, and DisplayPort inputs. The Surface Hub is 802.11ac/b/g/n-, Bluetooth 4.0-, NFC-, and Miracast-enabled for wireless data transfer. This is especially useful for sharing and editing content during team meetings. For example: An employee could Miracast his or her laptop's display onto the Surface Hub to share the first draft of a Microsoft PowerPoint presentation. The meeting leader can then mark up the presentation with one of the pens, and the changes made on the Surface Hub will also be reflected on the user's original file.
That's pretty much the Surface Hub in a nutshell. It's capable of many amazing things and it will improve your team's interaction during meetings. But it's not just a giant tablet, and it's way more substantial than a large, expensive TV.
This article originally appeared on PCMag.com.