What if You Hit a Bentley?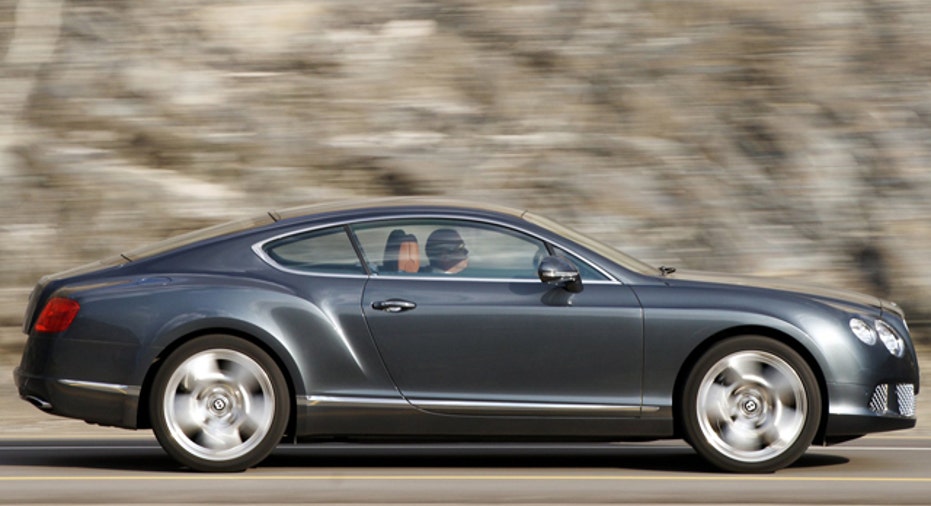 Hitting a $200,000 Bentley, $100,000 Porsche or even a modest $50,000 Infiniti with your car is likely to be a headache that will make you wish you'd ridden the bus, especially if you've bought the cheapest car insurance possible.
Cheap policies get that way by providing the barest amount of coverage possible, dropping the extras like collision and comprehensive insurance that protect your own car and reducing limits elsewhere to their legal minimums. (See "This is as cheap as insurance gets.")
Most states require at least $10,000 to $25,000 in liability car insurance to cover property damage, with California and Pennsylvania demanding the least at $5,000. The unlucky driver who hits a Bentley, or any car worth more than his or her liability coverage is on the hook for damages beyond the policy limits, says Penny Gusner, a CarInsurance.com consumer analyst.
$5,000 won't buy you much
The average new car sold for $30,686 in December, says data analyst TrueCar.com.
That's all cars, not just the fancy ones. There's about a one in 12 chance that if you cause an accident it will include a car that cost $56,000 or more new, according to Auto data Corp. figures.
Having the minimum amount of liability coverage for property damage is only part of the hole that you can dig yourself into if you hit an expensive car. There are also bodily injury liability limits that vary by state. (See mandatory liability minimums for all states.)
In California, the minimums are $15,000 per person injured and $30,000 per accident. If the Bentley driver and a passenger are injured in our hypothetical accident and the hospital bills are more than $30,000, you're stuck paying the difference.
They can sue you, but will they?
Suppose you live in a state where the minimum property damage liability coverage is $10,000, and you carry that amount.
If you hit and total a $200,000 Bentley, your insurance company will write a check for $10,000 and walk away, leaving you to face the other driver's insurer. (Of course, that assumes he has the collision coverage that would pay to repair his car when you don't. Most Bentley drivers do.)
That insurance company could ask to have your wages garnisheed, or request a judge to order your assets seized to repay them, says Lynette Simmons Hoag, an insurance claim attorney in Chicago.
Insurance company lawyers realize they can't squeeze blood from a turnip. If you have the minimum car insurance liability limits, you probably don't have the money to pay them the difference owed for totaling a Porsche.
But some will still go to court to garnishee your wages, and an $80,000 judgment against you will affect your credit for years to come, Hoag says.
When name-brand car insurance matters
Some top-rated car insurance companies have agreements that they won't pursue each other's clients for payment so they can save on legal fees, Hoag says. However, in a bad economy they may sue more frequently partly because they're built to sue. Also, the potential for a large judgment against a driver who hit an expensive car is enticing to lawyers, who may also ask the court for money for their client's pain and suffering, and lost income from work.
"It's worth it for them to pursue you, especially at larger levels," Hoag says.
Drivers who thought their car insurance rates were great when they went with a substandard insurer are more likely to be sued because such insurers often don't have arbitration agreements that larger insurers do to avoid lawsuits, Hoag says.
"You should be afraid that you're going to have your house taken away," she says of drivers with substandard insurance who hit expensive cars.
What will higher car insurance liability limits cost you?
Gusner, the consumer analyst, advises getting as much liability coverage as you can afford, such as $100,000 per person in bodily injury liability coverage, $300,000 per accident, plus $50,000 in property damage liability (usually expressed as 100/300/50).
Increasing coverage beyond minimum can be relatively inexpensive. Every driver will see different rates, of course, and your own driving record will greatly affect the cost of liability insurance.
We compared auto insurance quotes for a 40-year-old male driver with a clean record in the Los Angeles area. For a bare-bones car insurance policy with California required minimums of $15,000 per injured person, $30,000 per accident and $5,000 in property damage, he was offered six-month rates ranging from $264 to $401.
Raising those limits to 50/100/50 resulted in quotes ranging from $345 to $572; raising those liability limits even higher, to 100/300/100, brought quotes ranging from $366 to $566.
The original article can be found at CarInsurance.com:Expensive car, cheap car insurance