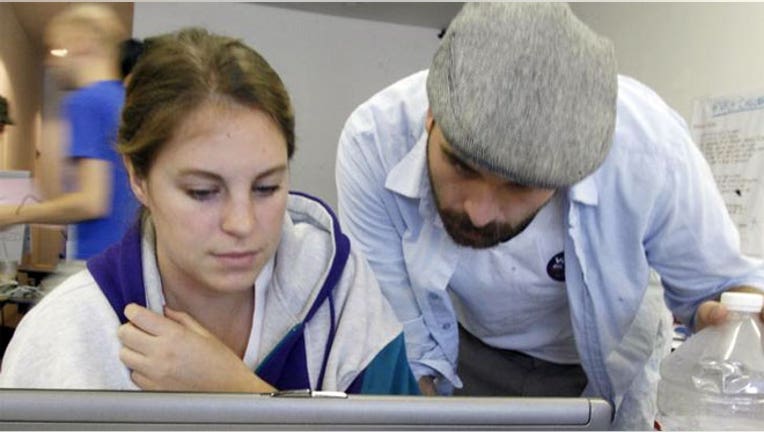 While the job market continues to change and evolve, studies show that Gen Y employees are demanding more from employers and if their needs aren't met, they find for greener pastures.
According to a recent survey by Gen Y research and consulting firm Millennial Branding and professional networking company Beyond.com, 45% of companies experience high turnover with millennial employees (ages 18-32) by a 2 to 1 margin versus older generations.
Of employers surveyed, 30% of companies have lost 15% or more of their millennial employees in the past year and most felt at least 10% of the lost millennial employees went directly to their competitors.
One of the most important aspects Gen Y workers seek is a strong and meaningful workplace culture, something many offices lack right now, according to Dan Schawbel, founder of Millennial Branding and author of Promote Yourself: The New Rules For Career Success.
"Millennials want meaningful work, they want to do things that are making an impact and if they're not in a good environment where they can do that, they're always going to be looking for something else and they'll jump around until finding something that's a better match," he says.
The survey also projects that by 2014, millennials will account for 36% of the American workforce and will make up 75% of the global workplace in 2025.
"Already 15% of managers are millennials and managers are going to cost more to replace," says Schawbel. "If [companies] have a high turnover rate when the majority of their staff is millennials, it's going to be chaos--they really need to invest in millennials and create programs to support them."
Why Millennials Leave Jobs
Other top reasons millennials jump ship is because they received a better offer (30%), feel their career goals aren't aligned with the company (27%) and sense a lack of career opportunities (13%).
Young workers are also questioning whether their current employer will be able to support and invest in them for the long-term, explains Joe Ungemah, vice president of Talent Solutions at talent management group SHL.
"If they don't trust their manager or company to provide stable employment, career enrichment, and progression, the relationship will be transactional at best," he says. "Long-term dedication cannot be expected of millennials unless employers do more to establish trust with their employees."
While trying out different jobs can help identify the right professional fit and shape a career path, Schawbel warns that constant job hopping could hurt young workers.
"If you stay at your company for less than a year, that next employer says, 'why would I want to hire this person if I know they're going to leave within a year?'" he says. "But if you try and stay at a company for five or 10 years, it can be really tough because [many companies] don't have internal hiring programs to support you and to make you more successful there."
How the Millennial Shuffles Affects Companies
The loss of young employees can be costly: The survey found that 87% of companies reported it costs between $15,000 and $25,000 to replace each millennial employee they lose and current data indicates more than 60% of millennials leave their company in less than three years.
It takes between three to seven weeks to hire a fully productive millennial in a new position, leaving other workers to pick up the slack, according to Schawbel.
"We found that 71% of companies report that losing millennial employees increases the work load and stress of current employees," he says.
Losing Gen Y workers results in a loss of fresh ideas, an understanding of the younger consumer demographic and an ability to match product ideas with emerging market opportunities, says Steven Shapiro, founder and president of Communications Strategy Group.
"It is also a loss of future business growth as the rotation of leadership occurs," he says. "If young team members can be retained, these workers will eventually become part of the management development pipeline; without that pipeline, companies will have a difficult time growing long term."
How Employers can Retain Millennials
To stop job migration from Gen Y, some companies are putting retention programs in place, addressing workplace flexibility (48% of companies reporting), mentoring programs (40%) and internal hiring (37%), while only 10% of companies cite using intra-preneurship and community service programs to engage millennials
"These numbers should be so much higher—how can you not offer mentoring programs when all of these numbers are tied, why wouldn't you want to transfer that knowledge and create these mentoring relationships that benefit millennials, their managers and executives? It's a huge missed opportunity," says Schawbel.
It's vital that companies create an encouraging work environment to provide opportunities for young workers to participate and achieve professional growth, says Shapiro.
"The challenge becomes how to engage your millennials' strengths and passion, while also being realistic about the fact that like all of us starting out, they need coaching, mentoring and experience that advances their knowledge and skills," he says. "The great news is it's a generation that is very responsive to that feedback and coaching."
Despite the focus on the younger workers, Shapiro argues that progressive approaches to the workplace can benefit the entire company regardless of generation.
"[When] working against challenging deadlines, flexible working hours are simply another way of respecting the individual's ability to determine his or her most productive work schedule," he says. "Although many companies are now starting to adopt these practices as a way to retain their millennial employees, I think they'll find that they have a positive impact on the morale and productivity of all their employees."