What College Students Can Do Now to Get Hired After Graduation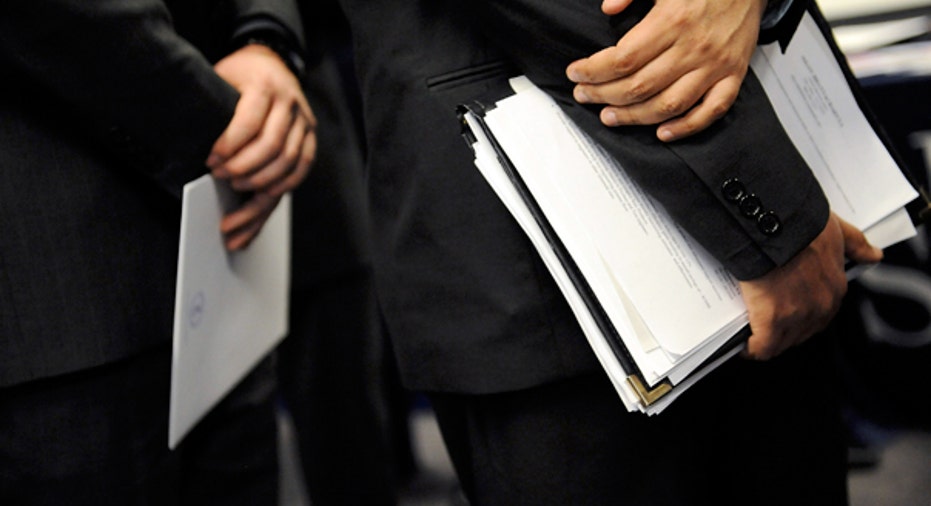 The job market is tough enough for people with work experience, but for students fresh out of college, opportunities can be more scarce. Students looking to boost their profile can always take internships and highlight good grades on their resumes, but experts say that in the changing job marketplace, job-seeking students must get more creative.
Rob McGovern CEO of JobFox, says that while it's a harsh reality, students also need to think about switching majors if they really want to be well-positioned in the changing economy.
"The reality is that kids who majored in computer science and engineering are getting four or five job offers. The kids that study philosophy aren't getting any," says McGovern. "It's great if you are really passionate about philosophy, but there is a cost to every decision you make in life, and if you go the liberal arts route, you are reducing your opportunities for a paycheck right out of college."
Another way experts for college students to increase their odds of getting hired after graduation is to become skillful in a second language.
No matter the major, Stacie Berdan, an international careers expert and author of Go Global! Launching an International Career Here or Abroad, says taking a foreign language can be beneficial to all students. Even if a student does not become fluent, having a second language on their resume can help differentiate them from other candidates.
"Try as hard as you can to focus on a second language. Think of how often things are going to crop up where companies need a bilingual communications person or someone who can speak to members of a foreign team your company may be working with. It can only benefit the student," says Berdan.
Not every country has a weak job market, and Berdan suggests students consider positions beyond U.S. borders or with international businesses based in the U.S. Students can prepare for working with a foreign-based company by taking international business classes.
"Since the financial crisis in 2008, things have changed even more in the direction of globalization," says Berdan.
Although it's a running joke that students take "basket weaving" or "bowling" as elective courses in college, Jindrich Liska, CEO Jobmagic, a platform for social recruiting, says smart students will use their electives to stand out as the perfect well-rounded candidate.
"Taking extracurricular classes is important, but most important is to make sure those electives relate to your main course of study. If you are a science student and you take classes in nutrition, it communicates a lot about your interest in the field; for example, your interest in how vitamins interact in the body," says Liska. "It shows that you are a thoughtful person who goes outside of the box and likes to broaden your knowledge."
While course selection is important, college students should also look to gain as much real-world experience as they can while in school—and that doesn't mean just internships.
"Internships are great, but with the down economy, there just aren't enough good ones to go around, and it's unreasonable to think that everyone will be able to get one," says Liska.
Liska says college students should pursue part-time jobs related to their major during the school year. For example, a chemistry student should look to get a job in a lab on campus, or an engineering student should look to work in the engineering department on special projects.
"If you're working with a professor or a graduate student in the department of your major, you're not going to be very well paid, but there's huge value for students who have worked in the field and gone the extra mile outside their normal curriculum," she says.
But all this hard work of taking the right classes and gaining work experience goes to waste if students can't properly convey their skills to future employers.
Liska says the Internet is a college students top best option because in many cases, as soon as a hiring manager gets the name of a candidate, the first place they look is LinkedIn or Facebook. Job seekers should make sure their public online profiles show off their work experience and not their college parties. While some students may go the extra mile and create their own website in anticipation of their job search, Liska says the important thing is to include all your background information that may not fit on a single-page paper resume.
"Make sure you include…if you worked on any large-scale projects and the types of things that interest you about your field of choice," says Liska. "Even include the topics you are currently researching—[a future] employer will be looking for everything online."
Experts recommend students keep a running resume throughout their college years, updating it regularly to add new skills and experience.
McGovern reminds students that a resume needs to describe accomplishments—not just list what they've done.
"It's one thing for a student to say, 'I was a member of these three associations,' but it's entirely another if you detail how you helped those associations double their membership and detail an innovative new program you started," he says.
Young job seekers also have a tendency to list their college experience as the first thing on their resume, but McGovern says meaningful work experience should really be listed above their academic institution.
"It depends on the type of work experience they have. If it was meaningful to the employer, I'd put that up top. If they worked at Taco Bell, then that's not going to mean anything, and they should focus on their education."