What Boomers Need to Know for Medicare Open Enrollment Season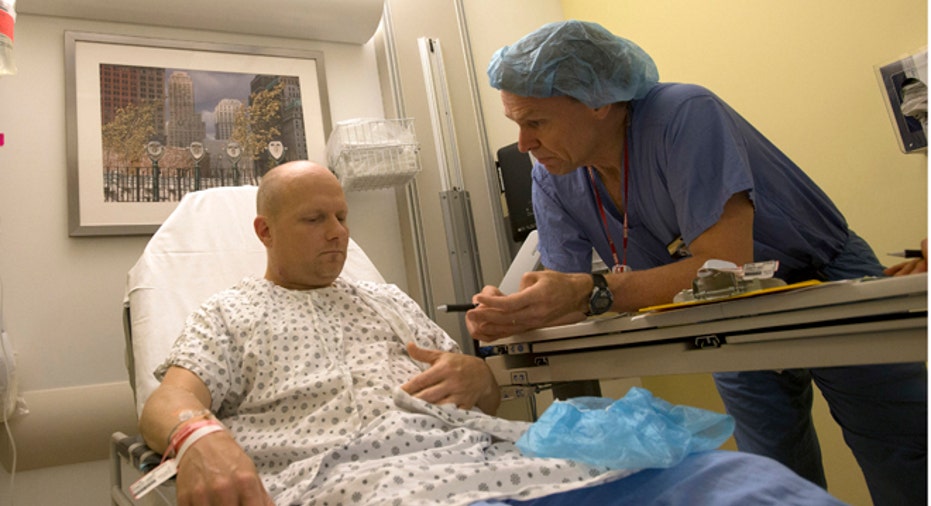 Medicare open enrollment is just around the corner, and this season could be a busy one with many seniors looking for a new plan because of changes coming to Part D and the launch of the new federally-run health insurance exchanges.
According to Health and Human Services Secretary Kathleen Sebelius, the average premium of Medicare Advantage plans is projected to increase by $1.64 in 2014 from last year, coming to $32.60.
The annual enrollment season to make change to Medicare Part D coincides with the launch of the Affordable Care Act's health insurance exchange program-but experts warn boomers not to get the two confused. Saying the ACA exchanges will likely not affect them since if you're covered through Medicare, you don't need to purchase a plan through the health insurance marketplace. If you're not on Medicare, but you have retiree health benefits, you're also covered under the federal regulations.
Pharmacy benefit management firm Express Scripts Holding's recent survey of more than 1,000 seniors enrolled in Medicare shows some confusion on what the new health-care law requires. Nearly one third wrongfully believe the ACA raises the Medicare eligibility age, with 68 being the average new age cited. Almost half of the respondents are considering temporary employment to help cover new expenses and 20% say they are skipping doctor appointments and delaying medication refills in anticipation of higher costs.
Clearly boomers and older Americans are worried about the health care, so I spoke with Paula Muschler, operations manager, Allsup Medicare Advisor, who offered the following tips on what boomers need to know about the changes to the upcoming Medicare programs.
Here is what Muschler had to say:
Boomer: What does the Medicare annual open enrollment period mean for consumers?
Muschler: Medicare annual open enrollment is the one time each year when all Medicare beneficiaries have the opportunity to review their coverage and switch plans for the next year. It runs from Oct. 15 through Dec. 7, and your new coverage starts on Jan. 1, 2014.
Boomer: Will Medicare be part of the health insurance marketplace under the Affordable Care Act and can Medicare recipients shop for coverage in the marketplace?
Muschler: Medicare is not part of the health insurance marketplace under the ACA. People who have Medicare coverage meet the ACA health insurance requirement. They do not need to have other coverage. And Medicare beneficiaries will not find plans applicable to them on the health insurance exchange serving their state. They should instead contact Medicare.gov or a Medicare plan specialist to shop for Medicare plans that meet their needs.
Boomer: What changes, if any, will there be to prescription drug (Part D) coverage for 2014?
Muschler: Monthly drug premiums are likely to be about the same as last year, with an average $31 for a basic prescription drug plan. The initial Part D deductible decreases by $15 to $310. Also, the donut hole—the gap in prescription drug coverage—will be $80 smaller because coverage limits have changed.
Beneficiaries definitely need to review the Annual Notice of Change (ANOC) and Evidence of Coverage (EOC) that their providers send them for any changes. Their Part D plan could change the medications it covers, where they can buy medications, or make changes that increase costs. Depending on where someone lives, they may have more than 30 Part D plans available. So if their current plan isn't going to meet their needs, they should look for a plan that will.
Boomer: Should we expect any changes to premiums for Part B coverage?
Muschler: Part B premiums have changed in each of the past three years, so it's likely we'll see a change again this year when new premiums are announced in October. Additionally, because Part B premiums (and Part D premiums) are based on the beneficiary's income and those income thresholds are frozen at 2010 levels, more individuals could see their premiums change.
Boomer: Will there be any changes to the Medicare Advantage Plan offerings?
Muschler: Because there are so many Medicare Advantage plans offered, we can definitely expect some plans will see changes. Examples of changes include different premiums, deductibles, co-pays, or changes to procedures, doctors and medical facilities covered. It's possible some plans will discontinue service—providing beneficiaries another important reason to shop around.
People have an average of 20 Medicare Advantage plans to choose from. It's extremely important that beneficiaries review the notices from their providers for any changes to ensure they have coverage they need. If their plan no longer meets their needs, they can switch to a plan that does during the Oct. 15-Dec. 7 annual enrollment period.
Boomer: Why should someone consider changing plans each year, instead of sticking with what they have?
Muschler: People wanting to cut their health-care costs are often looking for new plans each year. Another reason people switch plans is they find out that their plan is not going to cover the drugs or medical treatment they will need next year. Other reasons for switching plans include moving to a new area, changes in their health, or plans to travel frequently.
Even if you think your plan is okay, it's a good idea to use annual enrollment to take a closer look. It's possible you could find a much better plan, with more benefits or lower costs—maybe it's new to your area or you haven't previously seen it.
Boomer: If I'm on 'Original Medicare', doesn't that mean I don't really need to do anything during annual open enrollment?
Muschler: That's not necessarily the case. People with Original Medicare usually have a prescription drug Part D plan, so this is the time to review that coverage. Their Part D plan may have changes in store for 2014. To avoid being surprised by any new costs or drug provisions—they should take a look at their coverage. They may shop around and find a plan that covers their needs at a lower cost. Also, it's possible that someone on Original Medicare could find more benefits with a Medicare Advantage plan. This can be especially true for someone with a particular health condition that requires certain treatments. They may find a Medicare Advantage plan that is better suited for them, possibly at a comparable or lower cost.
Boomer: Is there any way to make Medicare shopping simpler than it is?
Muschler: Many people try to do that by taking a shortcut when they first enroll. They use Original Medicare and then pick Part D and supplemental plans that their friends or family have told them are good. But there are some risks with that approach. Each person's health situation is different, so something that works for your relative may not work for you. Also, they may end up just paying too much money or not having coverage when they really need it. The good news is there are Medicare specialists available to dig into the nitty-gritty and make this an easier process.