Westinghouse set to win UK reactor approval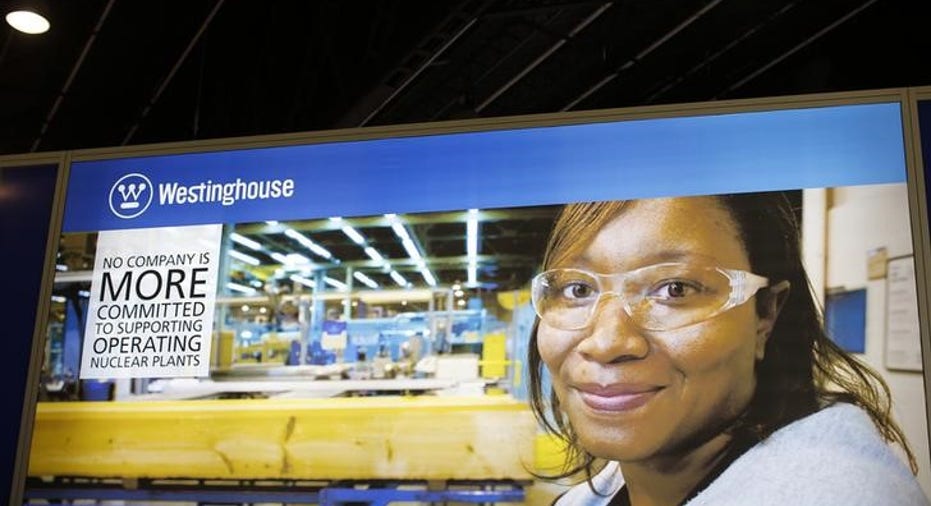 Toshiba's��<6502.T> Westinghouse,��which filed for bankruptcy on Wednesday, is on track to win approval for its AP1000 reactor design by the end of March, Britain's nuclear regulator said. 6502.T>
The approval is necessary before the reactor can be used at NuGen's Moorside new nuclear project in north west England, which could generate around 7 percent of Britain's electricity.
Westinghouse's bankruptcy filing has raised questions over whether it will be able to complete capital intensive projects, although it does not affect Westinghouse's operations in Asia, Europe, the Middle East and Africa, according to a company statement.
"We are still expecting to close out the AP1000 GDA (Generic Design Assessment) by the end of the month, according to the long-standing timeline," a spokeswoman for Britain's Office for Nuclear Regulation (ONR) said in an email on Thursday.
All new nuclear plants in Britain need ONR approval through its GDA process, which typically takes around four years.
Westinghouse's AP1000 approval however, has taken much longer since assessment first began in 2007. It was paused by the ONR at the end of December 2011 while it asked for some design modifications, but was resumed in 2014.
Britain needs to invest in new infrastructure to replace aging coal and nuclear plants set to close in the next decade, but has struggled to get large projects built, especially nuclear, due to the costs involved.
EDF's 18 billion pound ($22.5 billion) Hinkley Point C nuclear project in southwest England got the final go-ahead in 2016 after several years of delay, but only after securing backing from the French government.
NuGen, a joint venture between Toshiba and French utility Engie has also come under doubt since Japan's Toshiba said last month it planned to pull out of the construction work at the British plant after posting a $6.3 billion writedown on Westinghouse, which has been hit by billions of dollars in cost overruns at new nuclear plants.
A spokesman for NuGen said it could not comment on specific financial issues relating directly to Toshiba or Westinghouse and that it will continue "business as usual" to gain the necessary permits and licenses to build the project.
Britain's GMB trade union has called on the government to offer reassurances that the project, which it says could provide thousands of jobs, will still go ahead.
"The UK Government is committed to new nuclear," a spokeswoman for the Department for Business, Energy and Industrial Strategy said.
"The UK is one of the most attractive countries to invest in new nuclear and we engage regularly with the developers of proposed new nuclear projects," she said.
(Additional reporting by Nina Chestney; editing by Alexander Smith)