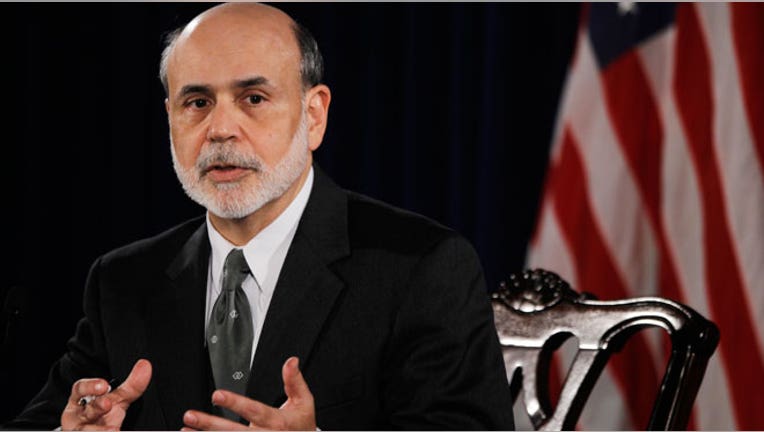 A week short on economic data will be highlighted by speeches from various members of the Federal Reserve, including Fed Chief Ben Bernanke.
Bernanke's speech next Friday at a banking conference in Chicago will be closely watched for hints of what direction the central bank is leaning following a better-than-expected April jobs report.
On Friday, the Labor Department said the U.S. economy added 165,000 jobs in April, more than economists had predicted and enough to allay fears that the job market was retreating rather than accelerating. Perhaps more importantly, the Labor Department revised upward its February and March job counts by a total of 114,000.
The relatively good news has the potential to change the Fed's conversation -- once again. Prior to March's disappointing jobs report, the Fed was suggesting it might scale back its easy money policies as the economic recovery gained traction. As lousy data piled up through April the conversation shifted and the Fed said this week it would consider expanding its bond buying programs aimed at easing lending and spurring economic activity.
The better-than-expected April report, plus the upward revisions for the two prior months, could conceivably shift the Fed's conversation again. Analysts will be parsing Bernanke's words for any hints on Friday.
Also Friday is a speech by Kansas City Federal Reserve President Esther George, the lone dissenter in the Fed's recent decision to continue its bond buying program at its current pace of $85 billion per month. George is a so-called inflation hawk and her views Friday will also be closely watched.
Richmond Federal Reserve President Jeffrey Lacker is giving a speech on Thursday focusing on ending "too big to fail" banks. Philadelphia Fed President Charles Plosser is also giving a speech on Thursday. Plosser will address monetary policy.
On the economic data front a report on consumer credit is due Tuesday and a report on wholesale trade is due Thursday.
Earnings season is drawing to a close but a number of bellwether companies are scheduled to report next week. They include media and entertainment companies News Corp (NASDAQ:NWSA), which is the parent company of FOXBusiness.com., Walt Disney Co. (NYSE:DIS), AOL Inc. (NYSE:AOL), and satellite TV firms DirecTV (NYSE:DTV) and Dish Network Corp. (NASDAQ:DISH).