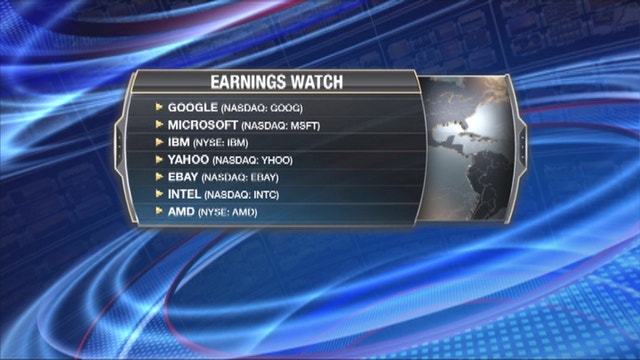 Banking and technology earnings will take center stage for investors next week. Federal Reserve Chairman Ben Bernanke will also speak before Congress, undoubtedly explaining once again the central bank's reasons for maintaining its easy money policies.
Citigroup (NYSE:C) kicks off the week's earnings calendar on Monday, hoping to follow the leads of JPMorgan Chase (NYSE:JPM) and Wells Fargo (NYSE:WFC), both of which announced results Friday that beat Wall Street's expectations.
Other financial-sector bellwethers scheduled to report next week are Goldman Sachs (NYSE:GS), Bank of America (NYSE:BAC), Bank of New York Mellon (NYSE:BK), Morgan Stanley (NYSE:MS) and Charles Schwab (NASDAQ:SCHW).
Technology heavyweights due to report include Microsoft (NASDAQ:MSFT) on Thursday, a week after the software giant announced a massive restructuring of its operations. Also due are earnings from Google (NASDAQ:GOOG), IBM (NYSE:IBM), Yahoo! (NASDAQ:YHOO), eBay (NASDAQ:EBAY) and Advanced Micro Devices (NYSE:AMD).
Coca-Cola (NYSE:KO), Johnson & Johnson (NYSE:JNJ), General Electric (NYSE:GE), Verizon Communications (NYSE:VZ), and UnitedHealth Group (NYSE:UNH) are also on tap in a busy week for earnings.
Bernanke will be testifying before separate Congressional finance committees on Wednesday and Thursday and regardless of whatever he might have to say about the economy, the focus will undoubtedly be on when and how the Fed will eventually tighten monetary policy.
The Fed chief has spent weeks attempting to explain the central bank's position on how it plans to address the spotty U.S. economy, vowing to leave in place stimulus programs that have helped push stock markets to record highs. However, Bernanke and other Fed policy makers have also said stimulus programs -- notably the Fed's $85 billion a month bond purchase program -- will start to be phased out once economic conditions warrant it.
Investors will be listening closely and parsing Bernanke's words for any sign that so-called tapering might begin sooner rather than later.
Also due next week are retail sales figures on Monday, release of the Consumer Price Index on Tuesday, and a report on housing starts on Wednesday.