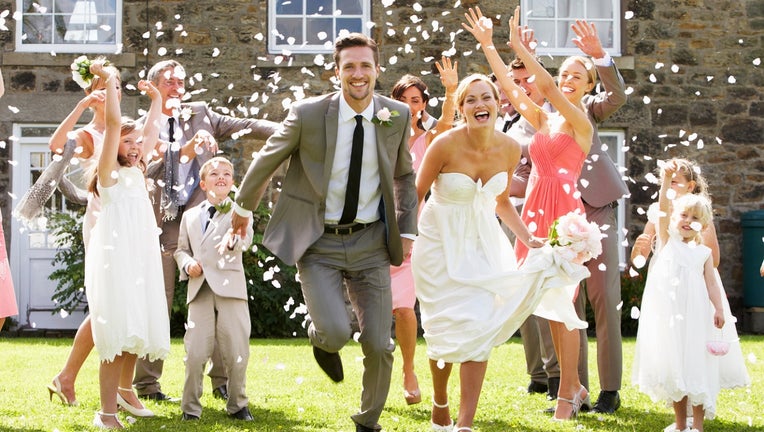 As wedding season gets in full swing in early April, many people can soon see their bank accounts wither away — even if they are not the ones getting married.
According to a study released Wednesday, members of a wedding party can expect to shell out an average of $728 for the wedding and related festivities, including the bachelor or bachelorette party. But that number is a small drop in the bucket for those who live in the Northeast, where the average all-in cost is around $1,070.
But being just "guest" at wedding isn't really a cheaper option anymore either, with guests averaging around $628 per wedding for a close friend or family member and more distant relatives or friends costing an average $372.
Robert Barba, analyst at Bankrate.com, who conducted the study, said one of the biggest expense for most people is the gift.
Millennial guests (ages 18-37) in particular seem to be less generous, spending an average of just $57 on wedding gifts when part of the wedding party, $47 for close friends and family when not in a wedding party and $48 for more distant relationships. However, the average amount spent on a gift by people in the wedding party, close friends and family as well as others, is $153, $116 and $63, respectively.
"My take on gift-giving is to give what you can afford to give. There is no right amount, only the right amount for you. In general, I think people who plan destination weddings understand the expense related in attending -- after all, they've likely been a guest a time or two, too," Barba told FOX Business.
Additionally, he advises people who are looking to save some cash to start planning as soon as the couple announces their engagement.
"Don't wait until you receive the invitation or the Save-the-Date card to start planning. If it is a close family member or a close friend, start saving [right away]," he said, adding that for destination weddings, people should look at using credit cards with reward points to help cut back on costs.
"This might include your existing points or taking advantage of sign-up bonuses offered by various cards."
But the bottom line is that no one should ever go into debt to celebrate others and "if you can't afford it, think twice before RSVPing," he said.