'We didn't have to change anything' _ how the 'Of Mice and Men' broadcast happened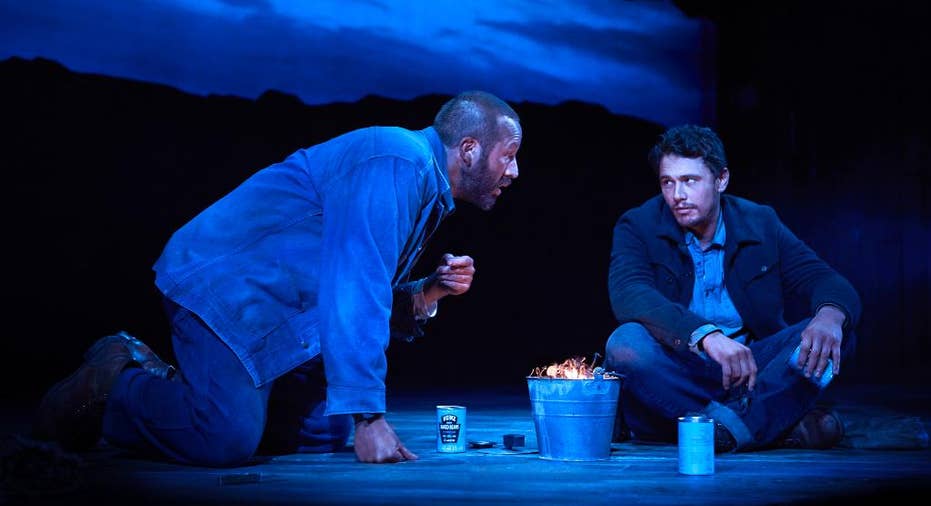 There were tears and hugs in July after the final performance of the Broadway run of "Of Mice and Men." Then everyone came back two days later to do it all over again.
An extra day was needed for a special two-show taping of the show for the prestigious National Theatre Live series, which picked "Of Mice and Men" to be its first broadcast originating from Broadway. The James Franco-led play was edited down and will be beamed to over 900 venues across the U.S. and Canada on Thursday.
Five high-definition cameras captured the July 29 shows in front of an invited audience.
"We had our big cry on Sunday because it was the last paying audience and we had our big party. Everybody gave their speeches and goodbyes," said Franco. "And then it was like a victory lap to come back on Tuesday and get to do it again."
Franco had been pushing about a recorded version since rehearsals. The production seemed natural for film since it had only a few enclosed sets, a classic American story, and star wattage in Franco and co-stars Leighton Meester and Chris O'Dowd.
"It's a very American play with some European actors in our production, so it felt like, 'Oh if they come over and film it as their very first American production,' to me it just seemed to fit perfectly."
"Of Mice and Men" producer David Binder agreed and got in touch with National Theatre Live, a pioneer in event cinema. David Sabel, head of digital at the National, was intrigued but had only about two months to make it happen.
"Sometimes having a deadline is a very good thing," Sabel said.
While the timing and bureaucratic red tape made it impossible to tape the show live in front of a paying audience, the decision was made to do the next best thing and reassemble everyone a few days later.
"There was a feeling of pride," said Binder.
Franco was initially curious: Would the cast perform the play the same way? Or should they downsize and not shout as much for the cameras? The cast found out that the cameras would stay in the theater's seats.
"We realized we didn't have to change anything," Franco said. "We could still perform it as if it was for a theatrical audience even though there were film cameras."
A rehearsal was held with the cameras but without an audience and then Franco, director Anna D. Shapiro and producer Binder gave their input. O'Dowd preferred not to see the footage.
In the play, Franco and O'Dowd play two tragic migrant workers trying to make their way through the aftermath of drought and the Depression in 1930s America. The cast — including Jim Norton and Ron Cephas Jones — had performed the show about 150 times before it closed and had their roles down cold.
"We really learned to relax and keep doing what we'd been doing all this time," Franco said. "It was almost as if we'd had 150 rehearsals for the performance and we could just do what we'd always been doing but also we got to have fun because it was sort of like a bonus day for everybody."
And then they said goodbye again.
___
Online: http://ntlive.nationaltheatre.org.uk
___
Mark Kennedy is at http://twitter.com/KennedyTwits