Watch Out, Snapchat: LinkedIn Launches Video Filters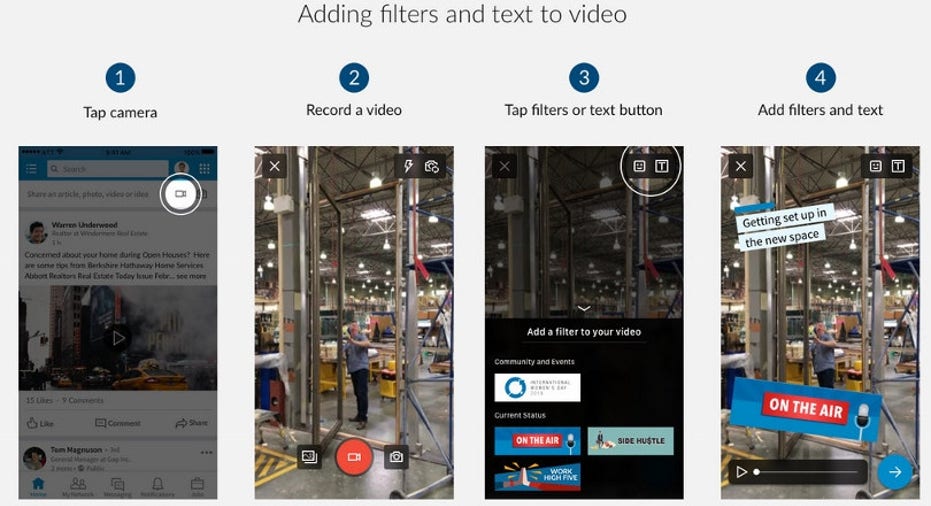 LinkedIn is taking a page from Snapchat's book with a new video filter feature.
Announced Tuesday, the feature lets you add filters with catchy phrases like "side hustle," "work high five," and "on the air" to videos you post on the business-focused social network. The selection is limited to those three at the moment, but if those options don't work for your video, others are on the way.
"In the future, you'll see more filters you can use in your professional life," LinkedIn's Peter Roybal wrote in a blog post.
LinkedIn, which is now owned by Microsoft, also introduced three text styles, letting you add context to your videos "so your community knows what's happening, even when the sound is off," Roybal wrote.
The company first introduced video inside its mobile apps in August and says it's useful for highlighting your skills and projects you're working on. To try it out, make sure you have the latest version of the LinkedIn app for Android or iOS, tap the video icon in the share box, and record something new or upload an existing video from your camera roll. From there, you can tap the filters and text buttons on the top right side of the screen to jazz up your video.
"We're excited to see how you use these tools to express who you are and what you do," Roybal wrote. "Stay tuned as we work on adding even more creative tools for video."
Meanwhile, crowdfunding site Patreon also recently ripped off Snapchat with a stories clone in its mobile app dubbed Lens. The feature lets creators "easily share exclusive, behind-the-scenes content with their patrons," Patreon wrote in a blog post.
This article originally appeared on PCMag.com.