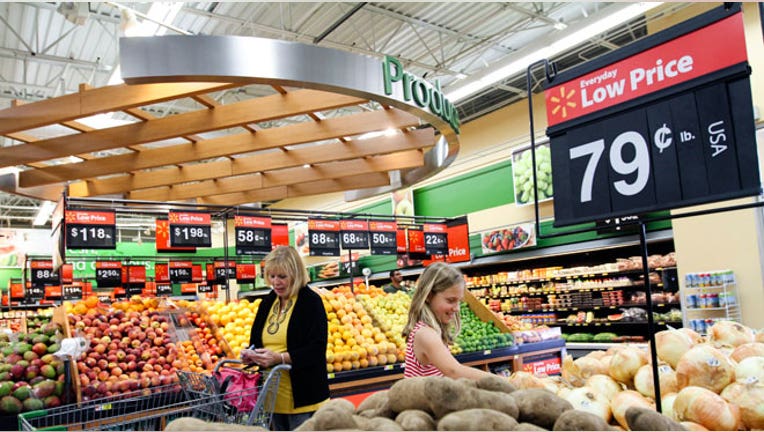 Wal-Mart Stores Inc (NYSE:WMT), long criticized for its low wages and employee benefits, said it would spend more than $1 billion to increase pay for half a million U.S. employees this year.
The increase announced by the largest private sector employer in the United States will cover about 40 percent of its U.S. workforce, but falls far short of what some labor groups have been agitating for.
Wal-Mart said on Thursday its hourly full-time and part-time workers will earn at least $9.00 an hour, or $1.75 above the current federal minimum wage, starting in April. Current employees will earn at least $10.00 an hour by Feb. 1, 2016.
Labor groups, led by Our Walmart, have been calling for Wal-Mart to pay its workers at least $15 an hour.
Wal-Mart, which has about 1.3 million U.S. workers, has also been a target of activists in the contentious debate over proposals to raise the federal minimum wage of $7.25 an hour.
The world's largest retailer also reported a better-than- expected fourth-quarter profit as shoppers spent more of their savings from lower U.S. gas prices at the company's stores.
Same-store sales in the United States rose 1.5 percent, the second straight quarter of growth after six quarters of flat or declining sales. Analysts on average had forecast an increase of 0.7 percent, according to research firm Consensus Metrix.
However, the company cut its sales forecast for the year ending January 2016, citing a strong dollar.
Wal-Mart, whose shares were down almost 2.7 percent at $83.92 in early trading, said it now expected sales to increase 1-2 percent, below its previous forecast of 2-4 percent.
It also forecast earnings of $4.70-$5.05 per share, below the average analyst estimate of $5.19.
Net profit attributable to Wal-Mart rose 12 percent to $4.97 billion, or $1.53 per share, for the quarter ended Jan. 31.
Excluding items, the company earned $1.58 per share, according to Thomson Reuters I/B/E/S.
Total revenue rose 1.4 percent to $131.57 billion.
Analysts on average had expected earnings of $1.53 per share on revenue of $132.35 billion.
Wal-Mart also raised its annual dividend to $1.96 per share from $1.92.
(Reporting by Sruthi Ramakrishnan in Bengaluru and Nathan Layne in Chicago; Editing by Saumyadeb Chakrabarty)