Wall Street Military Veterans Team Up in a Night for Life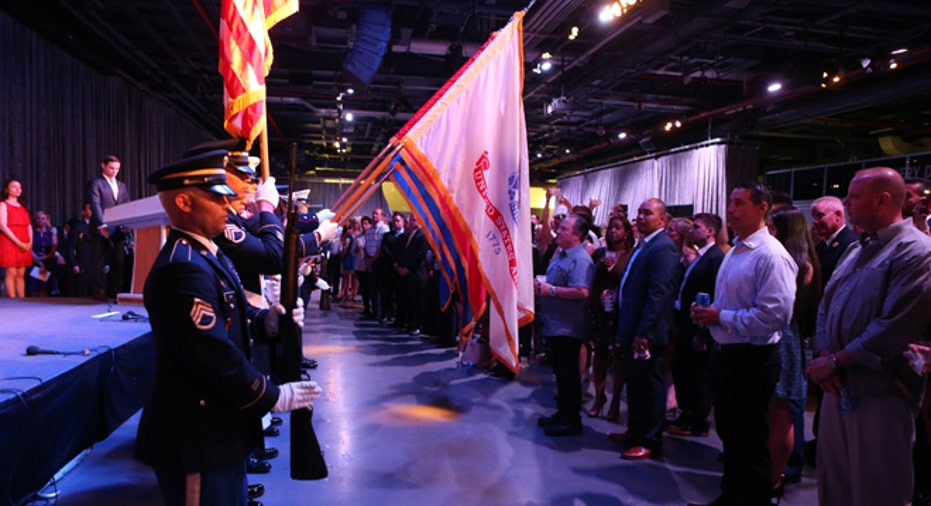 War and conflict no longer dominate the daily front-page headlines in the United States. Many soldiers are home. Families are back together. And life has mostly returned to as much normalcy as allowed in a post-9/11 world.
But as most Americans have regarded the global conflict as "over," there are some in the nation who still silently fight their own wars ...this time off the battlefield.
According to a study led by the Department of Veterans Affairs and the United States Army, which was published in the February issue of Annals of Epidemiology,  deployed and non-deployed veterans had between a 41% and 61% higher risk of suicide compared to the general U.S. population.
For context, the study explained before the wars in Iraq and Afghanistan, suicide rates among active duty and former military men and women were between 20% and 30% below the suicide rate of the general population. The U.S. Department of the Army said between 2005 and 2009, the height of the conflicts, rates among soldiers nearly doubled.
That's where a growing fleet of Wall Street's working veterans comes in.
On Wednesday night a group called Stop Soldier Suicide hosted an event to raise awareness of the trend among those who serve their country. The organization works to provide resources to bring the growing numbers down.
Brian Kinsella, an Army veteran and current energy sector specialist in Goldman Sachs' (NYSE:GS) equity research department, co-founded the organization in 2010 after witnessing firsthand the devastating effects mental illness can have.
"When I was 22 years old, a young lady in my platoon attempted to take her own life," Kinsella said. "While her suicide was unsuccessful, it really lasted with me through my time interacting and leading soldiers in combat or in a non-deployed environment."
Kinsella said he's kept in touch with the woman, who has now transitioned into civilian life, graduated from college, and became a mother. She's served as one of the main faces that continue to drive him to help prevent similar feelings of hopelessness that push soldiers to the brink of death.
"As I moved through my five-year career in the service, I saw other units with people taking their own lives…When I was a general's aid, I saw the stats at a higher level and thought there's really a problem and it could be fixed if there was an organization run by vets where people could go," Kinsella said.
That's when Stop Soldier Suicide was born.
"Over the last five years we've built it into one of the largest veteran-run organizations in the country, and the only one focused on preventing military suicides both active and reserve," he said.
Now, Kinsella's goal is to keep the momentum going and continue to raise the profile of his organization and the illness it's dedicated to eradicating.
A Night for Life
The Night for Life event aboard the Intrepid aircraft carrier in New York City was started seven years ago by Derek Wallis, who worked on the trading desk at Soros Fund Management for 13 years before landing a partner and head trader career at Marlowe LP. The event has grown from a one-time bartending gig in which Wallis donated all $300 in tips from the night to Wounded Warriors, to a must-attend event for Wall Street veterans.
Wednesday's event hosted about 1,500 people with sponsors that included UBS Group (NYSE:UBS), FactSet (NYSE:FDS), Stifel Nicolaus (NYSE:SF), Anheuser-Busch Inbev's Budweiser (NYSE:BUD) and a roster of others.
The event, Kinsella said, has been the top revenue driver for his organization for the last three years and has helped it establish a five-day-a-week resource center, and hire a full-time triage director who connects soldiers in need with mental health care professionals.
"For me, now it's about getting Stop Soldier Suicide to be a fully-functioning organization that can sustain itself for decades," Kinsella said. "We're excited to continue building the capabilities of our mission and resource center, and plan to hire both a full-time executive director and a second triage social worker in the second half of 2015."
Arash Asady, a Marine Corps veteran, now a trader at Societe Generale, teamed up with Wallis and Kinsella to help plan this year's Night for Life event. To Asady, the opportunity to help give back in some way to those who helped him establish and develop a career on the Street was one not to be missed.
"Suicide and combat death is a very big issue," Asady said. "It's one that needs to be raised because we're losing the war with ourselves. Stop Soldier Suicide is definitely a step in the right direction."
Wallis worked his Wall Street network to help bring aboard one of his former colleagues, and the event's guest speaker, Jersey City, New Jersey Mayor Steve Fulop a Goldman Sachs veteran who joined the Marines after 9/11.
For Kinsella, the event wasn't just about how much money was raised, how many people attended, or how many sponsors were added to the list. What mattered most to him was the visibility the night brought both to his organization, and the cause it serves.
"You can't put a price on the intangible[benefits of the SSS]. Every cent raised counts. Every piece of awareness counts," Kinsella said.