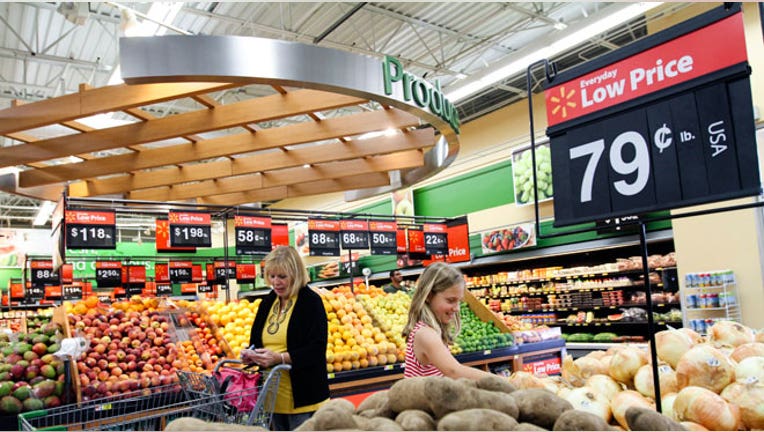 It's common for corporations to host charitable events during the holiday season, but a food drive for workers at a Wal-Mart store is causing the discount giant to defend the action.
A Wal-Mart store in Canton, Ohio set up containers in an employee-only area with signs soliciting Thanksgiving food donations to help colleagues in need.
A picture of the bins was posted online Monday by the Organization United for Respect at Walmart (OUR), a union-backed group that claims to be made up of current Wal-Mart employees, along with criticism of the retailer's wage and compensation practices.
"Why can't Walmart pay us enough so we can feed our families?" the Facebook page says.
The retailer, along with other big-named brands, including McDonald's (NYSE:MCD) and Wendy's (NASDAQ: WEN), has been targeted for the "fast food strike" movement that kicked off nearly a year ago and gained momentum in August, with workers striking and protesting for a $15 minimum wage.
Kory Lundberg, Wal-Mart spokesperson, says the most important take away from outcry over the store's actions is that the drive was created by and for employees. "They are collecting donations for people in the store that are facing a critical need or have run into an unforeseen hardship," Lundberg says. "A woman there had stopped receiving child support payments, and has lost that income and it is a hardship."
He notes other stores have started collections for fellow employees in the past who have experienced hardships  like a house a house fire, for example.
"Associates do things like this, it is a way for these people who work together every day to take care of each other," he says. "The store is disappointed by folks who have never been in the store, trying to twist this into something it is not."
OUR member Tiffany Beroid, who is also an associate in a Laurel, Md., Wal-Mart store, said in a statement to FOXBusiness.com that while it supports workers helping one another out in times of need, the food driver showcases a much-bigger issue: employees are not being paid enough. OUR is a 501c3 and receives support from the United Food and Commercial Workers International Union, among other individuals and organizations.
"As Wal-mart workers, we do come together and support each other, but we shouldn't have to collect food from or for each other when our employer is making $17 billion in profits," Beroid said. "Wal-mart should publicly commit to pay us $25,000 a year and end its illegally retaliation against those of us speaking out. Today's revelation confirms what far too many Wal-mart workers already know: wages are too low to support a family and Wal-mart will do anything to avoid addressing the real issues. We don't want handouts, we want an employer that pays us enough to cover Thanksgiving dinner for our families."
Cliff Courtney, branding expert and chief marketing officer at Zimmerman Advertising, says Wal-Mart is being judged unfairly.
"This is another case of no one roots for Goliath," Courtney says. "No good deed goes unpunished. The fact is they are just trying to do a good thing." He says the store wasn't advertising the food drive and not asking customers for contributions, and he expects the hype to short lived.
"Wal-mart has always stood for the 'good life for less,'" Courtney says. "They are trying to do something nice, and they have tried to do things like this in the past and they have backfired. This too will pass over."