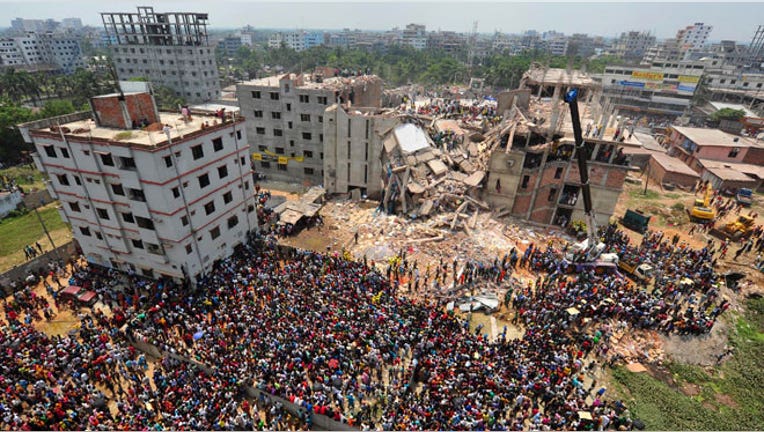 Amid growing outcry stemming from last month's building collapse that killed more than 1,200 people, Wal-Mart (NYSE:WMT) said Tuesday it will raise inspection standards and provide "full transparency of safety conditions" in all of its supply-chain factories in Bangladesh.
The announcement comes as trade groups call for an overhaul to the way garment factory workers are treated in the world's second-largest apparel exporter behind China and weeks after an eight-story building collapsed there, killing at least 1,127.
The world's largest retailer said it will conduct in-depth safety inspects at 100% of the factories that produce goods in Bangladesh for Wal-Mart. It plans to complete all reviews within six months and publicly release the names and inspection information on all 279 factories.
"Transparency is vital to make progress in improving factory conditions, and by disclosing this information, government, workers, non-governmental agencies, and companies can benefit from this work," said Rajan Kamalanathan, vice president of Wal-Mart's ethical sourcing group.
Wal-Mart, which has come under fire in recent months for its supply-chain management -- including having to explain why Wal-Mart-branded sweatshirts ended up in a factory fire that killed 112 people last year -- says it began more rigorous inspections earlier this year. It will begin posting results from the tighter inspections on June 1.
Already the Bentonville, Ark.-based company has posted a list of all "failed factories" in Bangladesh that are no longer allowed to produce for Wal-Mart because they were found to have "serious violations" of its ethical sourcing standards. The list features hundreds of factories, including several in Dhaka -- the site of last month's collapse -- and Chittagong.
A supply chain and customs expert from the U.S. National Retail Federation was not immediately available to comment on this topic on Tuesday. However, a spokesperson for the world's largest retail trade association said the expert is "working with various groups on this." The NRF was set to speak with members about a possible "Bangladesh accord" on Tuesday, according to a report by Reuters.
Wal-Mart has a "zero tolerance" policy for unauthorized subcontracting; however, oftentimes suppliers outsource work to third parties unbeknownst to global brands or unaware of the extent of mistreatment being faced by factory workers, according to the supply chain experts.
Among its safety inspection, Wal-Mart said it will use thermal circuit imaging to determine the temperature profile of the factory's electrical system and assess other fire risks, review system compliance, measure circuit parameters, including voltage and insulation, receive confirmation of approved building design and verification of civil design as well as conduct visual inspection of buildings for indication of structural distress.
The confirmation of civil design approvals are critical especially after the April 24 collapse, as the building's owner, Mohammed Sohel Rana, was arrested in connection with the disaster after reports showed upper-management knew about a crack that had developed the day prior.
The Bangladesh government on Monday reportedly voted to allow the country's garment workers to form trade unions without prior permission from factory owners, according to the Associated Press.
That decision came a day after it agreed to raise the minimum wage for garment workers who are paid some of the lowest industry wages in the world, one facet that has made Bangladesh so attractive to global retailers as a manufacturing hub.