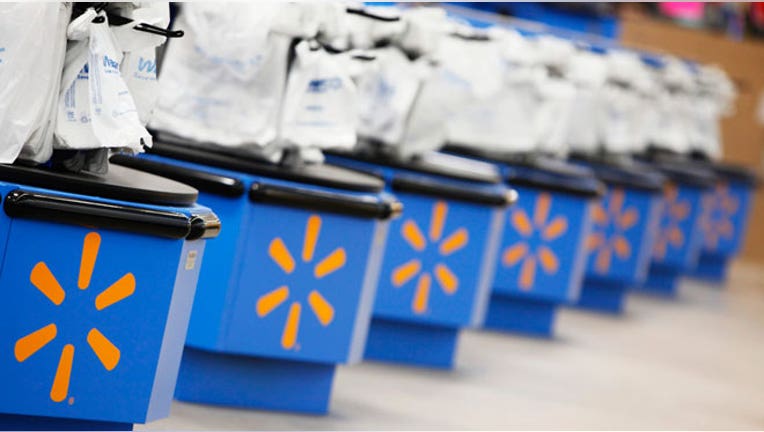 Hit by weaker-than-expected sales and the absence of a one-time tax benefit, retail king Wal-Mart (NYSE:WMT) suffered a 15% decline in fourth-quarter profits and revealed lackluster guidance for 2012.
The disappointing news triggered a 4% slide in shares of the Bentonville, Ark.-based blue-chip company.
Wal-Mart, which is the world's largest retailer, said it earned $5.16 billion, or $1.50 a share, last quarter, compared with a profit of $6.06 billion, or $1.70 a share, a year earlier. The company said its prior-year GAAP net income was boosted by the anomaly of a tax benefit from the disposition of its German operations in 2007.
Excluding one-time items, it earned $1.51, topping forecasts from analysts for $1.45. Wal-Mart reported income from continuing operations of $5.19 billion last quarter, up 3.4% from the year before.
Sales rose 5.9% to $123.17 billion, trailing the Street's view of $124.21 billion. U.S. same-store sales rose 2.4% and 2.1% when fuel sales are excluded. Sam's Club same-store sales rose 5.4%, excluding fuel sales.
International sales slid 13.1% to $35.5 billion. Operating margins shrank to 6.8% from 6.9%.
"We are pleased with Wal-Mart's earnings performance for both the fourth quarter and the full year," CEO Mike Duke said in a statement. "Today, every segment of our business is stronger than it was a year ago, and we're in a great position for fiscal year 2013."
Duke warned that its core U.S. customers "remain cautious about their finances" and rely on Wal-Mart's low prices to help them "manage through today's economic challenges."
Looking ahead, Wal-Mart projected first-quarter EPS of $1.01 to $1.06 on flat to a 2% rise in same-store sales. Analysts had been calling for EPS of $1.05.
However, for the full year, Wal-Mart said it sees EPS of $4.72 to $4.92, which compares poorly with the Street's view of $4.90.
Shares of Wal-Mart slumped 3.01% to $60.60 ahead of the opening bell, compared with a 0.18% rise on the S&P 500 futures. Wal-Mart's stock has underperformed the broader markets so far this year, rising less than 5%.