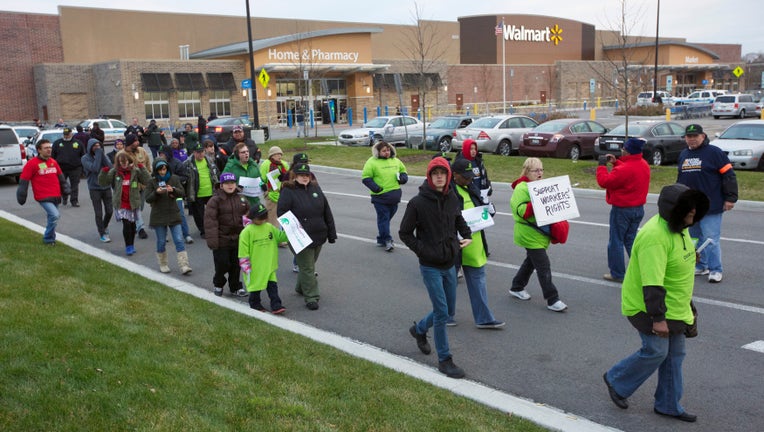 Despite concerns about pro-union protests hampering Black Friday sales, Wal-Mart Stores (NYSE:WMT) said Friday that fewer than 50 of its employees nationwide participated in the demonstrations while about 22 million customers flooded into its stores.
The protests, which were planned by the United Food and Commercial Workers International Union, appear to have been tamer than some had expected. The demonstrations that did occur included many non-Wal-Mart employees, such as union organizers and workers in other trades like teachers.
"Only 26 protests occurred at stores last night and many of them did not include any Walmart associates," Bill Simon, CEO of Wal-Mart U.S., said in a statement.
Wal-Mart said it did not experience "the walk-offs that were promised by the UFCW" and less than 50 of its associates participated in the protest nationwide.
Overall, roughly the same number of workers missed their scheduled shift as last year, Simon said.
The UFCW helped organize the demonstrations, which are aimed at bringing attention to what some call unfair labor conditions at Wal-Mart, the world's largest retailer.
"Wal-Mart has spent the last 50 years pushing its way on workers and communities," Mary Pat Tifft, a 24-year associate who led a protest Thursday evening in Kenosha, Wisc. said in a statement issued by UFCW. "In just one year, leaders of OUR Walmart and Warehouse Workers United have begun to prove that change is coming to the world's largest employer."
UFCW said Wal-Mart workers in more than 100 cities are expected to go on strike, including at stores in California, Wisconsin, Oklahoma, Mississippi and Louisiana.
Still, Wal-Mart said it enjoyed its best-ever Black Friday events and crowds grew from last year, thanks in part to a "huge response" to the company's first one-hour guarantee on certain electronic items.
Wal-Mart said it processed nearly 10 million register transactions and almost 5,000 items per second between 8 p.m. through midnight. The company estimates it served about 22 million customers on Thursday.
Since the Black Friday events kicked off at 8 p.m. ET, Wal-Mart said it sold more than 1.8 million towels, 1.3 million televisions, 1.3 million dolls and 250,000 bicycles.
Shares of Bentonville, Ark.-based Wal-Mart ticked up 0.15% to $68.99 Friday morning, leaving them up about 15% so far this year.
Separately, Bharti Walmart, Wal-Mart's Indian joint venture with Bharti Enterprises, has suspended its chief financial officer and a number of other workers amid an anti-bribery investigation, Reuters reported.
Last week Wal-Mart disclosed it had opened inquiries into bribery allegations in Brazil, China and India.
The suspensions come after Wal-Mart was slammed by a report in The New York Times in May that spelled out widespread allegations of bribery at the company's Mexican subsidiary.