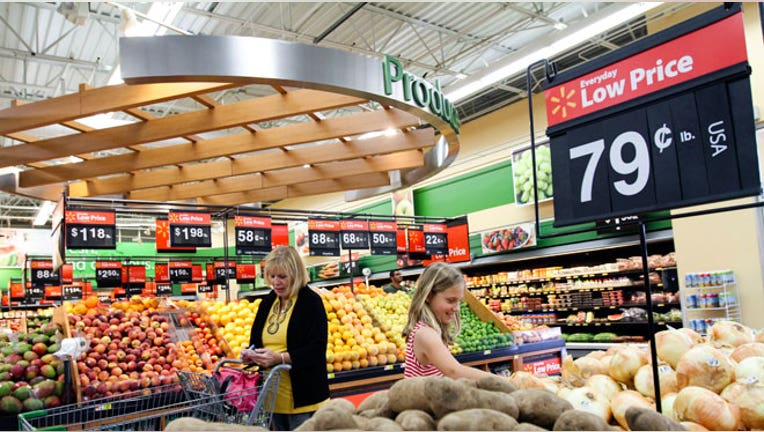 Wal-Mart Stores (NYSE:WMT) provided a cautious outlook after seeing its first-quarter earnings drop 5.1%, as store traffic in the U.S. continued to slump.
The world's largest retailer reported a profit of $3.59 billion, or $1.11 a share, down from $3.78 billion, or $1.14 a share, in the year-ago period. Earnings from continuing operations were $1.10 a share. Walmart said severe winter weather lowered per-share earnings by three cents.
Revenue ticked 0.8% higher to $114.96 billion. Currency exchange rate fluctuations hit revenue by $1.6 billion.
The results fell below Wall Street estimates. Analysts expected per-share earnings of $1.15 and revenue of $116.3 billion.
Walmart shares retreated 2.8% to $76.50 in pre-market trading on Thursday. The stock has gained less than 1% so far this year.
The Bentonville, Ark.-based company is battling a decline in store traffic at its domestic locations, given increased competition from discount retailers and online rivals like Amazon.com (NASDAQ:AMZN). Earlier this year, Walmart slashed its guidance for the first quarter, citing economic headwinds and winter weather that kept shoppers away.
In the latest period, traffic at U.S. stores was down 1.4%. U.S. same-store sales fell about 0.1%, although Walmart said sales began to rebound during the Easter shopping period. Comparable sales at Sam's Club dropped 0.5%, excluding fuel.
"Like other retailers in the United States, the unseasonably cold and disruptive weather negatively impacted U.S. sales and drove operating expenses higher than expected," president and CEO Doug McMillon said in a statement.
Walmart also said its bottom line was hampered by a higher-than-expected tax rate and continued spending on e-commerce initiatives. After taking the helm in February, McMillon detailed plans to open smaller stores and focus more on Walmart's online retail operations.
"We have the opportunity to create transformative growth through stronger e-commerce capabilities. Our investments are focused on improving customer experience and fulfillment capacity," McMillon said Thursday.
Global e-commerce sales were up 27% in the first quarter, lifting U.S. sales by about 0.3%.
For the current period, Walmart anticipates earnings of $1.15 to $1.25 a share. Analysts are forecasting $1.28. U.S. sales are expected to be unchanged year-over-year.
Walmart said its guidance includes the impact of higher healthcare costs in the U.S. and increased investments in Sam's Club membership programs, in addition to e-commerce investments.