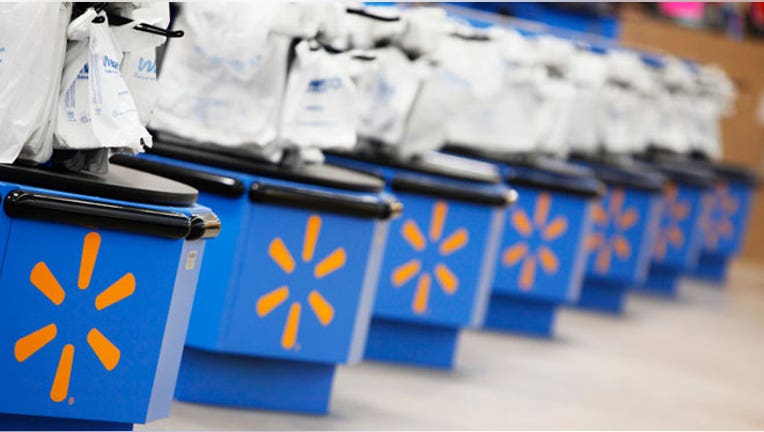 Wal-Mart (NYSE:WMT) protests have broken out at dozens of stores across the country, but lost in the commotion is the reality of the work life at Wal-Mart -- and what the Bentonville, Arkansas mega retailer saw happen with unions at Hostess Brands, maker of Twinkies and Ding Dongs, now in bankruptcy liquidation.
It would be a coup for the union movement to get "Big Labor" in the door at the nation's biggest retailer, which employs about as many people as are on active duty in the U.S. military. The union attacks have picked up in intensity as Wal-Mart has moved out of the non-union south to build stores in pro-union cities, such as in the northeast.
The Wal-Mart protests are timed for Black Friday, which Wal-Mart calls the "super bowl of shopping;" but they've mostly been a non-event.
Wal-Mart U.S Chief executive Bill Simon said in a statement: "Only 26 protests occurred at stores last night and many of them did not include any Wal-Mart associates," adding, "We estimate that less than 50 associates participated in the protest nationwide ... about the same number of associates [who] missed their scheduled shift as last year."
Here's the reality. The facts are, many workers come looking for jobs at Wal-Mart from heavily unionized grocery stores and supermarkets, where they get paid much less in the way of benefits, and where labor infractions and on-the-job injuries are significant. Wal-Mart has said about a third of the company's hires come from other grocers or places like McDonald's (NYSE:MCD), in search of better wages and benefits.
The average annual wage at Wal-Mart is about $20,744, compared to about $20,200 at grocery stores, according to Bureau of Labor Statistics. About 50% of its workers had no health coverage before joining. Nine out of ten workers now get insurance through Wal-Mart or elsewhere -- meaning their spouses' coverage. There have been complaints that Wal-Mart's plans are too pricey for workers, while the company says it offers an array of plans -- plus mini-med plans, the low-cost, cheap plans now outlawed by health reform, so this could change.
Yes turnover is high, about half of Wal-Mart's workers quit every year, however, that's lower than the 65% national average for retail workers, according to the National Retail Federation. Even elected officials in crunchy Burlington, Vermont. have told me they like their Wal-Mart because it has created a lot of economic activity and jobs for the area, including new shopping hubs, art galleries, new restaurants and retail boutiques. Employment in Burlington has risen because elected officials made decisions like accepting Wal-Mart.
Meanwhile, where are stores like Grand Union, Pathmark, A&P, Winn-Dixie, Montgomery Ward, Caldors and Ames? Shoppers and Wal-Mart are putting inefficient businesses out of business.
Yes critics can argue that Wal-Mart gets its products cheaply made in China, wrecking jobs here. That's a legitimate point. However, does anyone seriously think shutting down Wal-Mart will stop that trend? Also, dozens of Wal-Mart workers conduct hundreds of inspections of overseas factories to ensure they meet United Nations standards of safety and pay.
Compare the union attempts at Wal-Mart to what happened at now bankrupt Hostess Brands, maker of Twinkies, Ding Dongs, Dolly Madison cakes and Wonder Bread. The 82-year old business will now be liquidated after a national strike by the Bakery, Confectionery, Tobacco Workers and Grain Millers Union, the company's second -largest union that started on Nov. 9. This is the second bankruptcy in a decade for Hostess, as sales plummeted from $3.1 billion in 2006 to just $2.45 billion in 2011, a 20% drop, according to PrivCo, a financial research company. Hostess's balance sheet was underwater, carrying debt of over $1.43 billion, $2 billion in unfunded pension liabilities and just $40.4 million in cash. Net losses nearly tripled from 2006 to 2010, from $128 million to $341 million, PrivCo says.
But while Hostess hammered out an eleventh-hour agreement in bankruptcy court with its largest union, the Teamsters, to cut workers' pay and benefits, the bakery union balked and went on strike.
The details are ugly when you see what was going on behind the scenes at Hostess. It reportedly was dealing with 372 separate collective-bargaining contracts, 80 separate health and benefits plans, and 40 different pension plans.
Union rules said no Hostess delivery trucks could have both bread and snacks on board, despite the fact the goods were going to the same stores. Drivers were not allowed to load the snacks onto their trucks, certain workers could only load snacks not bread, and vice versa.  PrivCo notes that potential suitors for Hostess may include the owner of the Sara Lee, Entenmann's and Arnold brands, and Flowers Foods, which owns Tastykakes, Nature's Own, Dandee, and Sunbeam brands. C. Dean Metropoulos, a private equity firm, has been hovering too -- it owns brands like Pabst Blue Ribbon beer, Chef Boyardee and Bumblebee Tuna. PrivCo estimates Hostess' brands "could fetch about $1 billion in an asset sale based on comparable private M&A deal multiples on the PrivCo data platform." The unfunded $2 billion pension liability "will be picked up by the government controlled Pension Benefit Guarantee Corp. (PBGC), as well as other corporations participating in its multi-employer pension plan," PrivCo notes.
PrivCo CEO Sam Hamadeh said in a statement: "As Americans both cut back spending on baked goods as well as move toward healthier eating options, Hostess Brands failed to innovate and offer fresher, healthier baked goods, resulting in 9 straight years of revenue declines. With just $40 million in cash remaining, over $1.4 billion in total liabilities, its high fixed cost and distribution structure – which Hostess was unable to reduce due to strict legacy union contracts - and another $2 billion in unfunded pension obligations,  Hostess was doomed without significant concessions from its unions."