VW in Advanced Talks for Multi-Billion Settlement on U.S. Criminal Probe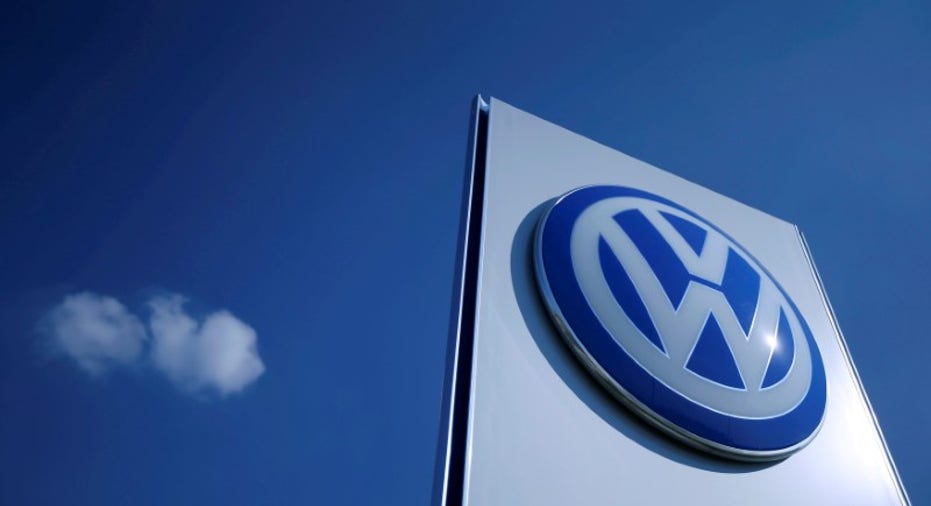 Volkswagen and the Justice Department are nearing a deal to resolve criminal and civil allegations over the German automaker's diesel cheating while it won long-awaited approval from the Environmental Protection Agency to fix about 70,000 diesel vehicles, crucial steps toward moving past a scandal that has cost it billions of dollars and its reputation.
A successful settlement is critical to the automaker's goal of rebuilding its business in the United States, a market key to its long-term growth plans and where VW brand sales were down 8 percent last year. Volkswagen will show off a new gas powered SUV Sunday ahead of the Detroit auto show and will start selling a new larger U.S. built gas powered SUV later this year.
The deal with the Justice Department could cost more than $4 billion and could be announced as early as next week, according to several people familiar with the matter.
The approval on fixes with the EPA could help defray the total price tag of the scandal that may top $20 billion in the United States alone.
VW will also face the oversight of an independent monitor to ensure it complies with the settlement, which could include either a deferred prosecution agreement or guilty plea, and significant conditions requiring reforms, the people briefed on the talks said on Friday.
The people said Volkswagen will agree to a penalty of at least $3 billion - and possibly more than $4 billion - to resolve the government's investigation, though the deal remains under negotiation and could still fall apart.
A VW spokesman in Germany declined to comment, saying the automaker was in discussions with authorities, as did the Justice Department.
The world's second largest automaker is in intensive talks to resolve the U.S. criminal investigation into its diesel cheating that first came to light in September 2015 after it admitted to using sophisticated software to rig diesel emissions tests for more than six years.
The talks have advanced as prosecutors and VW seek to resolve the case before President Barack Obama leaves office on Jan. 20, according to people familiar with the probe. If a deal is not reached before then it could significantly delay an agreement, those people said.
The U.S. investigation into VW - and a successful resolution - has faced hurdles as authorities at times struggled to obtain documents from VW and interviews with its Germany-based executives, according to people familiar with the investigation. VW has said it is fully cooperating.
VW had previously agreed to pay up to $17.5 billion to resolve claims by U.S. owners, federal and state regulators and dealers and admitted it had misled regulators for years about illicit software.
VW faces ongoing lawsuits from at least 19 U.S. states and a judge ruled this week it must face investor lawsuits in a California court.
The automaker will spend years fixing or buying back vehicles and making investments to boost zero emission vehicle infrastructure and must deposit nearly $3 billion in a trust to offset excess diesel emissions. It has also agreed to boost the number of electric vehicles it offers in California.
SOFTWARE FIX
The EPA said Friday it had approved a fix for about 70,000 polluting Volkswagen diesel vehicles.
It involves new software available now. A second phase of the fix will start about a year from now when VW will install more software updates and new hardware, including a diesel particulate filter, diesel oxidation catalyst and NOx catalyst.
VW admitted in September 2015 to installing secret software known as "defeat devices" in 475,000 U.S. 2.0-liter diesel cars to cheat exhaust emissions tests and make them appear cleaner in testing. In reality, the vehicles emitted up to 40 times the legally allowable pollution levels.
The German automaker agreed to buy back those 475,000 polluting 2009-2015 vehicles last June at a cost of as much as $10.033 billion, or fix them if regulators approved. It still must win approval to fix about 400,000 of those vehicles.
The company later admitted to also using "defeat devices" in 3.0-liter vehicles. The 80,000 3.0-liter U.S. vehicles had an undeclared auxiliary emissions system that allowed them to emit up to nine times allowable limits. It reached a deal last month to offer to buy back 20,000 of the vehicles and fix the remainder, but still is awaiting approval for the fix.
The scandal hurt VW's global business and reputation, and led to the ouster of longtime chief executive Martin Winterkorn. VW has been barred from selling any new diesel cars in the United States since late 2015.
To date, only one VW employee has been criminally charged in the United States. James Liang, who worked for VW since 1983 and was part of a team of engineers who developed a diesel engine, pleaded guilty in September and is cooperating with prosecutors. (Editing by Soyoung Kim and Bernard Orr)