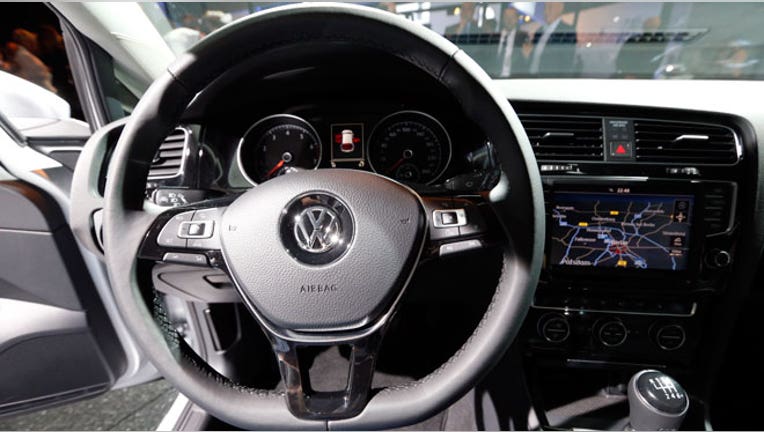 Volkswagen's supervisory board should approve a five-year spending plan on Friday that aims to make the German carmaker the world's biggest while also trimming investment as revenues get tighter.
An official from the firm's workforce, which is represented on the 20-member body, told Reuters the supervisory board would meet at the Wolfsburg headquarters on Nov. 22. VW declined comment on the official's remarks that the meeting would sign off on spending targets out to 2018.
VW has used resilient profits to boost investment during a European recession that plunged French and Italian peers into the red. Analysts now see it reversing that as markets revive.
With costs rising and a strong euro hurting export income, they expect VW to trim investment in capacity and projects not related to model development - though it may shield product-related spending from cuts as it tries to overtake Toyota and General Motors in numbers of vehicles sold.
"VW is burdened with steadily rising costs and slowing revenue," said Arndt Ellinghorst, head of automotive research at London-based International Strategy and Investment.
"They're well advised to step on the spending brakes."
Compared to European rivals Fiat and PSA Peugeot Citroen, Volkswagen has weathered the region's six-year slump well, thanks to luxury marques Porsche and Audi, which account for only 15 percent of its sales but contributed two thirds of its profits so far this year.
Some analysts note that research and development spending at Audi has lagged BMW and Daimler's Mercedes and argue that it should be improved.
Yet generating cash to fund global expansion is getting harder as it balances rising short-term costs with upgrades and additions to a fleet of some 300 models that ranges from budget Skodas and SEATs, through the VW Golf, Europe's best-selling car, to buses and trucks carrying the MAN and Scania badges.
Profits are under pressure from the costs of a new modular platform for 4 million cars and developing more fuel-efficient engines, and from discounts and a strong euro.
Adverse currency effects alone shaved 1.7 billion euros ($2.29 billion) off shrinking third-quarter sales, an amount equal to almost half the nine-months earnings at Audi.
Greater emphasis on cost discipline may coincide with one of VW's biggest-ever vehicle recalls affecting 2.6 million cars worldwide that are pulled back over a variety of problems, about a third in its biggest market, China.
U-TURN
Finance chief Hans Dieter Poetsch said on Oct. 30 that he expects no quick respite from tightness in core European markets, though total car sales swung back to growth in September and October after hitting a 20-year first-half low.
Budget frugality will be a change from heavy investment.
Planned automotive spending at the group, which has 12 brands and 105 factories, almost doubled to 16.7 billion euros a year in a three-year programme set in 2012 from an annual 8.6 billion euros budgeted in 2009, according to VW data.
Steady investment helped consolidate its lead over Peugeot and Fiat, which were forced to slow down or even shelve entire vehicle programmes, technologies and platform makeovers.
But now, even with net cash of 16.7 billion euros in its accounts at the end of September and a goal of matching last year's record operating profit in 2013, VW is committed to belt-tightening.
"Our focus on costs, implementation of strategies to drive further process improvements and prioritisation of investments are the right answers to ensure that our competitive position continues to improve," Poetsch said on Oct. 30 after the third-quarter earnings had been announced.
That has been broadly welcomed by industry analysts.
Referring to VW's purchases of MAN and Porsche over the past two years, Stefan Bratzel, head of the Center of Automotive Management near Cologne, said: "Latest acquisitions have pushed the size of the group to its limits.
"Slimming down processes is proof of good fiscal management."
There are no signs as yet that foreign operations may face restrictions, however. VW has kept pushing Chinese expansion, planning to open a total of 9 car and component plants between 2013 and 2015 to help double capacity in the world's biggest car market to over 4 million units a year by 2018.
Spending in the saturated German home market may suffer.
An ageing paint shop at VW's commercial-vehicle plant in Hanover could be axed in an austerity move that would cut daily output at the plant by a fifth to less than 900 vehicles, a labour official told Reuters on condition of anonymity.
The third-biggest of VW's 10 German factories is already facing job losses if Porsche goes ahead with a possible plan to concentrate production of SUVs in Leipzig. ($1 = 0.7421 euros