Volkswagen, Supplier Expand in Tennessee for New SUV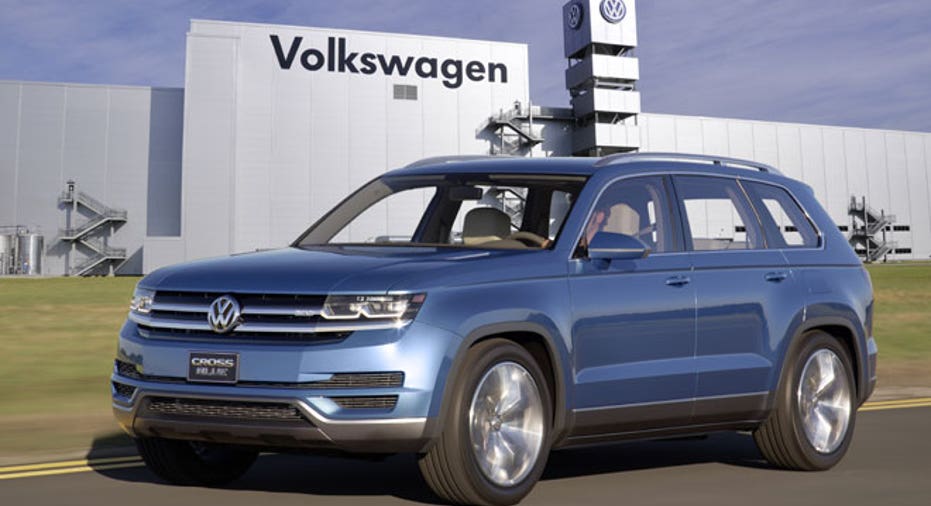 Volkswagen on Tuesday announced more expansion plans in Tennessee, where the German automaker will make a new sport-utility vehicle for the U.S. market.
Spanish auto supplier Gestamp will triple its capacity in Chattanooga to accommodate production of Volkswagen's mid-size CrossBlue SUV. Gestamp said it will invest $180 million to open a new metal stamping plant and expand its current Chattanooga facility. The move is expected to create 510 new jobs.
Volkswagen said expanding its partnership with Gestamp in Tennessee will ensure that a majority of parts are manufactured locally, thereby cutting transportation costs. Volkswagen currently uses press shops in several states for the production of its Passat sedan.
"The importance of this expanded partnership for Volkswagen and Chattanooga cannot be overstated," Christian Koch, president and CEO of Volkswagen Chattanooga, said in a statement.
Under the plans, Volkswagen agreed to a land swap that provides Gestamp with 59 acres for its new stamping plant.
Francisco J. Riberas, president and CEO of Gestamp, said Chattanooga "is now a key component in Gestamp's strategic growth roadmap in North America."
Volkswagen and Gestamp officials made the announcement in Tennessee. Sen. Bob Corker (R-Tenn.) and Gov. Bill Haslam were also on hand.
The Chattanooga plant was the subject of a union battle in February 2014. The United Auto Workers union was seeking its first win at a foreign-owned plant in the south, but Volkswagen workers voted down the proposal.
The UAW subsequently formed a local union last summer. According to a recent filing with the U.S. Labor Department, 816 of Volkswagen's 1,500 hourly employees in Chattanooga signed up.
Looming over the vote was a pending decision over the location of CrossBlue production. Ultimately, Volkswagen chose to manufacture the seven-passenger SUV in Tennessee.
The CrossBlue is set to reach assembly lines in 2016. Volkswagen is investing $900 million to add production capacity for the CrossBlue, bringing 2,000 new jobs to the factory. Volkswagen employs 2,400 people there.
Volkswagen, the world's second-largest automaker based on global sales, hopes the new SUV will help rejuvenate its namesake brand in America. Through May, Volkswagen's U.S. sales were down 4.2% compared to the first five months of 2014.
The brand mostly offers a lineup of passenger cars, a segment that has lagged behind SUVs and trucks. Volkswagen's two SUVs, the Tiguan and Touareg, have posted modest sales growth year-to-date.
Volkswagen owns a large portfolio of brands, including Audi, Porsche, Bentley, Bugatti and Lamborghini.