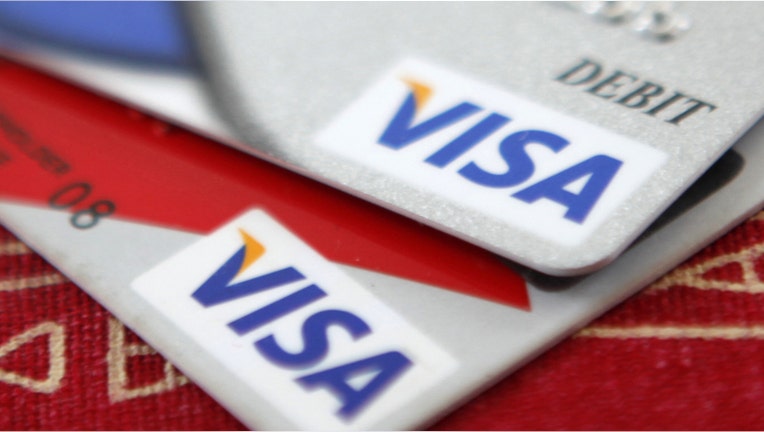 Visa on Monday confirmed plans to buy its European counterpart Visa Europe for up to EUR21.2 billion ($23.4 billion) in cash and stock, a deal that would bring Visa's global operations under one roof.
The payments network had held sporadic talks over the years with Visa Europe, and the tie-up marks Visa's biggest deal ever. The Wall Street Journal had reported last week that was a deal was imminent.
The announcement came as Visa reported results for its September quarter that were mostly in line with analysts' estimates, while payments volume increased 12% on a currency adjusted basis. Visa, which recently boosted its dividend, also unveiled a new $5 billion share buyback program.
Under the terms of its deal for Visa Europe, the company will pay EUR11.5 billion ($12.68 billion) in upfront cash, in addition to EUR5 billion ($5.51 billion) in preferred stock convertible into common shares. The deal includes up to EUR4.7 billion ($5.18 billion) in payments, payable following the fourth anniversary of the transaction's closing, which would be triggered by the achievement of revenue targets.
For years, Visa and Visa Europe operated under the same umbrella company called Visa International Service Association. That changed in 2007 when Visa's U.S. operations began moving from a bank-owned cooperative to a publicly traded company. Visa's other operations around the world united under the name Visa, but the European entity remained separate.
At the end of September, there were about 500 million Visa cards issued across Europe, the company said, with Visa Europe responsible for roughly 1.5 trillion euros ($1.65 trillion) in payment volumes. Visa Europe processes about 18 billion transactions annually, which will add to the roughly 71 billion in transactions Visa processed for the year ended Sept. 30.
"Integrating into one global business will ensure we have the financial strength and operational scale necessary to accelerate the next generation of payments throughout Europe," said Nicolas Huss, Chief Executive of Visa Europe.
The transaction is expected to close in the quarter ending in June.
Visa said benefits from deal, including revenue synergies, cost savings and increased share repurchases, will begin to accrue in the fiscal year that begins in March. The deal will add to per-share earnings in the low single-digit before one time integration costs, Visa said.
Separately on Monday, Visa reported earnings of $1.51 billion, or 62 cents a share, for its latest quarter. That is up from $1.07 billion, or 43 cents, a year earlier. Revenue increased 11% to $3.57 billion.
Analysts projected 63 cents in earnings per share on $3.57 billion in revenue, according to Thomson Reuters.
In the face of what Visa Chief Executive Charlie Scharf called a challenging global economic environment, payments volume rose 12% to $1.3 trillion on a currency adjusted basis. Cross-border volume increased an adjusted 5% in the September quarter, while total processed transactions grew 8% to 18.4 billion.
Shares, up 18% this year, slipped 1.2% in premarket trading.
Write to Lisa Beilfuss at lisa.beilfuss@wsj.com