Visa-Free Startup Community Off California Coast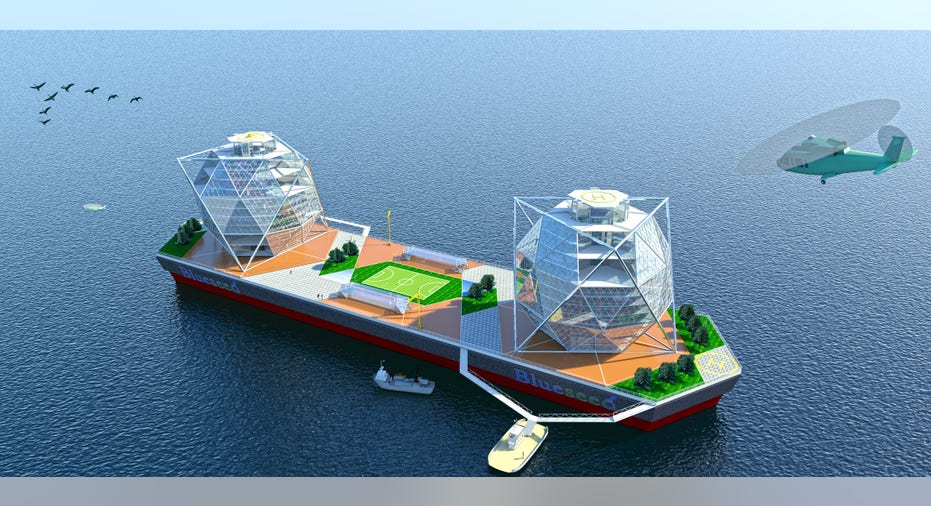 And you thought Silicon Valley was exclusive?
Meet Blueseed, which, after it sets out to sea in 2013, will be the first-ever sea-based tech incubator, according to its founder. This startup community space is being built for technology's best and brightest, so long as they have their sea legs.
Romanian-born Dan Dascalescu, CIO of Blueseed, said he first learned about seasteading, or creating "floating cities," in 2006 while working at Yahoo!. After struggling with visa issues to come to Silicon Valley and start his own company, Dascalescu said he was inspired by the notion of creating ocean communities in international waters, so that entrepreneurs wouldn't need a visa to essentially startup 12 miles off the California coast.
"I think this is a huge draw," Dascalescu said of the visa-free feature of the ship. "But when we asked applicants [why they were applying] the motivation wasn't the visa-free aspect. They just wanted to be around others like themselves, to exchange ideas and get fresh ideas from outside the U.S."
Dascalescu, who is an ambassador for nonprofit organization The Seasteading Institute, and his co-founders Max Marty and Dario Mutabdzija, have so far received 240 applications from 800 entrepreneurs hailing from 52 countries. Venture capital firms and angel investors can also recommend startups to Blueseed.
Tech startups that would be best suited to apply have to obviously be able to operate at sea, he said, and specialize primarily in information technology, hardware design and electronics. However, the group has seen applications from across the board, including a lot of interest from the biotech community.
Those startups accepted into the program will give a small portion of equity to Blueseed, Dascalescu said, ranging between 2% and 8%, depending on what stage the company is in.  Entrepreneurs will pay rent and equity with rent ranging from $1,200 for a shared cabin to $3,000 for a single accommodation cabin. Those without visas can, by law, travel back and forth to Silicon Valley by ferry for up to 180 days a year, he said.
The goal is to have about 1,000 entrepreneurs on board, and Dascalescu said each startup will have an average of three people on its team. Residents typically will stay aboard the incubator for about one year, he said. Blueseed will help foreign-born companies make the transition to opening up shop in the U.S. legally, he said.
"We don't want them to stay too long on the ship," he said. "The idea is once they incubate, they should move back to shore to start their company there."
The boat itself will be a cruise ship anchored in place, Dascalescu said, and will "take off" in 2013. The model Blueseed is looking at is $30 million to buy, and while Blueseed declined to say how much cash they have raised so far, Dascalescu said the team has "bootstrapped a lot, and closed out its pre-seed funding round." Internet business guru Peter Thiel is among its investors, according to Dascalescu.
In the next year, Blueseed will begin to seriously consider applicants for the venture. And Dascalescu is confident the incubator will be responsible for creating many jobs along the way.
"Think of Google and Yahoo!, which now employ a total of 40,000 people," he said. "Let's say just one company [that successful] comes out of Blueseed. That would be an average of 20,000 jobs. And we hope to have a much better success rate than just one company."